Musicians Who Died Of Liver Failure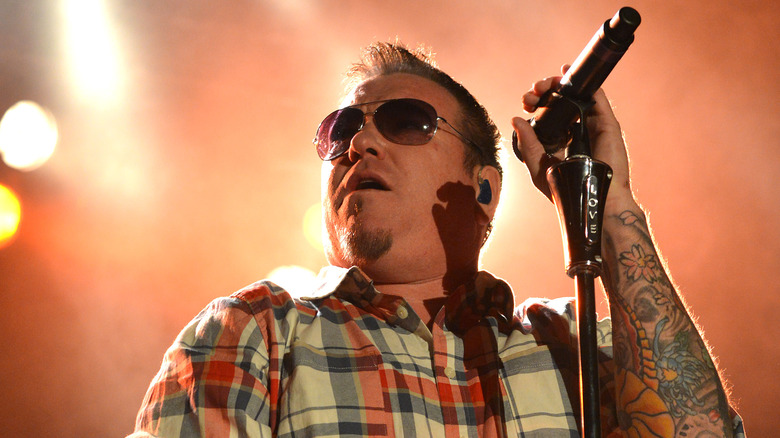 C Flanigan/Getty Images
Rock and roll is flush with musings on the fleeting nature of life. Rockers remind us all the time that only the good die young, that they will follow us into the dark, that one day we'll be knockin' on heaven's door, and that even after we're gone, the show must go on. Death is as much a part of life as anything else, and being creative types, our favorite musicians know it all too well, and they have a lot to say about it.
Everyone checks out sometime, but the musicians we'll be looking at today fell victim to a particularly brutal type of ailment. The body's natural filter, the liver, puts the "vital" in the phrase "vital organs" — when it's having trouble, so is its owner, and when it fails, the grim reaper is almost always not far behind. Some of these folks managed to live to a ripe old age, but others passed away far too soon; fortunately, they were all able to achieve a kind of immortality in that special way that only a few can, through their music.
Johnny Solinger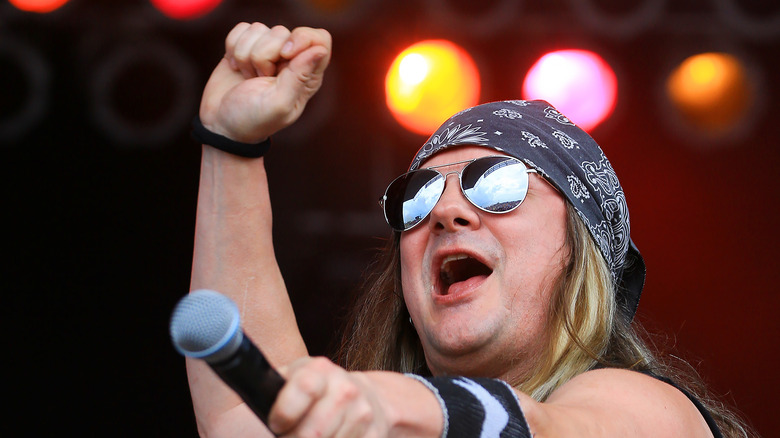 Jason Squires/Getty Images
New Jersey hard rock outfit Skid Row burst onto the scene in the late '80s, and behind the crystalline voice and flowing blond locks of frontman Sebastian Bach, they scored a pair of top 10 hits with the power ballad-esque singles "18 and Life" and "I Remember You." The band failed to sustain their success into the '90s, and when Bach departed in 1996, they took a hiatus for a few years before plugging in a pretty decent facsimile: crystalline-voiced, blond-locked vocalist Johnny Solinger, who would go on to front the band for close to 15 years. 
By 2015 Solinger was no longer with Skid Row but pursuing a solo career that unfortunately never really took off, which left him in the position of not having health insurance. In May 2021, he took to Facebook to let fans know that his liver was failing, and that it wasn't looking good for him. "I am currently under at least seven different medications and I need to have my abdomen drained [of] fluid that gets accumulated every couple of days," he wrote. "I have lost a lot of strength and will require physical therapy as well." He further wrote that he was trying to get a fundraiser going to help with his medical bills, but at that point, it was likely too late. Solinger passed away the following month at the age of 55; Skid Row guitarist Dave Sabo paid tribute to his friend on Twitter, writing, "A good man with a good soul taken way too soon. Thank you Johnny for everything you gave us."
Jason Slater
One of the more successful bands of the post-grunge era, California's Third Eye Blind put together an enviable run in the late '90s. Their self-titled 1997 debut album went platinum six times over, and they scored four top 20 singles, including the No. 4 smash "Semi-Charmed Life," which is playing in your head right now. The band, which continues to rock to this day, has become somewhat notorious for their frequent lineup changes, the first of which came before that debut LP even dropped: The group's original bassist, Jason Slater, was let go before it was recorded, although he appeared on the demo that helped get them signed.
Slater landed on his feet, becoming a sought-after composer and producer; he established a long relationship with legendary metal band Queensrÿche, serving as a producer, mix engineer, and lyricist for the band for nearly a decade. Among the many hats we wore, though, was one labeled "party animal," and the lifestyle eventually caught up to him. Slater passed away from liver failure in 2020 at the age of 49; his friend Craig Locicero, guitarist for thrash metal band Forbidden, paid moving tribute to his buddy in a statement. "Dude lived the life of 100 men," he wrote. "Much of it on the edge. However, Jason's greatest strength and trait was his heart. He was full of love ... [He] loved us all like crazy."
Michael Clarke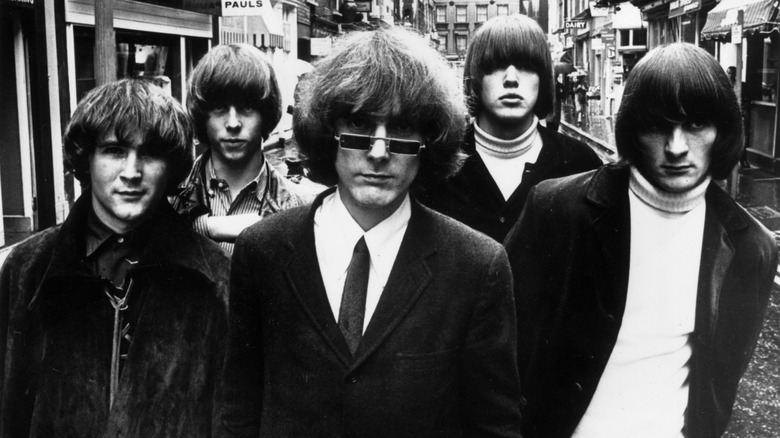 Keystone/Getty Images
It's tough to overstate the influence of '60s rockers the Byrds on their contemporaries, and the whole of popular music. Very few artists could stake as strong a claim to the actual invention of folk rock; when the band was formed in 1964, none of its members were even proficient on electric instruments — but together, they concocted a brew of the acoustic and electric, with folky melodies and tight harmonies, that would prove to be an inspiration to the likes of Bob Dylan and the Beatles. Providing the backbeat for the quintet was drummer Michael Clarke (pictured second from right), who — unlike the others in the band — was not a songwriter, and was at times supplanted by session musicians. 
His tenure with the Byrds lasted only three years, from 1964 to 1967 — but Clarke held the distinction of being a founding member of one of the most influential groups of the '60s, and his drumming chops were potent enough to earn him post-Byrds gigs with the likes of Flying Burrito Brothers and Firefall. In later years, he assembled a new band which bore the name of the Byrds without featuring any of the other original members, and he was to have performed with them on New Year's Eve 1993. Unfortunately, that gig instead became a tribute show, as Clarke passed away from liver failure just over a week before the date.
Eddie Hazel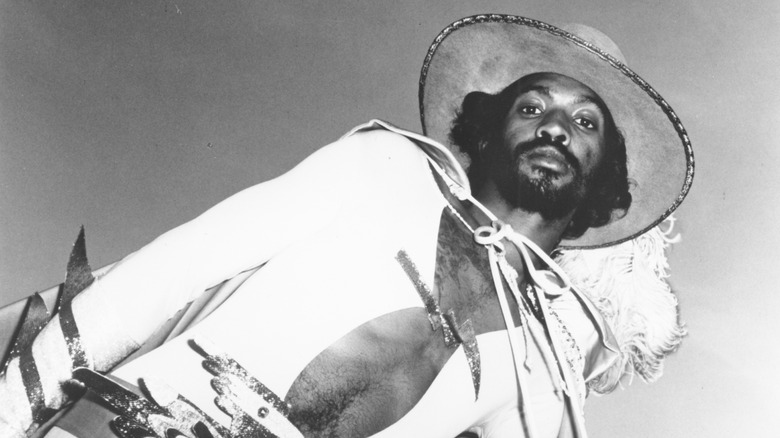 Michael Ochs Archives/Getty Images
The collective known as Parliament-Funkadelic, headed up by the actual physical embodiment of funk George Clinton, has as sterling a legacy as any act in the history of popular music. They've given us heaps upon heaps of some of the most rump-shaking tracks of all time — tracks like "Up for the Down Stroke," "One Nation Under a Groove," and "Give up the Funk (Tear the Roof off the Sucker)," to name just a few — and their indelible sound has been sampled by or otherwise informed some of the greatest hip-hop artists ever, from Digital Underground to Dr. Dre. Key to the outfit's success: the sublime guitar work of Eddie Hazel, who played on nearly all of the group's works save for a hiatus between 1971 and 1974.
When speaking of great blues- and funk-inspired guitarists, one could arguably draw a straight line from Jimi Hendrix to Hazel to Prince. For evidence, look no further than the title track to Funkadelic's 1971 LP "Maggot Brain." Inspired by Clinton's request to play his guitar "as if your Mama just died," Hazel's emotional, virtuoso performance was captured in a single take. According to his page on George Clinton's website, Hazel spent the final year of his life destitute after struggling with a drug habit for decades; he passed away from liver failure in 1992, and "Maggot Brain," his masterpiece, was played at his funeral.
Jeff Hanneman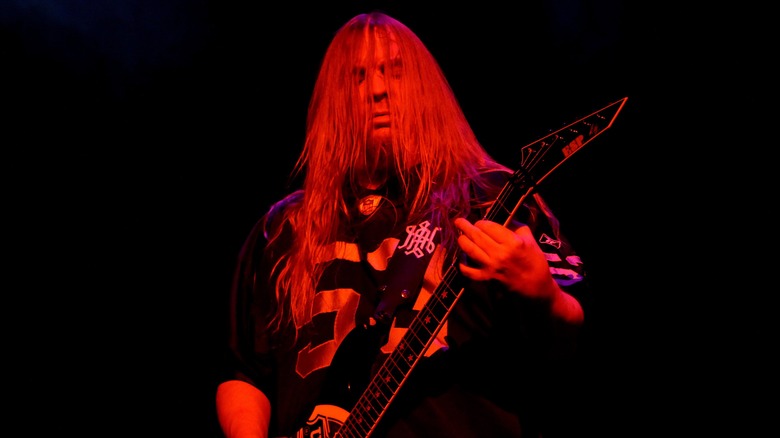 Raymond Boyd/Getty Images
There are hardcore metal bands, and then there is Slayer, who, as progenitors of the style known as thrash metal, quickly established themselves as the most brutal, uncompromising, blisteringly aggressive American metal band of all time. They were one of the "Big Four" thrash bands of the '80s, the others being Metallica, Megadeth, and Anthrax — but they were more prone than any of their venerable peers to create a sound that seemed like it came quite literally from the depths of hell. For a prime example, check out the tracks "Raining Blood" and "Angel of Death" from their iconic, Rick Rubin-produced 1986 LP "Reign in Blood" — both of which were penned by guitarist and founding member Jeff Hanneman. 
Hanneman's death from alcohol-related cirrhosis that led to liver failure in 2013 came as he was in the hospital recovering from a condition which can only be described as "metal as hell" — a spider bite had developed into necrotising fasciitis, a disease that eats away at the flesh. His passing was mourned across the headbanging world, with party deity Andrew WK issuing a particularly eloquent eulogy on Twitter: "Jeff Hanneman will always be a metal god," he wrote. "A true master, he gave energy and excitement to millions, and will continue to" (via The Guardian).
Steve Harwell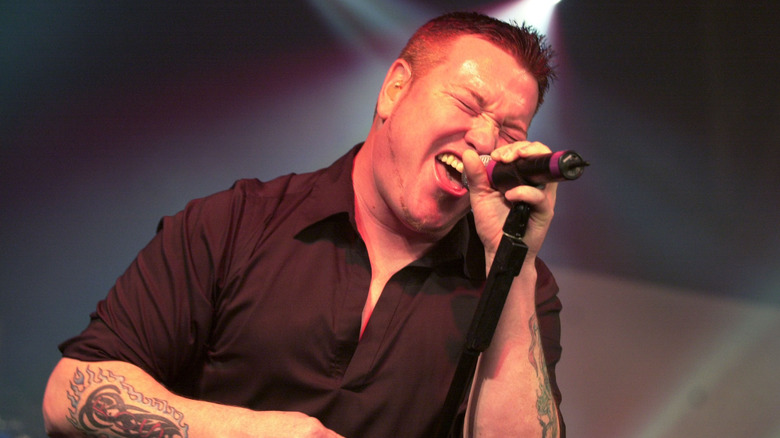 Theo Wargo/Getty Images
Say what you will about '90s pop-rockers Smash Mouth, but it's impossible to argue that the band were anything other than extremely driven, highly successful overachievers — and this is particularly true for vocalist Steve Harwell, whose ultra-committed delivery on hits like "Walkin' on the Sun" and "All Star" helped propel those tunes to a permanent place in the pop culture lexicon. Despite having very limited musical experience, Harwell was determined to become a rock star — and he certainly achieved that goal, fronting a band that sold over 6 million records and was literally all over the radio for years following their 1997 debut LP, "Fush Yu Mang."
Unfortunately, Harwell's final decade was rife with health issues. He suffered from the heart condition known as cardiomyopathy, and had also been diagnosed with the neurological condition Wernicke's encephalopathy, which, according to the National Library of Medicine, affects the central nervous system and can be fatal on its own. He retired from Smash Mouth in 2021 due to those issues, but in 2023, it was his failing liver that caused him to be placed under hospice care at his home in Boise, Idaho. He passed away shortly after his condition was made public, and in a statement, the band's new lead vocalist Zach Goode paid tribute to his predecessor, writing, "I love singing these songs every night and carrying on the spirit of rock n roll in front of the best fans in the world. I will continue to try, in my own way, to honor what Steve and the band have created."
David Cassidy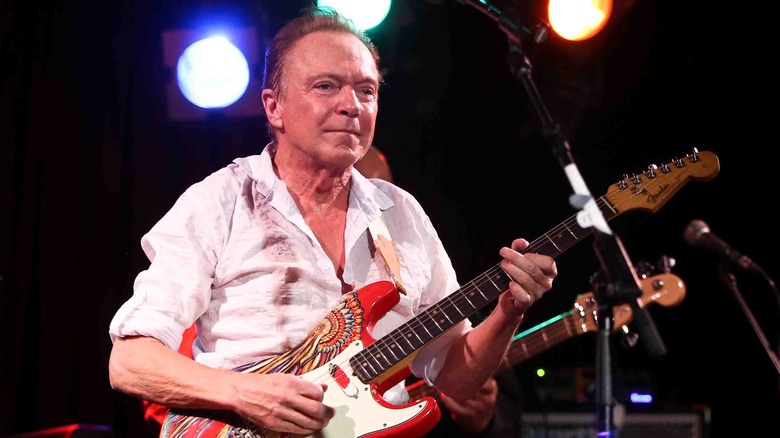 Debby Wong/Shutterstock
David Cassidy burst onto the scene in a way that all but guaranteed that his career would be short-lived: He portrayed Keith Partridge, the teen heartthrob and sometime lead singer of the Partridge Family, in the '70s TV series of the same name, and parlayed that success into a brief career as an actual teen pop sensation. While he moved a respectable number of records and achieved five top 40 singles (including 1971's "Cherish," a No. 9 hit), that phase of his career indeed came to a close after only a few years. Against the formidable odds that are usually stacked against former child stars, though, Cassidy wasn't done. 
Beginning in the '80s, Cassidy pivoted to theater acting, appearing on Broadway in productions of "Blood Brothers" and "Joseph and the Amazing Technicolor Dreamcoat." In the '90s, he took over the lead role in "EFX" at the MGM Grand in Las Vegas, personally giving the show an overhaul that propelled it to rave reviews; he took advantage of his newly raised profile to mount a world tour, and even secured a new record deal. He remained active in showbiz until 2017, when he announced that like his mother and grandfather before him, he had been stricken with dementia — and just months later,  as a result of a long battle with alcohol dependency, he passed away from liver failure in a Florida hospital.
Ray Charles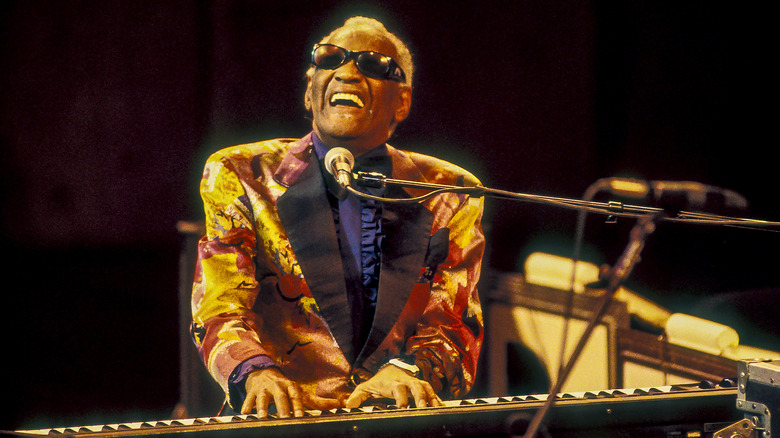 Jack Vartoogian/getty Images/Getty Images
Ray Charles was a singular talent; if James Brown was the Godfather of Soul, Charles could easily lay claim to being the genre's actual daddy. Blind since childhood, the piano virtuoso and blazingly talented vocalist was scoring R&B hits in the early '50s before the advent of rock and roll, and just a few short years after that genre's rise, Charles broke through to a mainstream audience in a major way with 1959's "What'd I Say," a rollicking fusion of R&B, rock, and gospel that shot to No. 6 on the Billboard chart. In the biography "Ray Charles: Man and Music" by Michael Lydon, Paul McCartney recalled the first time he heard the tune: "I knew right then and there," he said, "I wanted to be involved in that kind of music."
By the time of his death in June 2004, Charles had been struggling for years to perform, but was on the verge of mounting a tour after undergoing hip replacement surgery. "I'm going to keep touring, keep performing, it's in my blood," he told The New York Times early that year. "Until the good Lord calls my number, that's what I'm going to do." Unfortunately, that number came up sooner than was expected. His passing from liver failure at the age of 73 left a giant hole in the world of music, but his is the type of musical legacy that is nothing short of unassailable.
Phil Taylor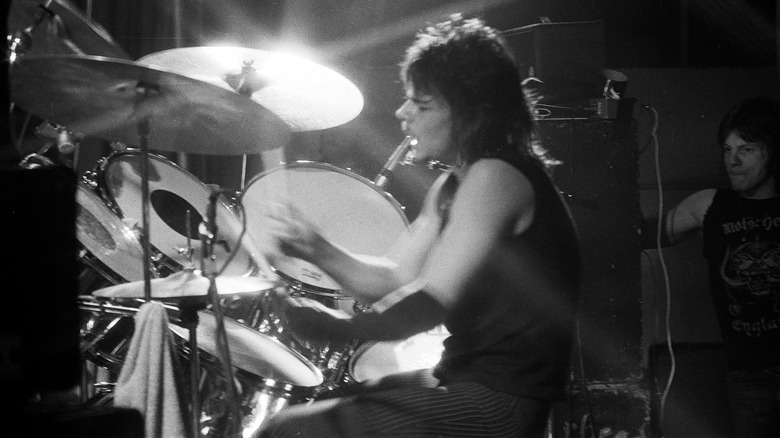 Paul Welsh/Getty Images
Drummer Phil Taylor went by the nickname "Philthy Animal," and the band he lent his pounding drums to was filthy indeed: Motörhead, who have been credited with pioneering thrash metal with their special brand of loud, fast, dirty rock and roll. No less of a metal giant than Metallica drummer Lars Ulrich has pointed to the title track to the band's 1979 LP "Overkill" as a major influence, saying that it "blew [his] head off" — and its blazingly novel sound hinged on the drumming of Taylor, whose double kick drum on the track likely blew the heads off of many an aspiring metalhead.
Minus a three-year hiatus between 1984 and 1987, Taylor manned the drums for Motörhead for nearly two decades, and after being permanently let go in 1992, he struggled to fit in with outfits such as Web of Spider and thrash band Overkill, who had named themselves after the Motörhead album — and after a brain aneurysm that effectively forced his retirement from music, his health began to decline precipitously. He passed away in 2015 from liver failure, prompting Motörhead frontman Lemmy to comment with a characteristically blunt statement: "I miss him already," he wrote. "It's a shame, man. I think this rock and roll business might be bad for the human life. Oh well."
Al Hirt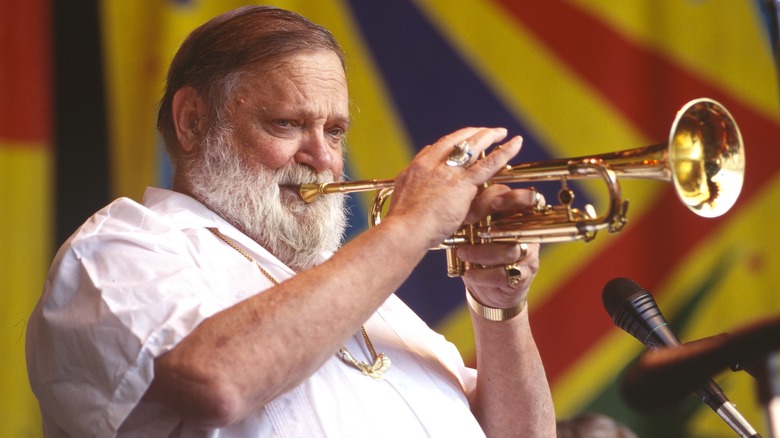 Tim Mosenfelder/Getty Images
You may not recognize the name of trumpeter Al Hirt unless you were around six or seven decades ago — or you're from New Orleans. In the '50s and '60s, Hirt recorded dozens of records in the Dixieland and jazz styles, even scoring a No. 15 pop hit in 1964 with "Cotton Candy," and taking home a Grammy for his tune "Java" that same year — but for Nawlins residents, Hirt was nothing less than a beloved symbol of their city. Speaking with The New York Times, clarinetist Pete Fountain, a longtime friend and collaborator, put it this way: "When you say Al Hirt, you say New Orleans. When you say New Orleans, you say Al Hirt. We're just lucky enough to be from here."
While Hirt was always leery of putting himself in a box — he was, he insisted, a commercial pop artist who played what he pleased and what his audience wanted — he was best-known for his jazz output, and while his beefy stature earned him the nickname "the Round Mound of Sound," his peerless technique and showmanship ensured that he would be more commonly associated with a different moniker — "the King of the Trumpet." Hirt was hospitalized with liver problems in early 1999, and just a week after his discharge, he died of liver failure at the age of 76.
Percy Sledge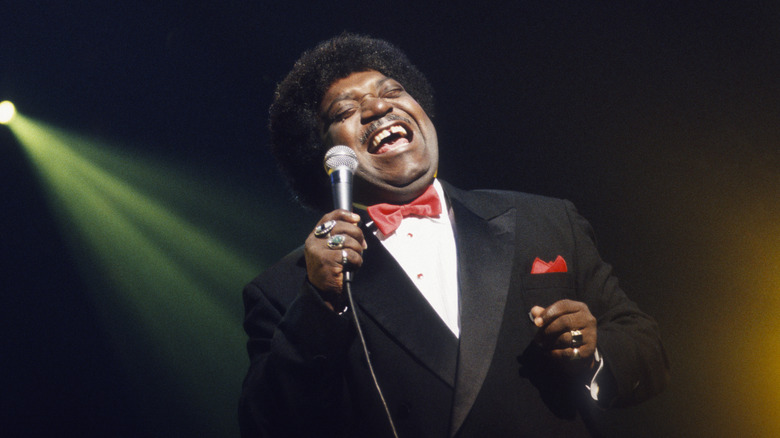 Gie Knaeps/Getty Images
It's not often that a purveyor of country-tinged soul, who had only a sprinkling of charting R&B hits in the '60s, finds his way into the Rock and Roll Hall of Fame. It certainly helps for at least one of those singles to become a crossover pop hit, and it's even more helpful if that single is a massive, paradigm-altering song such as "When a Man Loves a Woman," which was a No. 1 hit for soul vocalist Percy Sledge in 1966. Sure, Sledge had a fantastic, soaring voice — but it was his level of raw emotion that few of his peers could even come close to, elevating the song into an immortal piece of the pop culture lexicon.
The tune remained in the public consciousness for decades after its release, thanks to its being a staple at weddings and in television commercials, and it also boasted an impressive run of appearances on movie soundtracks — most notably the 1994 romantic drama of the same name starring Meg Ryan and Andy Garcia, a box office hit that helped cement the song's status as a modern-day standard. Sledge entered the Rock Hall in 2005, inducted by Rod Stewart, whose own vocal style bears the R&B crooner's unmistakable influence. Sledge battled cancer over the last year of his life, but it was a failing liver that brought that life to a close; he passed away in 2015 at the age of 74.
Terry Stafford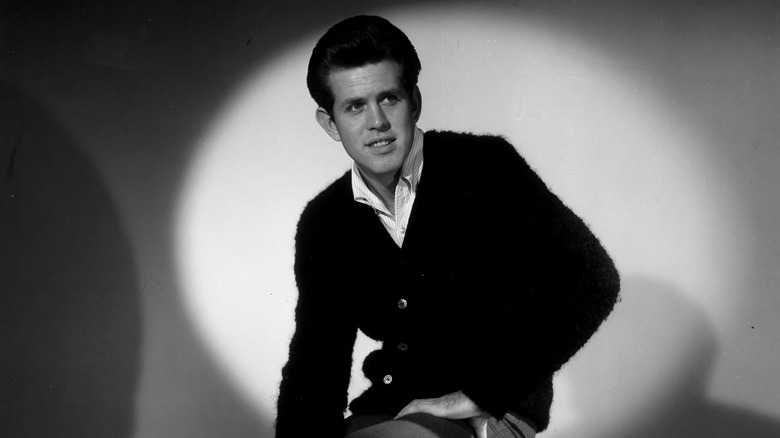 Michael Ochs Archives/Getty Images
Singer-songwriter Terry Stafford was perhaps best known for an achievement that was somehow both dubious and impressive at the same time, landing his lone top 10 hit, "Suspicion," in 1964. The dubious part: The record unquestionably received a boost due to the fact that the tune was a cover of an Elvis Presley song, and Stafford's vocal style was a close facsimile of Presley's. The impressive part: when it peaked at No. 3, every other spot on the top 5 was held down by the Beatles. 
While this was the apex of Stafford's career as a pop artist, he enjoyed some success after pivoting to country. In 1973, he released the LP "Say, Has Anybody Seen My Sweet Gypsy Rose," which notably contained a cover of a cover: "Big in Vegas," originally penned by Stafford as "Big in Dallas" in 1969 and rewritten by the great Buck Owens for his album of the same name. The LP also contained Stafford's version of "Amarillo by Morning," co-written with songwriter Paul Fraser, which would go on to be a signature tune for legendary country artist George Strait. Unfortunately, aside from a few late career singles, the LP constituted Stafford's last hurrah as a recording artist, and he died of liver failure at home in his beloved Amarillo in 1996, at the age of 54.
If you or anyone you know needs help with addiction issues, help is available. Visit the Substance Abuse and Mental Health Services Administration website or contact SAMHSA's National Helpline at 1-800-662-HELP (4357).