The 1 Location The Ghost Adventures Crew Is Hoping To Return To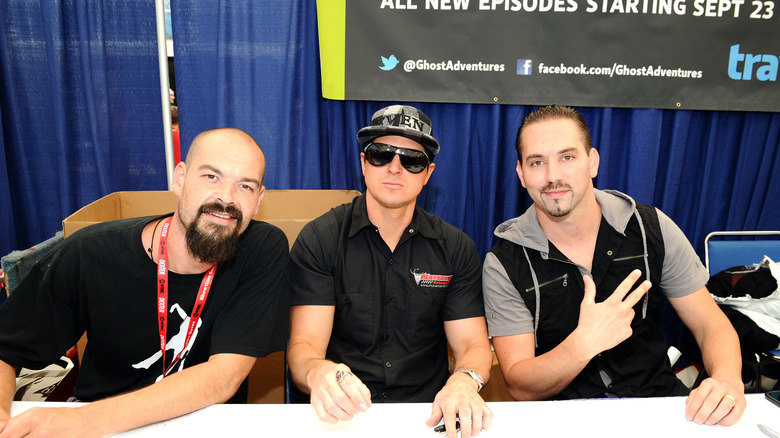 Michael Buckner/Getty Images
Imagine a hotel, nondescript on the outside but plagued within by such misfortune that it becomes synonymous with death. It was the abode of not one, but two serial killers. Even after its neighborhood is gentrified and the building renovated, the hotel's dark reputation still lingers enough to attract supernatural reality shows. It's not the setting of a horror movie: it's the Cecil Hotel of downtown Los Angeles, and it's high on "Ghost Adventures" host Zak Bagans' list of places to revisit on his hunts for allegedly paranormal phenomena.
Bagans insisted to Mental Floss in 2021 that his interest in the paranormal was a full-time compunction, something he was drawn to do since childhood. "It's not necessarily that I've chosen this. I have the sense as though I'm supposed to do this, not just for television, but also for just my own self," he said. His show has taken him around the world, including to some places he's not keen to revisit. But the Cecil is an exception.
"[The Cecil Hotel] really truly left its mark on me in more ways than a lot of other locations have," Bagans told Mental Floss. "It's just so absolutely mysterious." Officially renamed the Stay on Main, the Cecil's reputation may more accurately be labeled seedy than mysterious. Per the Los Angeles Times, it spent the middle decades of the 20th century branded as a den for drug dealers and prostitution, part of the infamous skid row. But Bagans seems sure that it's home to darker spiritual plagues, and it has been connected to more than one murder in its years.
The Cecil was a glamorous hotel turned bad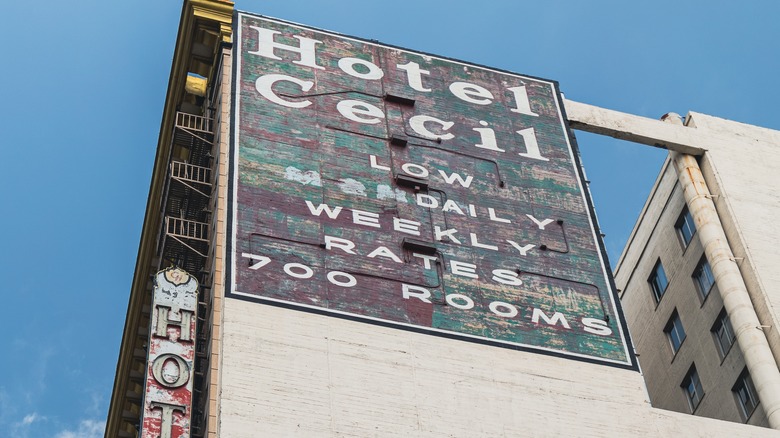 Gabe Martinez/Shutterstock
The Cecil Hotel was originally opened in 1924 and, per CNN, its original clientele was primarily traveling businessmen. In its earliest years, it was a rather swanky establishment catering to the upper crust. But even then, it saw its share of tragedies.
Per KCET, an early incident involved a guest named Dorothy Roberson, who tried to commit suicide with barbiturates after her husband died in 1929. The onset of the Great Depression marked the beginning of the end for the Cecil's shining reputation. Suicides at or near the hotel were reported so often that it picked up the nickname "The Suicide" by the 21st century. There were also murders, including the gruesome and unsolved death Goldie Osgood in her room in 1964. It's commonly believed that two serial killers, Richard "Night Stalker" Ramirez (who frequented skid row) and Jack Unterweger, briefly resided in the Cecil.
Of course, even a place with verifiable tragedies can have its reputation inflated. The Cecil Hotel has been tied into the lore around Elizabeth Short, aka the Black Dahlia. It's often been repeated that she was found near the hotel or seen outside it before her death. But Larry Harnisch, a former Los Angeles Times reporter and enthusiast on the Black Dahlia case, has pointed out on the WordPress blog The Daily Mirror that Short's body was found 11 miles from the Cecil, and that there is no evidence she ever lived at or even visited the hotel.
It's inspired fiction and nonfiction horror shows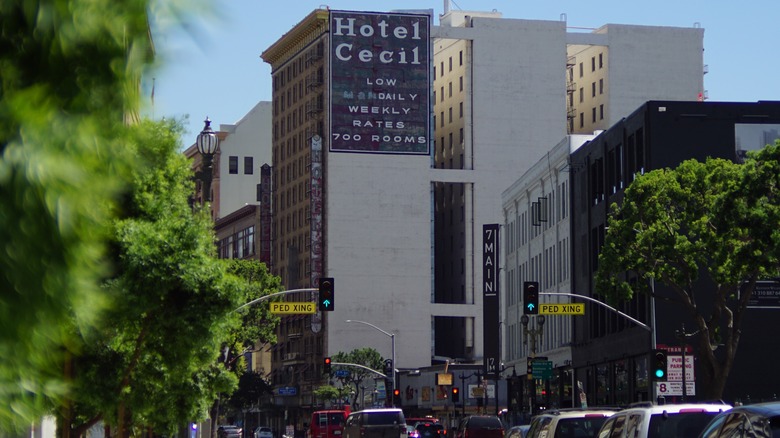 Antonius Wolf/Shutterstock
Downtown Los Angeles has undergone gentrification in recent decades. But the Cecil Hotel's reputation hasn't been scrubbed clean, and tragic incidents haven't stopped. Another addition to is gruesome legacy was the discovery of the body of Canadian tourist Elisa Lam in the water tank in 2013 (per KCET). But the Cecil was scheduled for major renovations in 2017 and reopened as affordable housing in 2021 (per Los Angeles Magazine).
Stories about rehabilitation and cheap living space, however, don't often move papers, online traffic, or ratings. Besides "Ghost Adventures," a variety of fiction and nonfiction film and TV projects have turned to the Cecil. Ryan Murphy told Collider that his fascination with the hotel's history helped influence the 5th Season of "American Horror Story," and Netflix devoted an entire documentary series to the location the same year it reopened.
As for "Ghost Adventures," the Cecil was a longtime ambition for a subject to tackle. Zak Bagans claimed in the Las Vegas Review-Journal that this was the first paranormal investigation ever allowed there. "We've been trying to get inside these rooms for more than a decade," he said. "It doesn't get bigger and more sinister than this." The two-hour special "Ghost Adventures" devoted to the Cecil was part of the inaugural launch of Discovery+ in 2020. Bagans didn't tell Mental Floss what he would do on a revisit, but he did posit ever more rooms and hallways existed in alternate dimensions.