Steven Tyler's Feud With Kid Rock Explained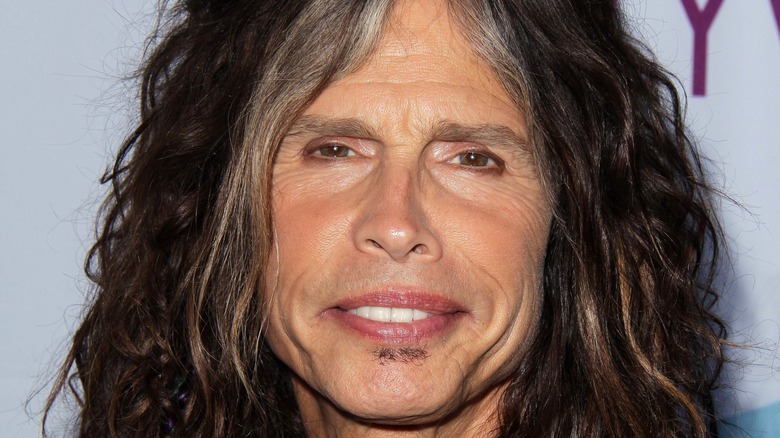 s_bukley/Shutterstock
A months-long war of words began between two chart-topping American rock musicians when Kid Rock told Entertainment Weekly that he thought Steven Tyler's decision to join "American Idol" was the stupidest thing the Aerosmith singer had ever done. "He's a sacred American institution of rock 'n' roll," Kid Rock said in October 2010, "and he just threw it all out the window ... I think whoever's advising him, we should bring back the guillotine, or whatever they call that thing. And if it was himself, he needs some serious counseling. I love him to death, but I gotta speak the truth."
The next month, at an "Idol" press conference, Tyler was asked about Kid Rock's criticism. "[Kid Rock's] just jealous," Tyler said. Then, in December 2010, Tyler and the "Bawitdaba" singer had a tense moment at Paul McCartney's Kennedy Center Honors ceremony. Recalling that interaction, Tyler told Billboard in January 2011, "I looked at [Kid Rock] and said, 'You know what, man, I'm not going to argue with you. If I agreed with you, we'd both be wrong.'"
"[Kid Rock's] comments don't mean s***," Tyler also told Billboard. "It just doesn't mean anything in the great scheme of things. It's television. I've never done this and it's going to be fun, and if he thinks for a minute that it's going to take my career down ... I want what he's smoking."
Kid Rock doubled down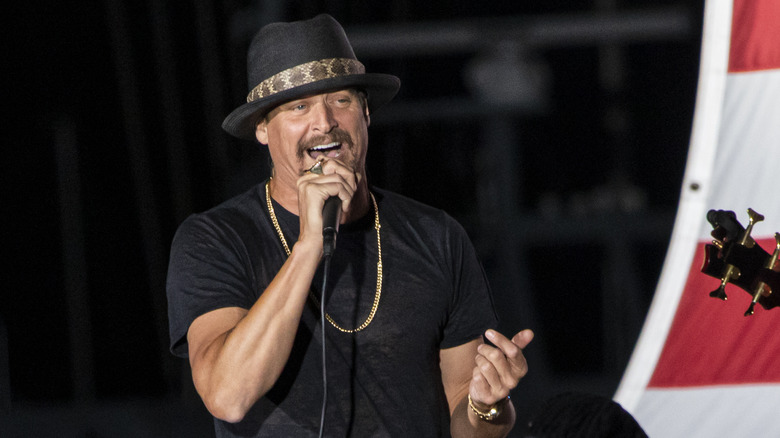 Scott Legato/Getty Images
Around that same time, Kid Rock doubled down on his anti-'Idol' position in an "On the Record with Fuse" appearance. "I think that was a bad move for Steven Tyler," the musician said, calling Tyler one of the greatest American rock singers ever. "There's no question about it, I love him dearly. I hope Steven will still be friends with me," Kid Rock said (via YouTube).
Kid Rock continued, "I'm conflicted with that whole [American Idol] system. I don't knock the kids for going on 'American Idol'. They're just trying to be stars and get their music heard. But I disagree with the process of grabbing these kids before they've gotten out to experience some things — get some chops, get some scars, get some feel, play some clubs, learn how to write a song ... Let's face it, 'American Idol' doesn't have any credibility — zero credibility and [Tyler] has oozes of credibility and I feel like he just threw it out the window," Kid Rock said.
Around that same time, another musician chimed in on the Steven Tyler 'American Idol' controversy: Joe Perry, lead guitarist in Tyler's band, Aerosmith. Speaking with The Calgary Herald in 2010, Perry said, " (via Blabbermouth), "[American Idol is] a reality show designed to get people to watch that station and sell advertising ... [W]hen we put this band together, this is not something that [Tyler] would do." Tyler appearing on the show was the singer's business, Perry said, "but I don't want Aerosmith's name involved with it."
Tyler left 'Idol' in 2012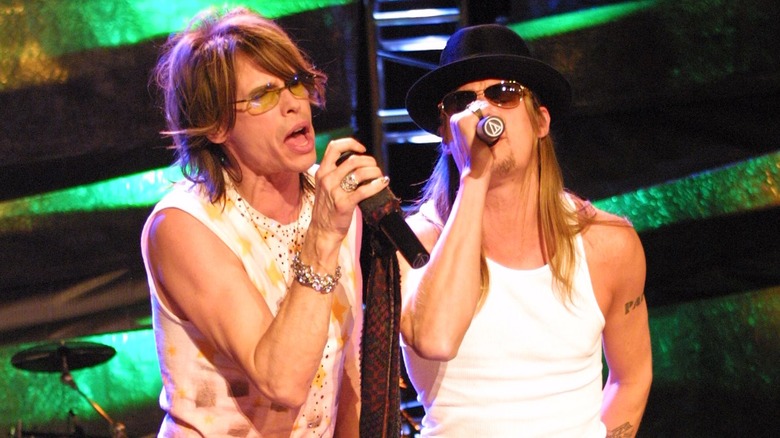 Kmazur/Getty Images
Also in 2010, Mötley Crüe bassist mentioned the Kid Rock-Tyler feud on his radio show, "Sixx Sense," per US Weekly, "I get what [Kid Rock's] trying to do — he's trying to say 'American Idol' is cheesy ... but the whole point of Steven Tyler being on American Idol is to not make it cheesy!" Sixx said. "[Tyler] knows how to write songs, he plays instruments; he's one of the greatest singers and one of the greatest frontmen of all time. So who's better to judge somebody than Steven? There should be more Steven Tylers on there!" Kid Rock was just trying to get attention through his "American Idol" Tyler criticism, Sixx added.
Before they fell out over "Idol," Kid Rock and Tyler were close. At the 1999 MTV Video Music Awards, Kid Rock performed a medley with Aerosmith and Run-DMC. And in 2001, Kid Rock inducted Aerosmith into the Rock & Roll Hall of Fame . In 2002, Kid Rock also opened for Aerosmith on their "Girls of Summer" tour.
Kid Rock's feelings aside, Tyler was an "Idol" judge for just two seasons before announcing his exit from the show in 2012, Billboard reported. Explaining his decision, Tyler said in a statement (via Billboard) "After some long, hard thoughts, I've decided it's time for me to let go of my mistress 'American Idol' before she boils my rabbit. I strayed from my first love, Aerosmith, and I'm back ... The next few years are going to be dedicated to kicking some serious ass," the statement said.