How Many Awards Did Brooks Robinson Win?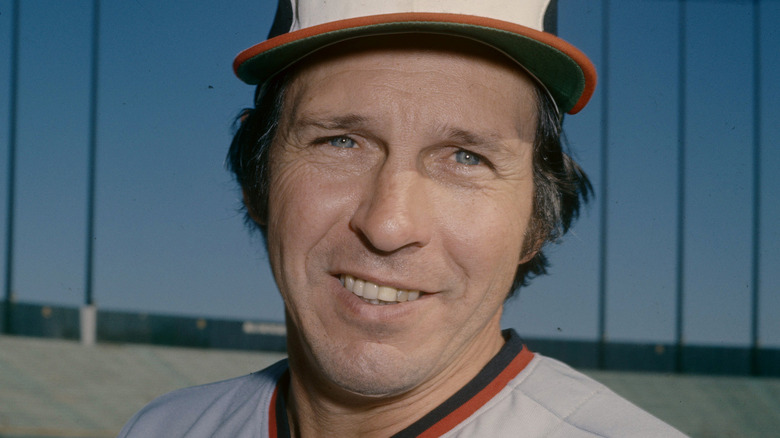 Focus On Sport/Getty Images
Only in Major League Baseball could a life story be so effectively told through numbers. That's especially true with Baltimore Orioles third-baseman Brooks Robinson, who died on September 26, 2023, at the age of 86. Born in Arkansas in 1937, Robinson entered the league in 1955 and took home the 1964 American League Season MVP, the 1966 All-Star Game MVP, and the 1970 World Series MVP. Nicknamed "The Human Vacuum Cleaner," Robinson earned 16 consecutive Gold Gloves in his 23-year career in Baltimore, the most ever won in his position. He also appeared in 18 All-Star Games. Meanwhile, the Orioles — the only team Robinson played for — also won two of Robinson's four World Series appearances in 1966 and 1970. In 1983, Robinson entered the Baseball Hall of Fame with a whopping 92% of the vote, according to CBS Sports.
Putting it all much more modestly, though, Robinson told "We Played the Game" author Danny Peary (via The New York Times), "I always had great hand-eye coordination and was blessed with the instinct to be where the baseball was hit. I wasn't fast and I didn't have a great arm, yet I compensated by quickly getting my feet in position to throw and getting rid of the ball quicker than anyone else."
The 1970 World Series
All that recognition aside, it's widely reported that Brooks Robinson's finest moment came in the 1970 World Series against the "Big Red Machine" Cincinnati Reds. According to Yardbarker, he was impressive both on defense and offense that year, batting .429 and scoring five runs with six RBI. Robinson's defensive brilliance was particularly on display in Game 1 when he caught a well-hit line drive from the Reds' Lee May at third and then threw May out at first, robbing extra bases (seen above). The Orioles went on to win it all 4-1.
Referring to the '70 World Series, Robinson once told MLB.com, "I just happened to be in the right spot in that series. I tell people that I played 23 seasons and I never did have five games in a row like I did in that World Series." Infielders can go weeks without the chance to accomplish something spectacular, Robinson said. "In this series," he continued, "every game I had a chance to do something outstanding defensively and I was hitting well, too. It was a once-in-a-lifetime five-game series for me and it just happened to be in a World Series."
Brooks was beloved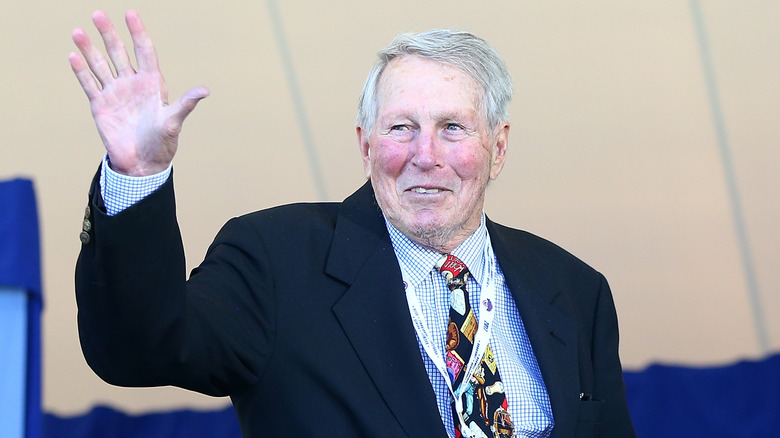 Mike Stobe/Getty Images
For reasons plain to see, Brooks Robinson was beloved in Baltimore and respected by his fellow players. Pete Rose, who played against Robinson in 1970 with Cincinatti, said (via MLB.com), "Brooks Robinson belongs in a higher league." Reds' manager that year, Sparky Anderson, added, "He can throw his glove out there and it will start ten double plays by itself." As for Orioles' fans, an Associated Press columnist once wrote (via CBS Sports), "They name their children after him."  
Robinson's death was confirmed in a statement released by the Orioles and his family on X, formerly known as Twitter. "We are deeply saddened to share the news of the passing of Brooks Robinson. An integral part of our Orioles Family since 1955, he will continue to leave a lasting impact on our club, our community, and the sport of baseball," it read. 
"All of us at Major League Baseball are saddened by the loss of Brooks Robinson, one of the greats of our National Pastime and a legend of the Baltimore Orioles," a statement from MLB commissioner Rob Manfred added (via CBS Sports). "Brooks stood among the greatest defensive players who have ever lived. ... He was a model of excellence, durability, loyalty, and winning baseball for the Orioles. After his playing career, he continued to make contributions to the game by working with the MLB Players Alumni Association."