Why Priscilla Presley Reportedly Won't Be Buried Next To Elvis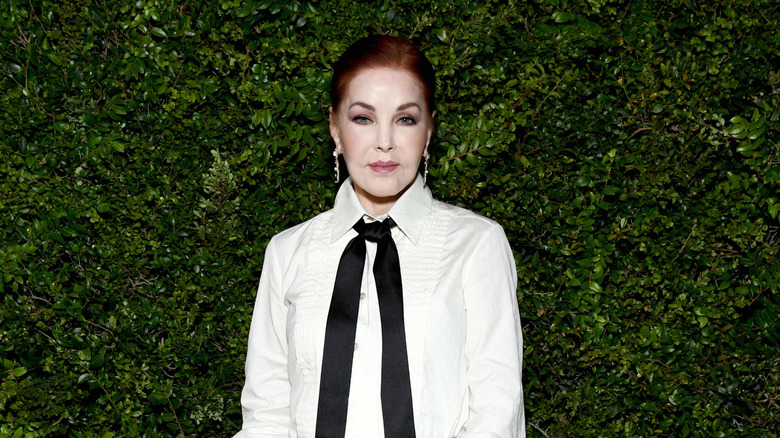 Jon Kopaloff/Getty Images
Elvis Presley is buried on his estate known as Graceland, in Memphis, Tennessee where his fans still visit, often bringing flowers for the beloved singer. Although it may seem a peaceful spot in the Meditation Garden that features his marble and bronze grave marker, even in death there has been turmoil for the King of Rock 'n' Roll. His body was initially laid to rest in a mausoleum at the Forest Hills Cemetery in Memphis but after the attempted theft of Presley's body from the cemetery in 1977, in which four men plotted to hold it for ransom, his family reburied the famous singer at Graceland along with his mother Gladys' remains, per the Associated Press. 
The latest commotion involving the burial site occurred in the summer of 2023 and revolved around whether Elvis' ex-wife Priscilla Presley would get to be buried next to him. After some legal wrangling between Priscilla and her granddaughter, the "Daisy Jones & The Six" star, Riley Keough, Priscilla will be allowed to be buried near her former husband, but not next to him, according to TMZ.
Legal battle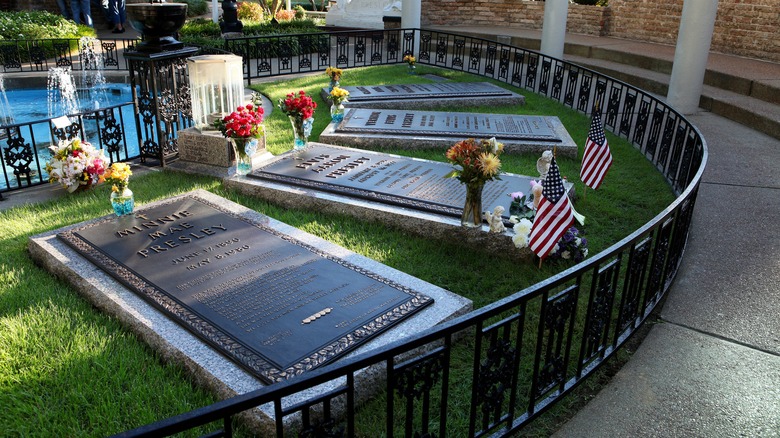 Raymond Boyd/Getty Images
After the January 2023 death of Elvis's only child, Lisa Marie Presley, from a bowel obstruction stemming from bariatric surgery she'd had several years prior, a legal battle broke out between Riley Keough and Priscilla Presley over control of Lisa Marie's estate, which includes Graceland, per Southern Living. Among the things Priscilla was after was to be buried next to Elvis, which would have required moving either his father Vernon's grave or the body of Minnie May Presley, Elvis' paternal grandmother, which was a "non-starter," per TMZ and People.
In the end, a Los Angeles judge named Riley Keough the "sole trustee" of her mother's estate, per People. In the settlement, Priscilla Presley, besides receiving $1 million plus $400,000 in legal fees, will also get to be buried in Graceland's Meditation Garden. When the time comes for the 78-year-old, she'll join her daughter, Lisa Marie, and her grandson, Benjamin Keough — who died by suicide in 2020 at 27 years old — in being buried at Graceland, per Today. 
After the dust settled
Alfredo Martinez/Getty Images
While Riley Keough partially agreed to her grandmother's burial wishes, no bodies will be moved to make way for Priscilla. "To the extent of her authority, Riley agrees to allow Priscilla to be buried upon her death in the Meditation Garden of Graceland," per court documents in the case (via People). "The burial location will be at the location closest to Elvis Presley without moving any existing gravesite."
The settlement seems fine with Priscilla. "Although I don't plan on going anywhere anytime soon," she told TMZ, "It is my family's and my wish for me to be laid to rest with my daughter and the love of my life when that time comes. We appreciate the love from all of the fans." 
Keough, in a September 2023 Vanity Fair interview, explained the situation after the unexpected death of Lisa Marie Presley. "Everyone was in a bit of a panic to understand how we move forward, and it just took a minute to understand the details of the situation, because it's complicated, " Keough told the magazine. "We are a family, but there's also a huge business side of our family." The actress dismissed the "drama in the news" about Priscilla's burial wishes. "I don't know why she wouldn't be buried at Graceland ... If she wants to be, of course."