Why Displaced Palestinians In Gaza Are Taking Refuge In UN Schools
Nurphoto/Getty Images
The October 7, 2023 Hamas attack on Israel surprised more than just the Israeli government and its citizens. According to Al Jazeera, many Palestinians in the Gaza Strip were also caught off guard by the terrorist organization's covert offensive. As of October 10, the United Nations Relief and Works Agency for Palestine Refugees in the Near East (UNRWA) reported that the Israeli government's subsequent declaration of war and attacks displaced around 188,000 Palestinians — and that number was growing. Left with few options, more than 130,000 of those Palestinians turned to United Nations refugee schools for shelter and aid, seeking food, water, and psychological and medical care for young and old alike. As the UNRWA notes, these schools have long been centers of safety for Palestinians caught in the middle of ongoing conflict in the region.
On October 9, UNRWA spokesperson Adnan Abu Hasna spoke to Al Jazeera about the situation. "Residents have taken refuge in 64 schools, with more coming, as they believe that they are the safest places in the Gaza Strip because they are affiliated with the United Nations," he said. "Some of the elderly are medical cases that need follow-up in light of the current tension, and children need psychological and social counselors in order to overcome this difficult stage they have lived through," he added. Children at a UNRWA school in 2014 are seen above.
Schools are not immune from attack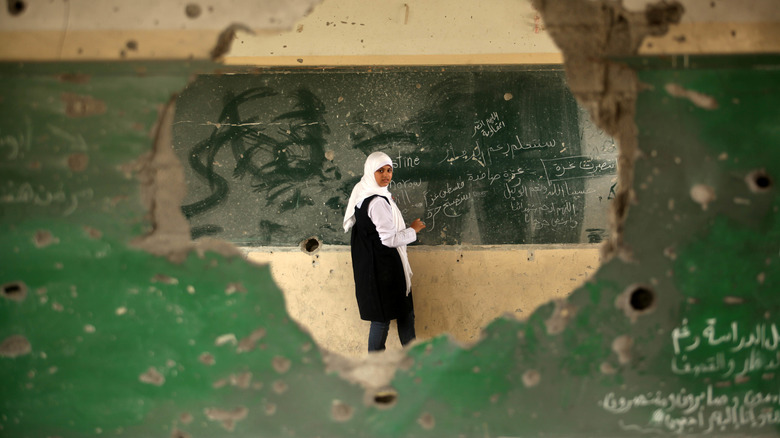 Nurphoto/Getty Images
United Nations Relief and Works Agency (UNRWA) schools have been operating in various regions in the Middle East — including the Gaza Strip and the West Bank — since 1950, two years after the establishment of the Israeli state. Per UN News, these schools are protected under international law, but as of October 10, 2023, 18 were damaged in Israeli air raids conducted in response to the Hamas surprise attack. UNRWA spokesperson Tamara Alrifai told UN News even while not at war, around 1.7 million Palestinian refugees rely on UNRWA services to survive. The role of the agency grew all the more urgent following the October Hamas attack and the subsequent Israeli war declaration, Alrifai said. She also denied claims that Hamas militants were operating out of UNRWA facilities.
In 2023, Palestinian Arifa Abu Laila told Al Jazeera, "I am a sick woman who needs treatment, and my husband is also diabetic. In every war, we come to UNRWA schools because they say it is safe. ... If we had known what would happen, we would have bought the supplies we needed, such as food, treatment, and supplies. We had to walk to the schools barefoot, without provisions such as milk and diapers for our children." The interior of a UNRWA school from 2014 is seen above.
Thousands displaced from prior conflict
According to the United Nations Relief and Works Agency (UNRWA), at the outset of the October 2023 Israeli-Hamas war, some 3,000 Palestinians were already displaced from earlier conflicts in the region. As reported by UN News, the WHO called for a "humanitarian corridor" into the Gaza Strip to supply much-needed food, water, and medicine. Saleh Al-Attar told Al Jazeera that once the 2023 Israeli bombardment started, he had no option but to flee to a UNRWA school. "How many wars have I lived through, and how many times have I been displaced to UNRWA schools? It is the fifth time since 2008," he said.
On the dire 2023 situation in Israel and the Gaza Strip, UN Children's Fund (UNICEF) spokesperson James Elder told UN News, "When you listen to the testimonies coming out of Gaza, from children in Israel, it is consistent stories of fear, of suffering, of pain. We have to listen to those children of Gaza and of Israel who are very clearly and usually through tears saying, 'Enough. Leave us alone.'"