Why Suzanne Somers Once Sued Playboy (And Posed For It Again In 1984)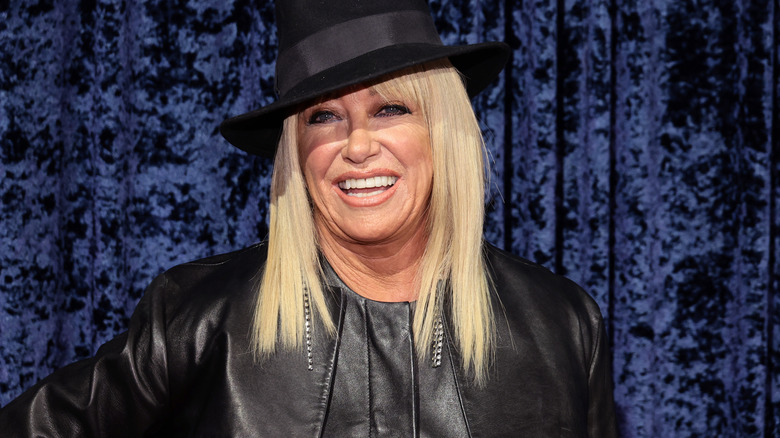 Jamie Mccarthy/Getty Images
Without a doubt, most people knew Suzanne Somers from her role on the 1970s sitcom "Threes Company," where she played the stereotypical "ditzy blonde" Chrissy Snow for just over four years, as Euronews describes. But while this cemented her career, Somers was involved in a variety of other projects over her life. She had a role in 1973's "American Graffiti," played in a Las Vegas revue, and wrote her fair share of books, largely devoted to health and beauty. Then of course, there's her time as spokesperson for Thighmaster, a squeezable resistance device built around placement between the thighs and useable in a variety of exercises. Judging by comments in a YouTube video of an old Somers-led Thighmaster promo, some folks still use their original Thighmaster today. 
What many may not know, however, is that Somers also appeared nude in Playboy magazine on two occasions: in 1980 and 1984. Only in the latter case, however, did she consent to the photos being published. In 1980 — after Somers had gathered some fame from her time on "Three's Company" — Playboy dug out her "test photos" and published them, as Parade explains. Somers didn't necessarily object to appearing nude, but rather, as she said on UPI, she wanted "100% control" over which photos the magazine published, i.e., "no gynecological shots." Somers sued the magazine and reached a settlement of $50,000, which she donated to the non-profit Easter Seals.
Bardot quality only, please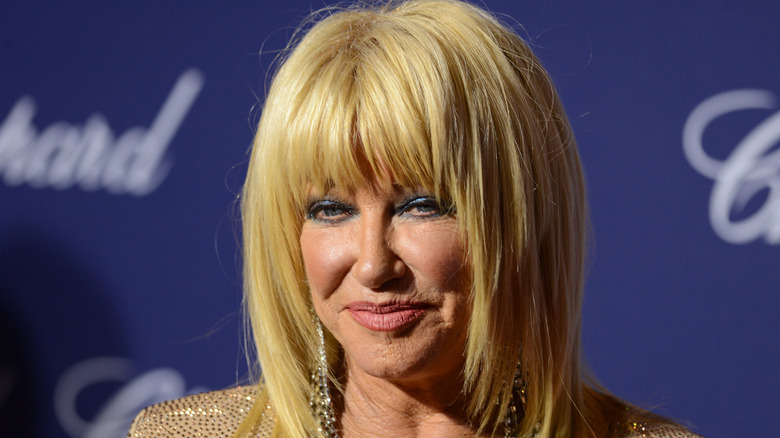 C Flanigan/Getty Images
On UPI, Suzanne Somers discusses her feelings about her original test photos, and why she didn't want them made public. "I was hurt and furious when Playboy printed the pictures without my consent," she stated, saying that she "did a lot of kicking and screaming." Ultimately, she was concerned that she simply didn't look good enough. "'Those pictures were taken of me when I was 18," she said. "I still had a lot of baby fat. I'd just had a baby and the photographs were supposed to be a test. They were lousy pictures. I weighed 20 pounds more than I do now." She concluded, "Why not have some good ones that show me in the best shape I've ever been in after six years on the road, doing two shows a night, six nights a week? 
The reader might expect this kind of conflict to lead to an unreconcilable rift between Somers and Playboy, but no. After the settlement of $50,000, Playboy reached out to Somers later in 1984. For that shoot, however, Somers wanted to approve the photos. Playboy resisted because they didn't want to establish a precedent of models dictating photography conditions or photo usage, but in the end, as Somers said, they "were gents and lived up to the bargain." The magazine wound up with 14 Somers-curated photos, which she described as having "a Bardot quality, stylish and classy." Plus, her mother said the whole thing was fine if she "remained a lady."
A possible third shoot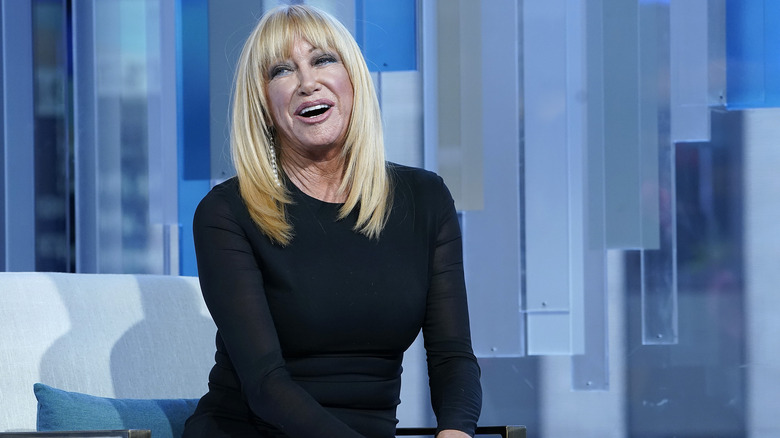 John Lamparski/Getty Images
There's another reason why Suzanne Somers was concerned about her original photos being published in 1980. As Parade says, her son was 14 years old at the time, and she didn't want him to feel embarrassed if he saw his mom posing nude in a magazine. Perhaps she had nothing to worry about, though. Come 1984, when Playboy released their Somers-curated photo batch, her son — who was an 18-year-old student at the University of California by then — exclaimed, "Wow! My friends won't believe you're my mom," per UPI. Interestingly enough, Parade says that Somers agreed to do those initial early photos for a reason straight out of a movie: to pay for her then-infant son's medical bills.
Much later down the line, as Oprah Daily reported in 2020, Somers brought up posing nude in Playboy for a third time, then for her upcoming 75th birthday in 2021. In fact, she name-dropped a specific photographer — Annie Leibovitz, her "dream photographer" — which indicates that she might have been giving it some thought already. "Actually, that would be really cool," she said. At the time, she had also recently posted a nude photo of herself on Instagram of her crouching in some high grass, which may or may not have been her testing the waters for this hypothetical third photo shoot that never happened. 
Sadly, Somers died in 2023 after living with breast cancer for 23 years. She was 76 years old.