Why The Playboy Logo Is A Rabbit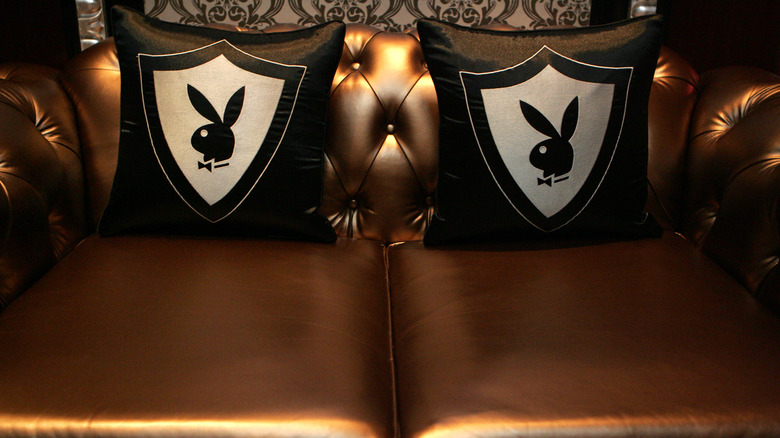 Bloomberg/Getty Images
"Entertainment for Men" magazine Playboy — by its original tagline — occupies a very peculiar place in cultural history. On one hand, creator Hugh Hefner has been maligned as a disgusting predator who profited from the abuse of women and treated them "like they're animals," as Ms. Magazine cites. He's also been credited, even by legendary feminist and academic Camille Paglia, as being integral to the sexual revolution of the 1960s, as BBC summarizes. As part and parcel of bringing the "high art of low art" to the masses, as Illinois Tech Magazine quotes, Playboy featured centerfold spreads of naked women and also published some of the "best literary and journalistic work ever committed to ink and paper," per The Hundreds. Interviews with Ayn Rand and Martin Luther King, Jr., fiction by Vladimir Nabokov and Margaret Atwood, and Ray Bradbury's acclaimed anti-censorship novel "Fahrenheit 451," published in three parts: Playboy's done it all.
And there standing watch over decades worth of serious journalism, bare skin, controversy, and a purportedly bachelor-chic lifestyle hops the ever-present, world-famous Playboy rabbit. Over the years, members of the public have doubtlessly wondered: What in the heck does a rabbit have to do with any of this? Why not a rhino, an ostrich, or a marmoset? Why do those gals wear those getups with the rabbit tail in the back? In the end, the choice to settle on a rabbit for Playboy's logo was part business acumen, part happy accident, and part artistic joke.
Follow the white rabbit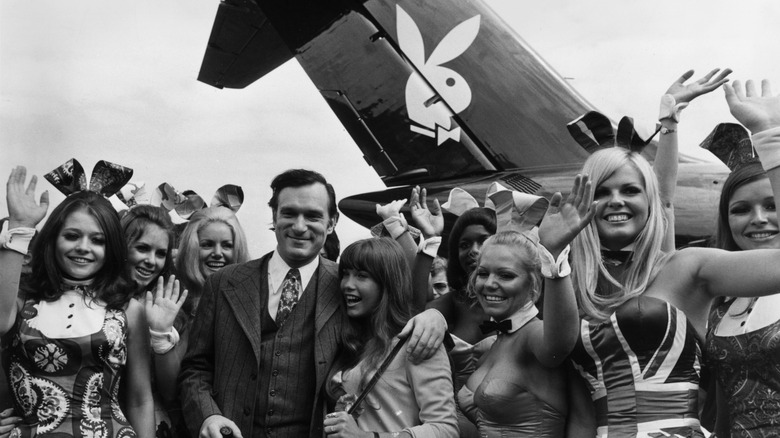 Central Press/Getty Images
Illinois Tech Magazine has the full story about the dawn of the Playboy rabbit logo. It's important to remember that when Playboy launched in 1953 — ahead of the 1960s cultural revolution — it was designed from the ground up as a finely-tuned, highly architected, well-marketed product with a very clear consumer base. Playboy was a guy magazine for guy stuff in the most exaggerated, stereotypical sense possible, but with an allegedly high-brow slant. Its pages were intended to conjure visions of permanent bachelors cruising around living luxury lifestyles in tuxedos and with coteries of female followers in tow. Founder Hugh Hefner's original name for the magazine says it all: Stag Party.
Hefner, though, didn't make such decisions by himself. Building Playboy required a team of artists, creatives, and business partners, including art director Arthur Paul. Paul was something of a rogue who, while respecting artwork of all stripes, had an interest in fusing high and low art forms — just like Hefner. Paul, brought on board the Playboy team through a word-of-mouth referral, went along with Hefner's original concept and drew a stag logo for Playboy to place at the end of articles like an on-brand period. But when the Playboy team pivoted away from the deer motif, Paul took an hour or so and retooled the deer into the similar shape of a rabbit. And to poke fun at the whole "suave man about town" thing, he gave the rabbit a tuxedo collar.
The frisky side of life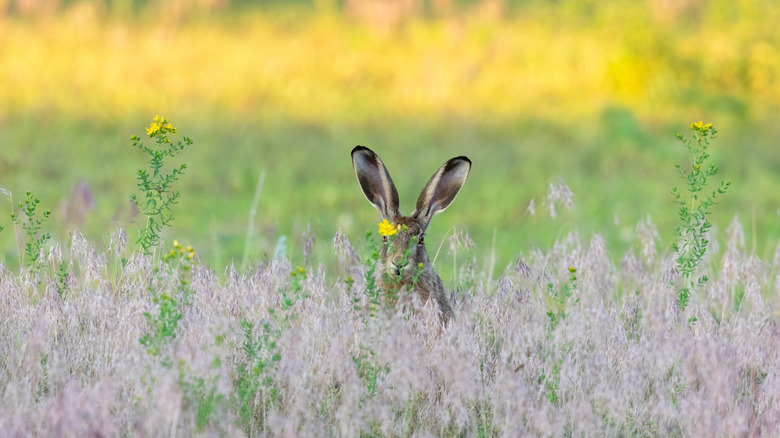 Andyworks/Getty Images
As Illinois Tech Magazine, the team at Playboy decided to move away from their original title Stag Party because of another existing magazine named Stag. That magazine was an outdoors magazine, and artist Arthur Paul told Hugh Hefner that "it was madness" to launch their publication with a similar title. Whether at that meeting or another, Hefner, Paul, and Playboy's management brainstormed about other animals besides stags that "represent a frisky slice of life," as Illinois Tech Magaziner put it. So yes, to anyone who's wondering: the choice of a rabbit carries a deliberately and implicitly sexual connotation, assumedly because rabbits are known for rampant breeding. As for the title Playboy, that was the work of another member of the magazine's crew, executive Eldon Sellers. The name helped inspire Paul's inclusion of a tuxedo collar into the rabbit logo.
In a short time, the Playboy white rabbit logo evolved to encompass the magazine's whole image. In praise of Paul, Hefner said, "He blurred the lines between fine art and commercial art just as the painter Andy Warhol did," and, "Arthur, quite frankly, was responsible for changing the nature of commercial illustration." After crafting Playboy's globally famous rabbit logo, Paul went on to become vice president of the magazine. He left that position in 1982 to give lectures, work on projects like the Chicago Film Festival, and more. He died in 2018, one year after Hefner. The Playboy rabbit logo, meanwhile, lives on — just as durable, long-lasting, and iconic as ever.