The Gaza Strip's Border Blockade Explained (And Why It's Hard To Leave)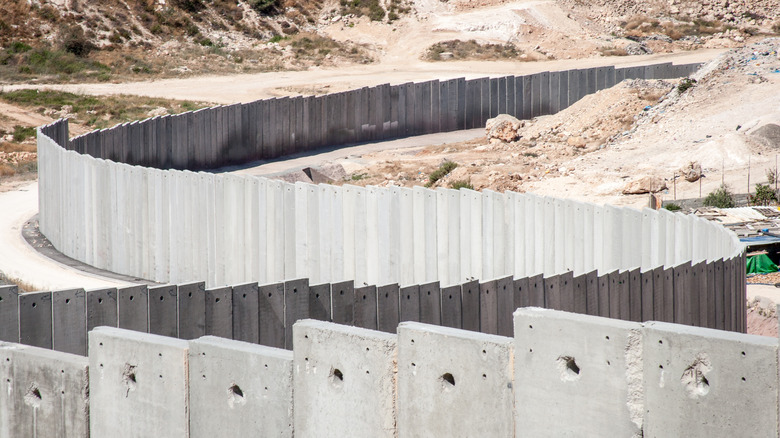 Hans Verburg/Shutterstock
Ever since the militant Islamic terrorist group Hamas took over Gaza in 2007, the western Palestinian territory has become a powder keg for violence and destruction. But back in 1994, things were more hopeful: Israel began construction on the Gaza-Israel border wall, a "snaking metal fence" that has been fortified over the years, per The New York Times. The barrier was created amid the Oslo Accords, two agreements — one in 1993 and one in 1995 — that attempted to end what was already, at that point, a 50-year-old conflict between Israel and Palestinians. In 2005, though, Israeli troops lost their foothold in the Gaza Strip. Come 2021, Israel announced that it had completed enhancements to the wall focused on preventing individuals in Palestinian territories from sneaking into Israel. And in 2023, that wall locked at-risk civilians inside Gaza.
On October 12, USA Today reported that Israeli Defense Forces (IDF) said Gazan citizens had 24 hours to evacuate "for [their] own safety." The military issued this warning following a series of back-and-forth military exchanges that started on October 7, when Hamas renewed their attacks against Israel in the form of thousands of missiles launched on "indiscriminate [Israeli] targets," as ABC News says. But despite such warnings, United Nations spokesperson Stéphane Dujarric called the IDF request "'impossible ...without devastating humanitarian consequences." As USA Today also says, the Gaza-Israel border wall has effectively stranded millions of Gazans, who are limited to a mere three exits from their home. 
Bottlenecked into three small border wall exits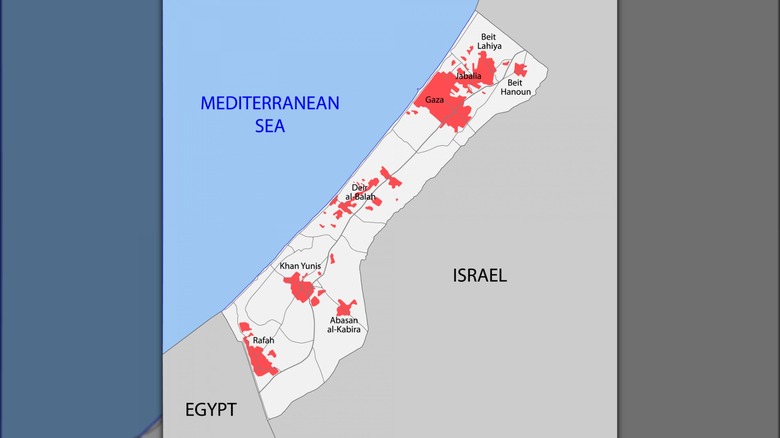 Grebeshkovmaxim/Getty Images
USA Today has a good illustration of Gaza and its border wall, aka the "Iron Wall," which lines the region. Ultimately, it's the location of Gaza's border wall exits that makes it so difficult for civilians inside to evacuate — they funnel evacuees into tight bottlenecks. Gaza is shaped like a slim rectangle, with the long, western bordering connected to the Mediterranean Sea. The short, northern side has one exit: the Erez border crossing. Both of the other two exits — the Rafah and Kerem Shalom border crossings — are on the exact opposite border in the Gazan south. 
People living in the entire middle stretch of Gaza would have to travel all the way to northern or southern crossings to exit. And, if millions of people are trying to exit at the same time, a timely or orderly exit is all but impossible, especially because Gaza's landmass is so slender. Plus, the country's infrastructure is already in ruins from recent shelling, as Al Jazeera describes. To top it all off, the western exit along the southern border — the Rafah border crossing — borders Egypt, not Israel, and has been blocked by Egyptian authorities. The Rafah border crossing is more central to Gaza's southern border than the other Kerem Shalom border crossing in Gaza's southeast. So, if citizens want to escape Gaza via the southern border, they have to travel to the furthest, most southeastern corner of the entire region.
Breaching the Iron Wall by motorcycle, truck, and bulldozer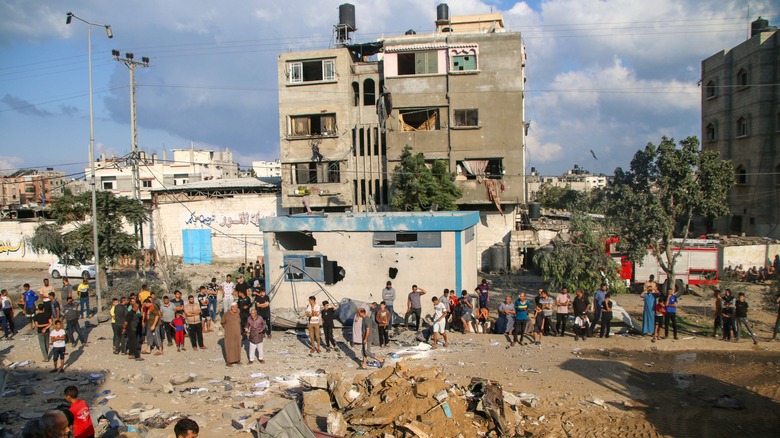 Ahmad Hasaballah/Getty Images
To make matters even more difficult to Gazan citizens wanting to either leave Gaza on their own or adhere to Israel's evacuation order, the Financial Times says that it's the Gazans living in the northern part of Gaza that are under Israeli Defense Forces (IDF) order to leave. The northern part of Gaza includes Gaza City and its surrounding areas, which are the most densely populated part of the region. Gaza City houses over 42,000 people per square mile, which makes it the 63rd-most heavily populated area in the world. Amidst ongoing evacuations, U.N. Palestinian refugee agency officer Inas Hamdan said, "This is chaos, no one understands what to do." That chaos has been exacerbated by the Gaza-Israel border wall, which heeds no difference between Hamas terrorists and innocent Palestinian citizens.
And yet, despite the 40-mile border wall having sensors and cameras in addition to radar to detect underground, Hamas-dug tunnels, ABC News confirms that the terrorist group recently broke through the Iron Wall at six locations, although more might be possible. Footage shows the border wall's fence cut as though with wire cutters or simply torn down in whole sections and Hamas troops filing through on motorcycles or in trucks. Hamas even used a bulldozer to plow through one part of the wall. Since then, the terrorist organization infiltrated nearby Israel, killing hundreds of people and taking hundreds hostage.