The Startling Amount Of Alcohol Tommy Lee Drank Daily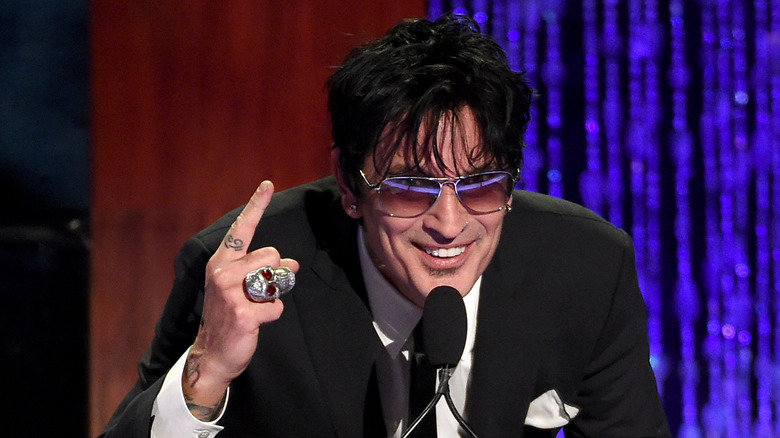 Kevin Winter/Getty Images
Having hit the skins for legendary glam metallers Motley Crüe for the best part of four decades, Tommy Lee is one of rock's most celebrated drummers. But apart from his musical skills, he is also notorious for his hard-partying lifestyle, including his addictions to alcohol and hard drugs, which he has spoken about in shocking detail on numerous occasions. In an interview with the comedian Bill Maher on the "Club Random" podcast in October 2023, the drummer shocks his host by admitting to drinking around two gallons of vodka per day when his drinking was at its heaviest.
This isn't the first time Lee has made the audacious claim about his prodigious vodka intake. In fact, it was back in an October 2020 Yahoo! Entertainment interview that the Motley Crüe drummer first drew attention to his past two-gallon-vodka intake, and claimed he got to that level of drinking out of "boredom." And while some sources have questioned the validity of Lee's claim — OutKick's Amber Harding notes​​ that Lee specifies he was drinking two "big handles," containing just under 60 ounces each, which, while undoubtedly excessive, is nowhere near two gallons a day — the truth is that it doesn't look out of character for the stickman of one of the world's most notoriously hedonistic rock bands.
The hedonism of Motley Crüe
Icon And Image/Getty Images
Tommy Lee's excessive alcohol consumption is just one aspect of the hard-partying lifestyle that he and his fellow Motley Crüe rockers cultivated during their careers. Back in the 1980s, they were known as some of the most hedonistic musicians on the circuit.
Sadly, their party lifestyle wasn't without consequences. In 1984, Motley Crüe made headlines for all the wrong reasons when a car driven by the band's lead singer Vince Neil — who was later found to have been intoxicated — crashed into an oncoming car. The passengers of the other car sustained life-changing injuries, while the crash took the life of Hanoi Rocks drummer Nicholas "Razzle" Dingley, who was in the car with Neil.
To their credit, Motley Crüe has not shied away from the darker aspects of their time as rockstars, nor the addiction that plagued their careers. The death of Dingley is recounted in the band's memoir, "The Dirt," an unflinching portrait of the band's excesses, particularly their alcohol and drug use. As Lee discussed on "Steve-O's Wild Ride" (via YouTube) the band even used to compete with other rockers to see how messed up they could get, with Lee saying some of the members of Guns N' Roses once tried to "outdrink" them, but Lee said he and Crüe bassist Nikki Sixx had the last laugh in that situation. 
How's Tommy Lee's health?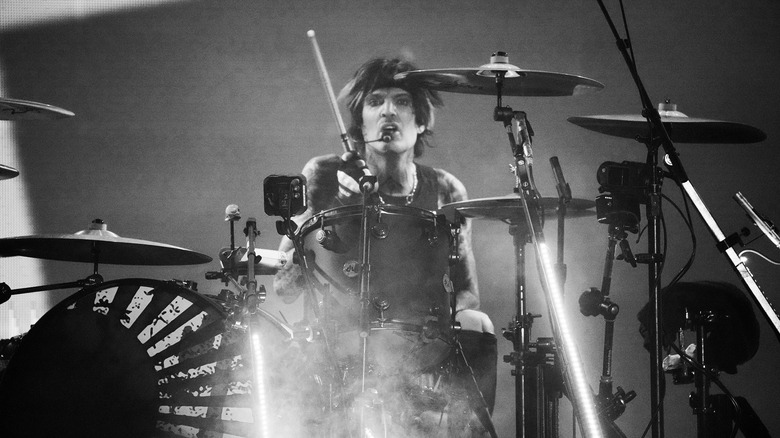 Kevin Mazur/Getty Images
It would be reasonable to assume that Tommy Lee won't be in the best state of health after a lifetime of hedonistic rockstar antics. But on the contrary, the drummer has told numerous outlets including Yahoo! Entertainment that in recent years he has been given a clean bill of health, and he is surprised to have made it through his decades of excess in one piece.
Nevertheless, though Lee managed to consume an ungodly amount of alcohol per day during the wildest period of his life as a rockstar, it doesn't mean that his behavior was in any way healthy. Lee admitted in the same interview that his vodka drinking left his liver "on crutches."
All of Motley Crüe have made steps toward sobriety in recent decades. Bassist Nikki Sixx, for example, has listed the reasons he loves being sober, and appears to have maintained his sobriety for many years. Speaking on "Club Random" in October 2023, Lee stated that he just completed a year of sobriety. 
If you or anyone you know needs help with addiction issues, help is available. Visit the Substance Abuse and Mental Health Services Administration website or contact SAMHSA's National Helpline at 1-800-662-HELP (4357).