This Was Napoleon's Last Meal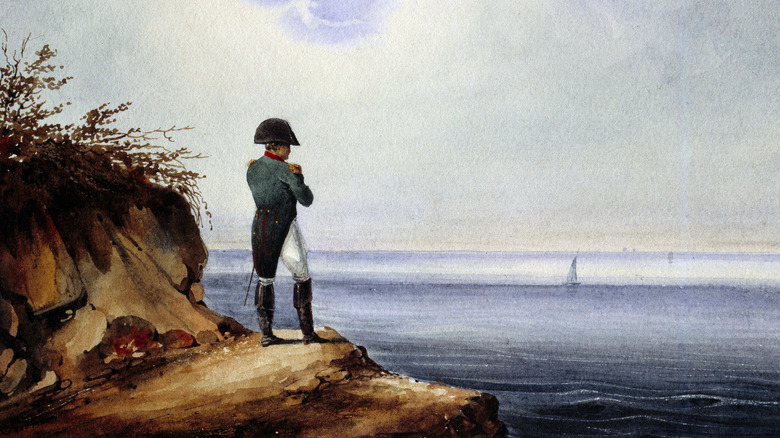 Photo Josse/leemage/Getty Images
Napoleon Bonaparte came to his ignominious end living in exile on the Island of Saint Helena. The pesky Corsican General had previously been shut away on the Isle of Elba just off the coast of Italy. However, after escaping and causing a lot of trouble a second time, he was sent to the middle of nowhere, a tiny island in the South Atlantic.
Still, Bonaparte was treated quite well during his second exile, especially considering his actions in the Napoleonic wars had resulted in 2.5 to 3.5 million combat deaths (via the Cato Institute). Documents recovered from St. Helena reveal that Bonaparte's household was well-stocked with a veritable feast of meats and loads of alcohol to wash it down. His last proper meal on the island was a similarly meaty dish, largely composed of stacks of offal. In his final days, he was too sick to eat properly although he did try.
In general, Bonaparte wasn't known as a big eater (it is believed he frequently skipped meals in his prime), however, life on St. Helena seems to have changed that a bit. Things must have got pretty boring after a lifetime of action, ergo, dinner became a major affair — and Bonaparte was served in style despite his prisoner-of-war status.
Napoleon's last full meal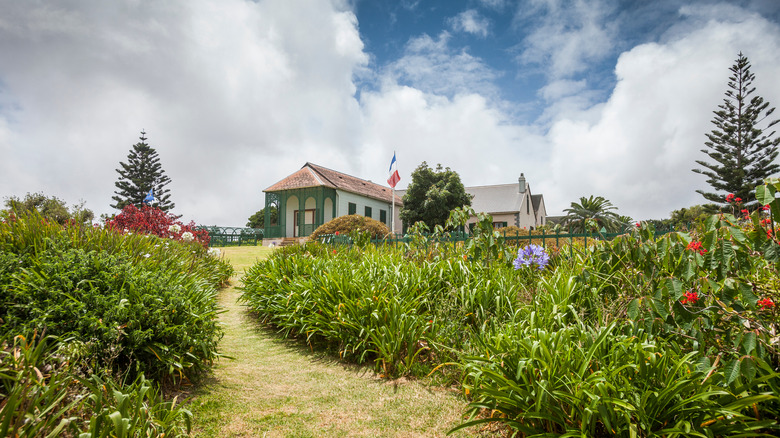 Umomos/Shutterstock
At Longwood, Napoleon Bonaparte's home on St. Helena, the general was attended by a number of staff, including a butler who served his dinners on porcelain and silver plates (per NPR). Art Daily reports that his extremely generous daily household rations included: "23 kilos of beef and veal, 23 kilos of mutton or pork, 31 kilos of bread, 42 eggs and 15 bottles of milk, two turkeys, two geese, 12 pigeons and nine fowl, in addition to the pig and ducks." All of which were accompanied by wine, cognac, rum, and malt liquor.
According to research by food writer Andrew Caldwell, Napoleon Bonaparte's last full meal consisted of the kind of breakfast you might consume before going on a 10-mile hike — albeit the 19th-century French version. His meal included fried liver and bacon, served with shirred eggs (that's eggs baked in cream for those unfamiliar with French cooking), and a side of roasted tomatoes, garlic toast, and kidneys sauteed in sherry (via Portland Press Herald).
Sadly, Bonaparte would not be going anywhere to burn off those meaty calories; he soon died after a great deal of pain during a long bout of illness. Bonaparte was soon too ill to eat much in his final few days.
Napoleon's sickbed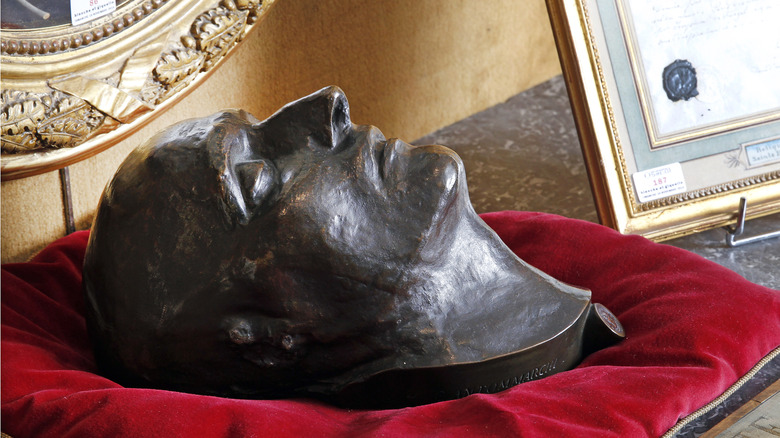 Chesnot/Getty Images
We know a fair amount about Napoleon Bonaparte's final hours thanks to the St. Helena notebooks, penned by General Henri-Gatien Bertrand. In them, the general reported Bonaparte's steady decline into sickness and his eventual death. Throughout April 1821, Bonaparte was very ill and feverish and lived with a doctor in attendance (Per the Napoleon Foundation).
Eventually, Bonaparte began refusing food and was wracked with stomach pains and occasional vomiting. Conscious that he was not long for this world, the fragile Corsican wrote his will. During this time, he ate whatever he could keep down, which wasn't much. While lost in a delirium he began calling for oranges, and he managed a few spoons of broth, biscuits, and wine.
During his final 24 hours, on May 4th, he could only manage a small amount of jelly, a bit of broth, and a few sips of orange blossom water. It is widely believed that Bonaparte's unpleasant illness was the result of some form of stomach cancer, although there is a controversial and thus far unproven theory that he was secretly fed arsenic along with his final meals.