Inside Whitney Houston's Relationship With Kevin Costner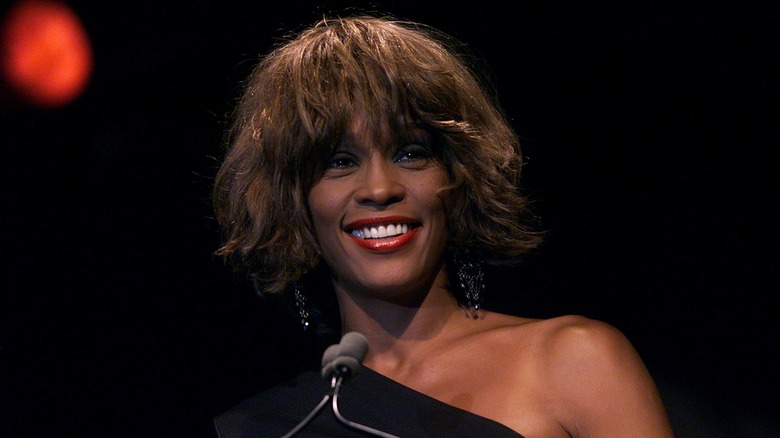 Scott Gries/Getty Images
Kevin Costner and Whitney Houston became one of the most well-known romantic movie pairings in 1992's "The Bodyguard." It's likely that the fizzling chemistry between the two was what made the 1992 film such a box office hit, but it's a different story as to whether their relationship progressed beyond the film set. Despite neither Houston nor Costner ever confirming hints of something more, the rumors persisted.
Though not a direct statement, Costner did somewhat dampen the rumors by attributing his and Houston's chemistry to screenwriter Lawrence Kasdan's script. Per Entertainment Weekly, the actor stated, "[It was a] very funny, acidic kind of relationship that was unique. His own rhythm of language that I knew would create [sparks]. It just caught [Houston] at a really high moment or actually created a high moment for her. The words provide the chemistry in a way." Nevertheless, when Houston died, Costner referred to her as his "one true love" in a statement released at the time (via Smooth Radio).
Costner spoke of his attraction to Houston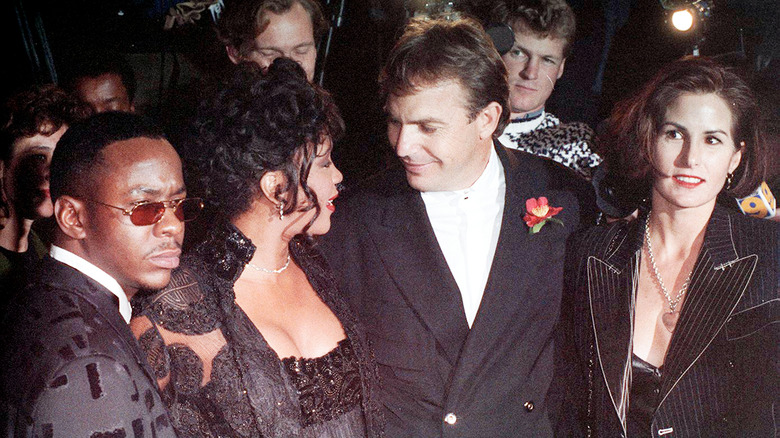 Kypros/Getty Images
At the time of filming "The Bodyguard," Whitney Houston was engaged to Bobby Brown and would wed him later that year, whereas Kevin Costner was married to his first wife Cindy Silva, with whom he had three children. However, Costner did talk about Houston's beauty and his attraction to her on more than one occasion. Speaking to Square Mile, the actor reflected on the backlash he received for choosing her, sharing, "Some people weren't happy that I picked Whitney Houston to be my love interest in "The Bodyguard" — and that I kissed her; who wouldn't want to kiss her?" He also mentioned Houston's beauty during his eulogy at her funeral, saying (via CBS News), "I saw her like every red-blooded male, I thought she was statuesque." 
Houston seemingly reciprocated Costner's positive feelings. In a 1992 interview on "A Current Affair," she shared, "We'd take our days off [while filming "The Bodyguard"] and we'd go through our scripts together, our scenes together. ... I know that I made a friend in Hollywood for life." Costner ended up breaking up with his first wife in 1994, though it doesn't appear his relationship with Houston had anything to do with it — at the time, People noted rumors suggested it was a private show with an exotic hula dancer that was the final straw.
Their relationship came to a sad end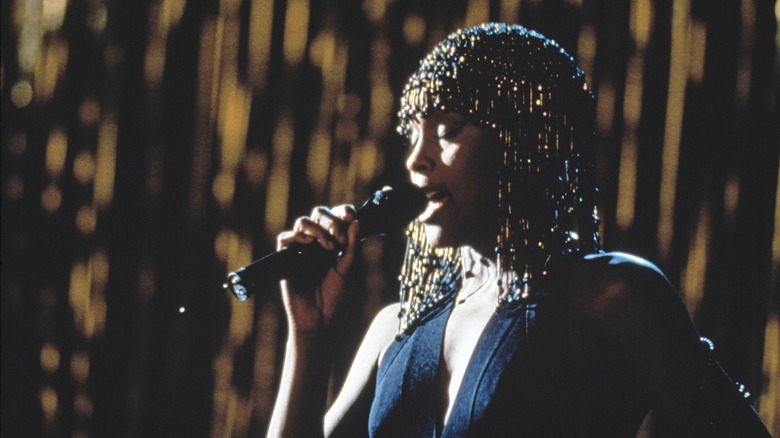 Fotos International/Getty Images
Tragically, Whitney Houston passed away in 2012 at the age of 48, and, as mentioned, Kevin Costner was one of the people chosen to speak at the star's funeral. As part of his touching eulogy, he revealed that the singer and actor had confidence issues regarding her iconic "The Bodyguard" role and didn't feel that the lighter makeup suited her (via CNN). "You weren't just pretty. You were as beautiful as a woman could be," Costner said. "Whitney, if you could hear me now, I would tell you: You weren't just good enough. You were great." The actor additionally mentioned Houston's experiences with mental health, stating, "It was the burden that made her great and the part that caused her to stumble again. The inexplicable burden that comes with fame." 
It's clear that the two meant a great deal to each other throughout their lives. In 2022, 10 years after Houston's passing and 30 years after the release of "The Bodyguard," Costner once again talked about the impact Houston made in her role. In a red carpet interview with Entertainment Weekly, he reflected, "We have a moment of her in that movie, we'll never ever forget that, and I think that when movies are working at their best, that's what can happen."