Famous People Who Passed Through Ellis Island
Everett Collection/Shutterstock
Fleeing an unhappy situation in favor of the United States and building a new life, even finding fame and fortune: That's the American Dream at its core, and many did just that, having first experienced the Ellis Island immigration center. In the late 19th century, with a massive wave of immigration underway, the U.S. government established a large facility to process and approve those coming into the nation in search of religious freedom, financial opportunity, or sanctuary. Ellis Island, just outside of New York City, opened on January 1, 1892. By the time the government decommissioned and closed it down in 1954, Ellis Island had served as the entry point into the United States for more than 12 million people. The impact of Ellis Island resonates decades after its closure, as around 40% of U.S. residents today can claim a relative or ancestor who saw the inside of that immigration facility.
Along with changing the face and cultural makeup of the United States, every day making the country more diverse, many of the people passing through Ellis Island deeply affected entertainment, culture, literature, politics, food, and most every other sector of modern life. A great many immigrants made the American Dream happen for themselves, arriving in the U.S., getting processed at Ellis Island, and then going on to dominate their professions. Here are some very famous 20th century figures who passed through Ellis Island.
Bela Lugosi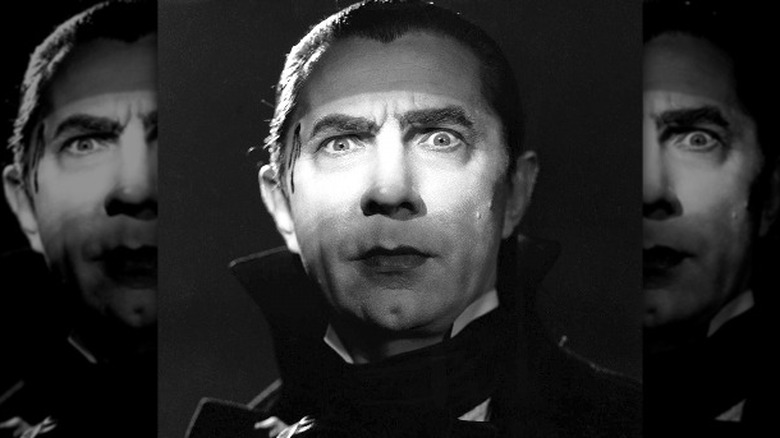 Silver Screen Collection/Getty Images
Probably the most famous monster movie actor, Bela Lugosi starred in 18 films for Universal Studios in the 1930s and 1940s. Most notably, he portrayed vampires on four occasions, notably Count Dracula in 1931's "Dracula" and 1948's "Abbott and Costello Meet Frankenstein." It's Lugosi's characterization, developed during a 1927 theatrical version of "Dracula," that established the tropes associated with the character and vampires in general, including the cape, Eastern European accent, and body language.
Lugosi served on the crew of the SS Graf Tisza Istvan as it departed Trieste, Italy, in October 1920, bound for New Orleans. Upon arrival, he received permission from his captain to explore the city and never went back to the boat. Police and the Immigration and Naturalization Service received word, but Lugosi wasn't apprehended for months, eventually located at a boarding house in a Hungarian neighborhood in New York in March 1921. 
Lugosi was sent for processing at Ellis Island — entering the facility by land instead of ship. At the time, an anti-communist "Red Scare" was underway in the U.S. and Europe. As Lugosi had been associated with groups of such political leanings in Hungary, he may have been immediately deported from Ellis Island for his beliefs. He threw off immigration inspectors and subsequently remained in the U.S. by lying about his point of origin, claiming to be from Romania.
Isaac Asimov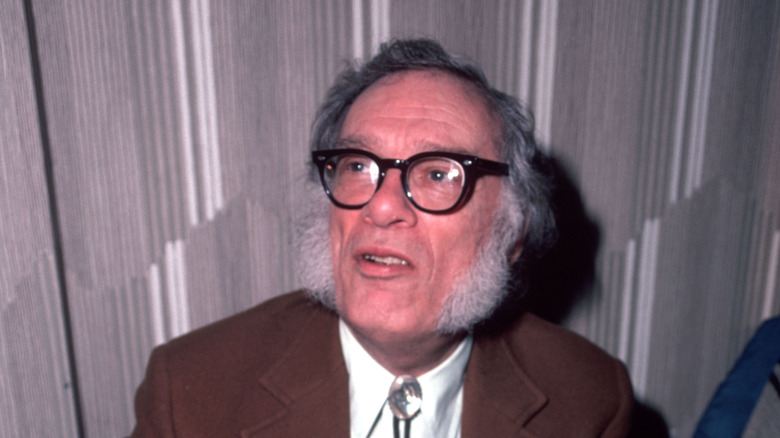 Allan Tannenbaum/Getty Images
Isaac Asimov is best known for his landmark works of popular science fiction. He created "Asimov's Science Fiction Magazine" and wrote top-selling novels including "I, Robot," the "Foundation" series, and "Fantastic Voyage," while also publishing in many other genres. Also a medical school professor and philosopher, Asimov wrote, compiled, and edited more than 500 works of fiction and nonfiction altogether.
Asimov was 2 years old when his mother's brother wrote to the family in Petrovichi, Russia, from the United States, curious if she had survived World War I and the Russian Revolution. He suggested the Asimovs similarly immigrate to the U.S., and that he'd sponsor their move. In January 1923, just after his third birthday, Asimov departed the Soviet Union, sailing from Riga, Latvia, to Liverpool, England, and then to Ellis Island, with their ship, the Baltic, arriving on February 3. After getting off the ship, Asimov's father realized they'd lost track of the boy's mother. 
"The men and women were separated and he didn't see her for four days," Asimov wrote in his essay "Ellis Island and I" (via Asimov's "The Tyrannosaurus Prescription And 100 Other Essays"). "I increased the joy of the occasion by coming down with measles (which may have delayed the reunion)." After his father assured an interviewer that he'd immediately seek out employment, the family reunited. Just 15 months later, the U.S. government instituted immigration laws limiting traffic from Eastern Europe. "We would undoubtedly not have been able to get in," Asimov theorized.
Irving Berlin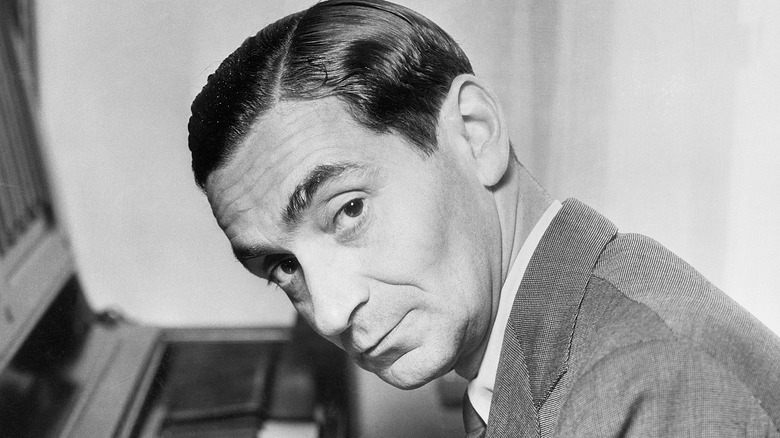 Bettmann/Getty Images
Irving Berlin is regarded as one of the chief architects of the "Great American Songbook," or the collection of pop and jazz classics and standards dating to the early 20th century — and he wasn't born in the U.S. Born in Russia as Israel Beilin, Berlin wrote about 1,000 songs, many of them enduring and familiar a century later, including "Alexander's Ragtime Band," "Puttin' on the Ritz," and "White Christmas," estimated to be the best-selling single of all time. Exceedingly patriotic for his adopted homeland, Berlin wrote "God Bless America," widely considered an unofficial national anthem of the United States.
Late-19th-century antisemitic pogroms in Russia included the destruction of Jewish villages, or shtetls, including the one in Siberia where the Beilin family lived until they fled persecution in favor of the United States in 1893. Departing from Antwerp, Belgium, in the steerage section of the Rhynland, eight members of the Beilin family, including 5-year-old Israel, arrived at Ellis Island on September 13. Upon entry into the U.S., the Beilins changed the family name to Baline, and Israel would later adapt his name more, to Irving Berlin.
Knute Rockne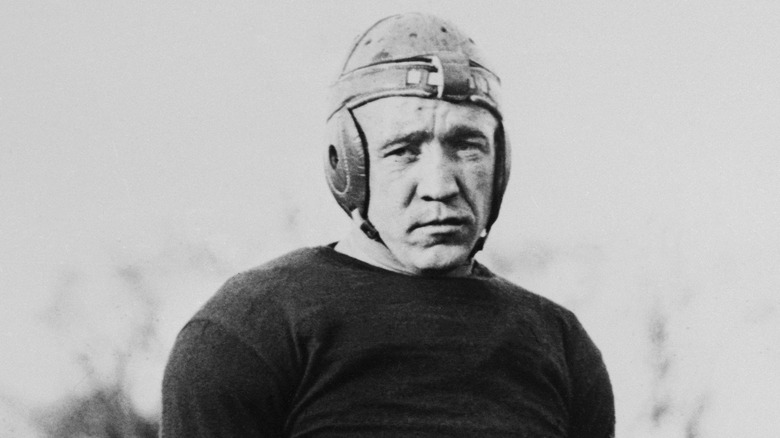 Bettmann/Getty Images
One of the most famous and influential figures in early 20th-century football, when the college version was the culturally dominant form of the sport, Knute Rockne captained the team at the University of Notre Dame and helped devise and popularize the forward pass, now the offensive standard. Rockne never left Notre Dame, building the already dominant program into something historical. After graduation, he signed on as an assistant and, in 1918, landed the head coach and athletic director jobs. In this 13-year career, Rockne's squads went 105-12-5, with five loss-free seasons and three national championships. It all came to a tragic and abrupt end in 1931, when Rockne died in a plane crash.
In the care of his mother, 5-year-old Knute Rockne departed Voss, Norway, in 1893 and headed for New York, with Ellis Island a necessary stop before they went to Chicago, where Rockne's father, Lars, had helped build a grand carriage to be displayed at that year's World's Fair. In a 2004 ceremony in front of the Statue of Liberty, Rockne's only living son, John, accepted on his father's behalf the Ellis Island Family Heritage Award, given to the descendants of immigrants who passed through the facility before making significant contributions to American life.
Edward G. Robinson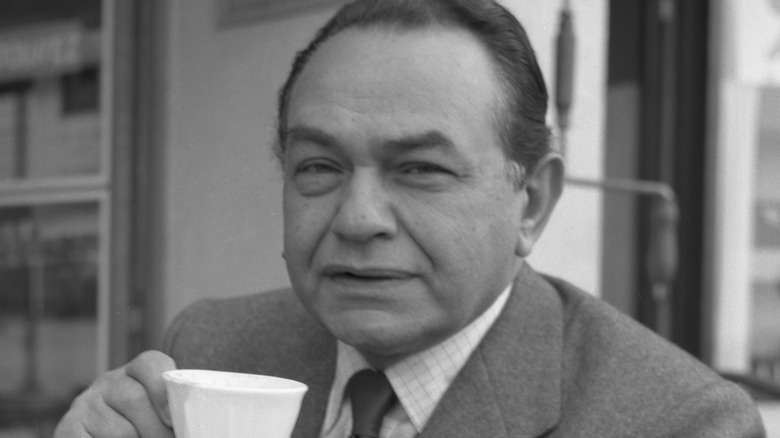 Archivio Cameraphoto Epoche/Getty Images
American movies have long romanticized the lives of mobsters and organized criminals, and that can largely be traced back to "Little Caesar," a 1931 movie starring Edward G. Robinson as a ruthless gangster. Real-life crime figures reportedly adopted some of Robinson's mannerisms, blurring the line between fiction and reality. Robinson specialized in portraying toughs, criminals, and bad guys on stage (in the controversial, banned-in-Chicago "The Racket") and on screen, including in "Smart Money," "Five Star Final," "Kid Galahad," and "A Slight Case of Murder." He appeared in more than 100 movies and received an honorary Oscar at the 1973 Academy Awards.
In 1904, 10-year-old Emmanuel Goldenberg left Romania with his family, seeking to flee antisemitic violence and persecution. The Goldenbergs found enough money to buy cheap tickets in the steerage section of a steamship and sailed to the United States, some months after patriarch Moritz Goldenberg had settled in New York. When the rest of the family submitted to processing on Ellis Island on February 21, they were held at the facility for two days; they hadn't received proper medical clearances in Romania and had to wait for the matter to be sorted out. Nevertheless, it was a crucial and invigorating experience for the future actor. "At Ellis Island I was born again," Robinson once wrote, per The New York Times. "Life for me began when I was 10 years old."
Charles Atlas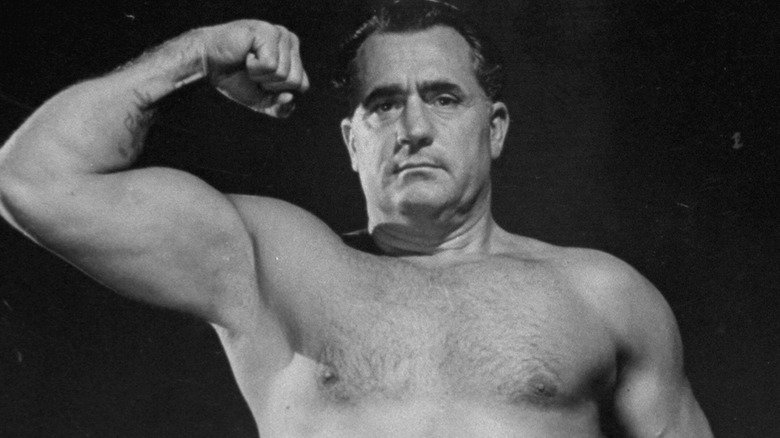 George Karger/Getty Images
An early 20th-century fitness celebrity, pitchman, and model, Charles Atlas championed physical culture and weightlifting, encouraging men to give themselves what he deemed as the ideal physique — his, which was incredibly muscular. Devising "Dynamic Tension," a program of exercises in which muscles work in conflict with other muscles to create growth and development, Atlas sold mail-order instructions via comic book ads, depicting a young, scrawny guy tired of strong beach bullies kicking sand in his face. He claimed that such an event happened to him, and that he was inspired to bulk up after seeing a statue of the Greek god Atlas at Coney Island.
Just before he turned 11 years old, Atlas, still known as Angelo Siciliano, left Acri, Italy, via the SS Roma, enduring the ocean voyage in steerage class with his mother, aunt, and grandparents. Upon arrival at the Ellis Island processing center on September 11, 1903, the family was held back from entering New York City due to various medical issues exhibited by the grandparents. Doctors ultimately decided the health problems were minor and non-threatening, and allowed the Sicilianos into the country.
Johnny Weissmuller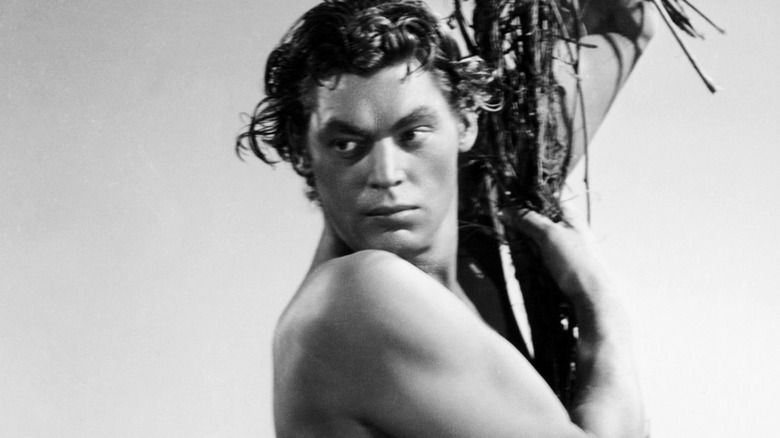 Silver Screen Collection/Getty Images
Johnny Weissmuller found fame and success in two different realms. He first enjoyed renown as a champion swimmer. At the 1924 Olympics in Paris, Weissmuller won gold medals for the United States in the 100-meter freestyle, the 4x200-meter relay team event, and the 400-meter freestyle. Also a member of the U.S. national water polo team, Weissmuller claimed a bronze medal in that sport. Returning to Olympic competition at the 1928 Games in Amsterdam, Weissmuller repeated his gold-medal-winning performances in the 100-meter and relay events. In between, in 1927, the swimmer set a 100-yard freestyle record, one of 28 such high marks he'd set across his athletic career. 
Weissmuller was such a famous swimmer that Hollywood called, and he followed up his athletic career with a stint as a movie star. As an actor, Weissmuller took the lead role in 12 "Tarzan" movies and then starred in 13 "Tarzan"-esque "Jungle Jim" films.
Born Johann Weissmüller in Párdány, a town in Romania near the border with Serbia, the athlete and actor anglicized his name slightly to Johnny Weissmuller after his arrival in the United States as a 7-month-old baby. Along with his German parents, he rode steerage in the SS Rotterdam, which docked for passenger processing at Ellis Island in January 1905. The family momentarily lived in Chicago and then settled in Windber, Pennsylvania, the home of Weissmuller's mother's brother, who had previously immigrated to the U.S.
Frank Capra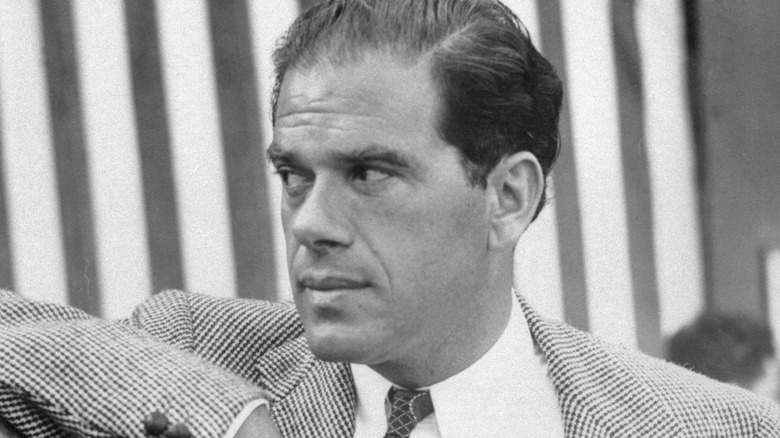 Bettmann/Getty Images
Filmmaker Frank Capra wrote and directed some of the most fondly remembered and heartwarming American films of the 1930s and 1940s. A celebrity director, whose name was prominently featured in his movies' marketing materials, he directed classics like "Mr. Deeds Goes to Town," "Mr. Smith Goes to Washington," "State of the Union," and the Academy Award for Best Picture winners "It Happened One Night" and "You Can't Take it With You." But Capra's most famous film was the annually broadcast Christmas favorite: "It's a Wonderful Life." Altogether, Capra won three Oscars for Best Director.
According to Joseph McBride's "Frank Capra: The Catastrophe of Success," the future filmmaker remembered his Ellis Island experience as somewhat chaotic, saying: "[There was] a lot of noise and a lot of chairs and we sat on the chairs and waited for two days." He arrived in New York City with his family days after his sixth birthday in May 1903, having sailed in steerage class from Sicily, in the SS Germania.
Chef Boyardee
The face and name on cans of ravioli and beefaroni belong to a real person. Ettore Boiardi worked in hotel restaurants in New York City and in West Virginia, where he helped cater the reception for President Woodrow Wilson's 1915 wedding. In 1924, Boiardi opened his own restaurant, Il Giardino d'Italia, in Cleveland. Chef Boiardi started to use a phonetic spelling of his last name, Boy-ar-dee, so his customers could more easily pronounce it. "Everyone is proud of his own family name but sacrifices were necessary for progress," Boiardi said, according to The New York Times. Chef Boy-ar-dee products (later simplified to Chef Boyardee) hit stores in 1928, and were nationally distributed by American Home Foods by 1938.
The chef's culinary journey began in his home nation of Italy, where he began working as an apprentice in a hotel kitchen in the town of Piacenza, at age 11. In 1914, aged around 17, Boiardi came to the U.S. via La Lorraine, a ship with a French registry sailing out of Borgonovo, Italy. Boiardi entered the U.S. at Ellis Island and reunited with his brother, Paolo, who had already immigrated to New York.
Al Jolson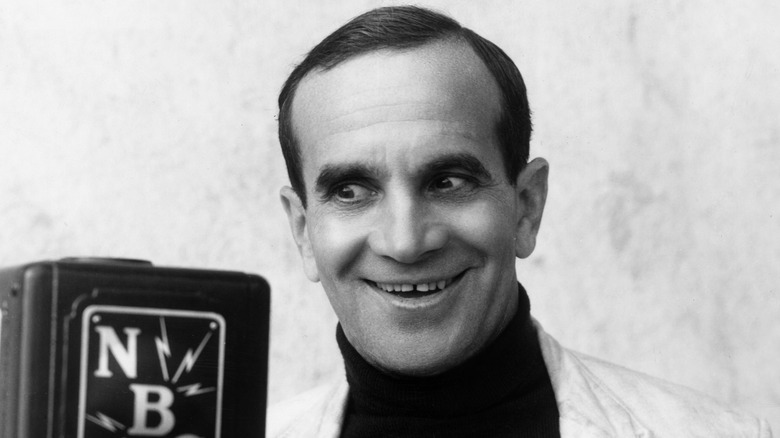 Hulton Archive/Getty Images
Before the rise of TV or radio, American entertainment was primarily vaudeville and Broadway. By 1920, Al Jolson had become a superstar of both, helping to popularize African-American musical forms such as ragtime and jazz with white audiences; and, very problematically, by singing and performing in blackface. Marketing himself as "The World's Greatest Entertainer," Jolson gave the replacement for his style of entertainment a boost when he starred in "The Jazz Singer" in 1927, the first feature film with a synchronized dialogue soundtrack. A biopic called "The Jolson Story" revived his career in the late 1940s, at which point he'd moved into explicitly showing his thanks to the country that made him rich and successful by traveling the globe to entertain American troops stationed overseas.
Jolson was born into a Jewish family in Lithuania in 1886, and at the age of 8, came to the United States, entering the country after submitting to processing at Ellis Island. In later years, seeking to avoid strong anti-immigration hostilities common in the U.S. at the time, Jolson falsely reported his place of birth as Washington, D.C., and not a constituent state of the communist Soviet Union.
Maria von Trapp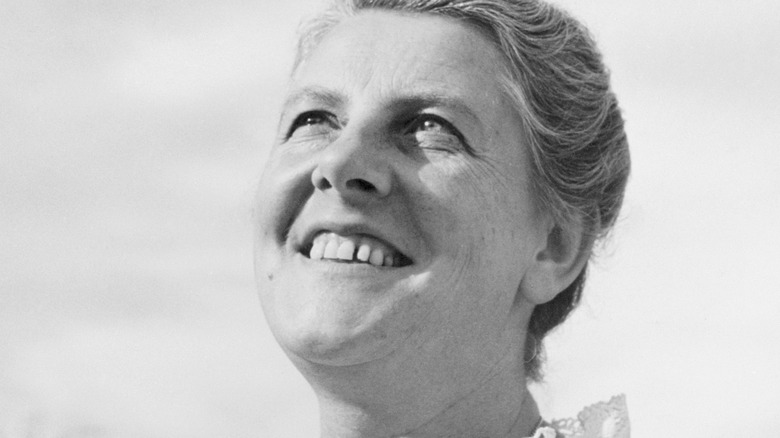 Bettmann/Getty Images
The inspiration for "The Sound of Music," the stage musical and the film, Maria Von Trapp married into the Von Trapp family and led her brood of stepchildren in a family musical act, popular throughout Europe in the 1930s.
When World War II began, the Austrian Von Trapps were scheduled to sing in Sweden, but the concert was canceled as the Swedish government directed all foreign nationals to return home. Instead, with the assistance of their agent, the family left on the SS Bergensfjord, bound for New York. During processing, an Ellis Island inspector asked Von Trapp how long she'd be in the U.S. She replied (according to "Maria Von Trapp: Beyond the Sound of Music"),  "I am so glad to be here — I never want to leave again!" 
Immigration officials took her boisterous comment literally, and the whole Von Trapp family was questioned for hours. Four days of detainment later, a hearing judge wanted to know why Von Trapp had made her comments, knowing she had a six-month visa, but he didn't buy her explanation that it was an off-handed comment. A few days later, Maria Von Trapp and her family were allowed to leave the Ellis Island prison and commence with a concert tour.
Claude McKay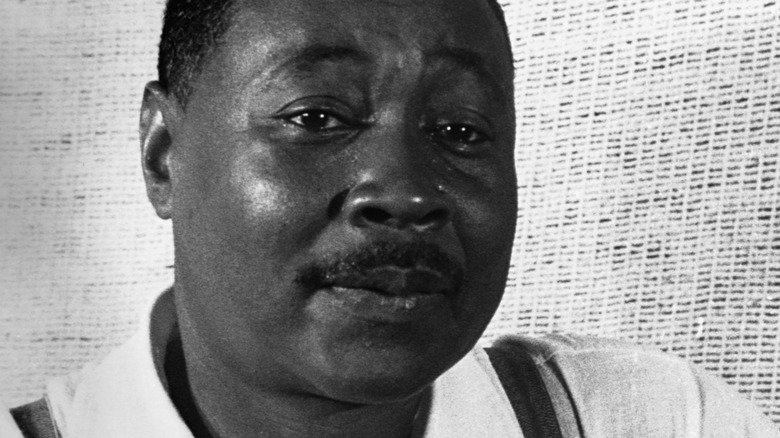 Historical/Getty Images
A landmark moment in American cultural history, the Harlem Renaissance of the 1920s is an umbrella term to encapsulate the explosive creativity and remarkable literature that emerged from the Black community in New York City. Claude McKay wrote about his experiences as a Black man years before he came to the United States. After the publishing of two poetry collections in 1912, "Songs of Jamaica" and "Constab Ballads," Claude McKay received a cash award from the Jamaican Institute of Arts and Sciences, which funded his immigration to the U.S.
Born in Jamaica, McKay (full name: Festus Claudius McKay) rode in steerage class on a ship that arrived at Ellis Island in 1912. "At last the ship was moored and I came down to the pavement," McKay wrote of his experience with the immigration center in his memoir "A Long Way from Home." "Ellis Island: doctors peered in my eyes, officials scrutinized my passport, and the gates were thrown open."
Bob Hope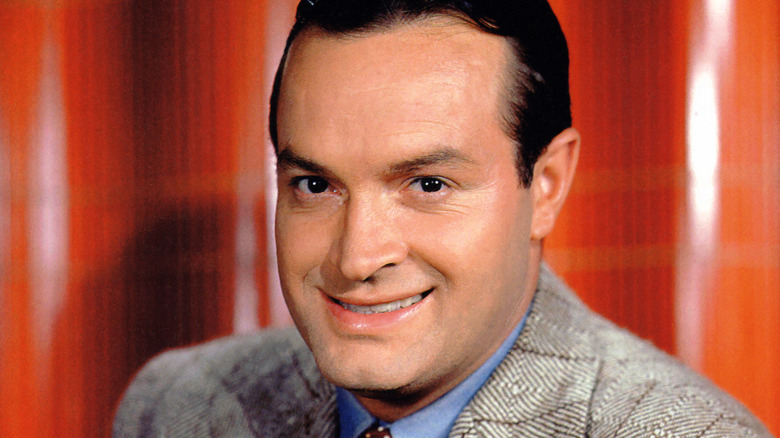 Silver Screen Collection/Getty Images
More than a movie star, radio performer, and comic, Bob Hope is remembered for entertaining American troops. From World War II and well into the 1990s, Hope traveled to wherever soldiers were to provide respite in the form of comedy and variety acts. Hope performed Christmas shows at military bases for more than 50 years, many of them doubling as annual TV events. Named an honorary veteran by Congress in 1997, President George W. Bush commanded American flags on government buildings to fly at half-mast after Hope died in 2003.
America embraced Hope just as Hope embraced America. Just before his fifth birthday in 1908, Hope departed Southampton, England, with his mother and siblings — his father leaving Europe a year earlier to work as a stonemason in Cleveland. "I remember getting the vaccination for the steamship before we left, and trying to run away from the doctor. He caught me," Hope recalled in "Ellis Island Interviews: Immigrants Tell Their Own Stories." Hope couldn't recall many details from the voyage, on account of his young age. "We were only at Ellis Island for a few hours. But I do remember standing with my mother and five brothers on the boat as it entered New York Harbor for the first time, and seeing the lights and the Statue of Liberty."
Max Factor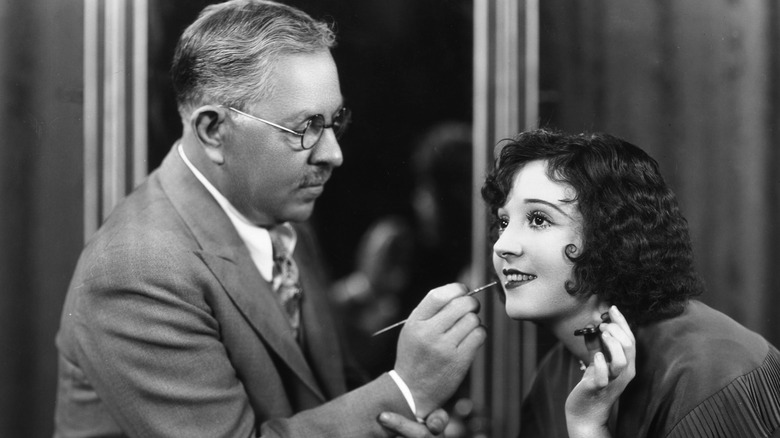 Margaret Chute/Getty Images
Maksymilian Faktorowicz grew up in Lodz, Poland, in the 19th century. Orphaned at 2 years old, he never attended school because he had to sell fruit to theatergoers to feed himself and his nine siblings. He worked as an apprentice for many years, before landing a job in Moscow at Korpo, contracted to do the wigs and makeup for the Imperial Russian Opera. Around 1900, he opened his own shop selling cosmetics and hairpieces of his own creation, considered so excellent he became the Russian Imperial Court's supplier. In the U.S., he found work in the early film industry, adapting stage makeup into innovative movie makeup and hair treatments. By the 1930s, he'd expanded into retail, selling Max Factor products in American department stores.
Following an alarming upswing in antisemitism in Russia, which included pogroms and systematic murder of Jewish people, Faktorowicz, his wife, and three children decamped to Bohemia. They then walked 300 miles to Hamburg to board the U.S.-bound SS Moltke. Upon his arrival at Ellis Island in February 1904, he gave a truncated version of his name – Maks Faktor – to the immigration officer, which was registered as heard: Max Factor.
Father Edward Flanagan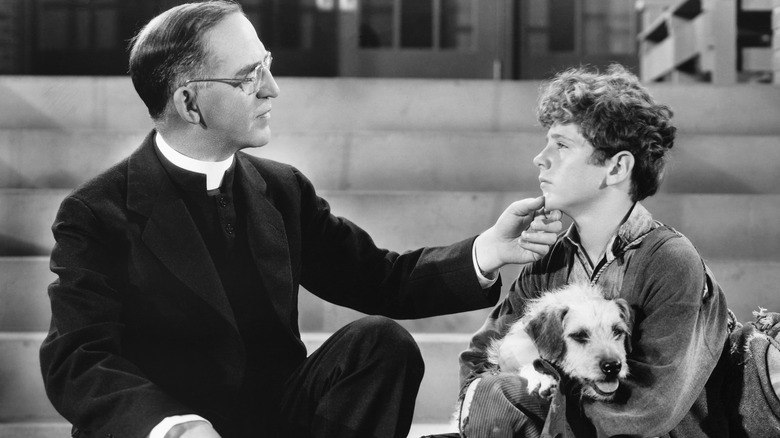 Bettmann/Getty Images
Spencer Tracy won the Academy Award for Best Actor for portraying a famous and aggressively humanitarian priest, Father Edward Flanagan, in 1938's "Boys Town." The hit film purported to tell the true story of the real Father Flanagan, a Roman Catholic man of faith who opens a rehabilitative charity home and school for abandoned, overlooked, and unwanted children. The film was produced on the campus of the actual Boys Town, which was created in Nebraska in 1917, and grew into a sprawling network of services and facilities for minors in need. Flanagan's vision was to provide an alternative to stark and potentially abusive juvenile detention centers.
Flanagan was barely out of childhood himself when he immigrated to the U.S. only 13 years before he started Boys Town. Seeking to study for the priesthood in the United States, 18-year-old Flanagan — with his sister, pretending to be his spouse, and a brother — booked passage in steerage class on the RMS Celtic, departing from County Cork in Ireland near the end of August 1904, and docking at Ellis Island.
Elia Kazan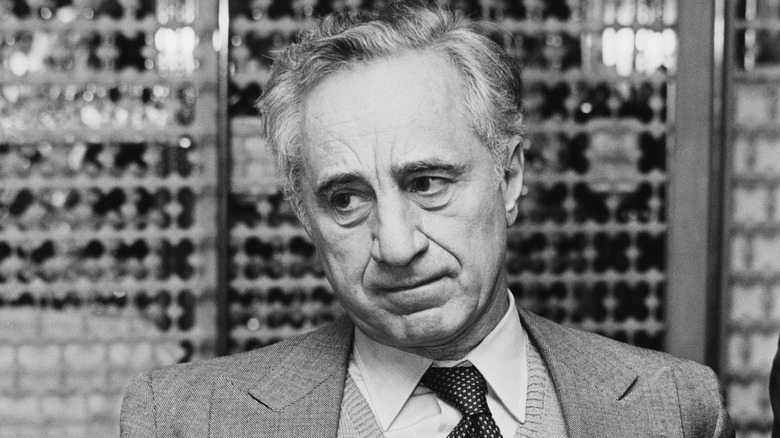 Terry Disney/Getty Images
Born in Turkey to a Greek family, Elia Kazan found success on Broadway in the mid-20th century, staging productions of significant American plays of the era, including Tennessee Williams' "A Streetcar Named Desire," and Arthur Miller's "Death of a Salesman" and "All My Sons" — the latter two netted the director two Tony Awards. A move into film proved fruitful, with his thoughtful, politically-minded works winning Kazan two Academy Awards for directing — for the corrupt dockworkers saga "On the Waterfront" and the antisemitism repudiating "Gentleman's Agreement."
Kazan arrived at Ellis Island in 1913, around the time of his fourth birthday, onboard the ship Kaiser Wilhelm Der Grosse, riding in steerage with his parents. While very young during his journey into the U.S., Kazan drew from that experience, along with that of his grandfather, who preceded the rest of the family's resettling by nine years, when writing the 1962 novel "America America." 
"My paternal grandfather deserted the Czar's army to reach Ellis Island in 1904," Kazan told MoMA. "He never learned to read or write English, but his descendants all benefited from his journey into the unknown."
Señor Wences
CBS's mid-century talent showcase "Toast of the Town," also known as "The Ed Sullivan Show," was so popular — it frequently ranked in the top five most watched shows on TV — that a single appearance, let alone a regular spot, could create instant national fame. Such was the case for Señor Wences, a puppeteer and ventriloquist who performed on "The Ed Sullivan Show" 23 times between 1950 and 1971. He captivated audiences with his puppets that seemed almost alive. Señor Wences' most famous characters included a jokester chicken named Cecilia; Johnny, who had a puppet body, blond wig, and Wences' hand for a face; and Pedro, a head that lived inside a box who uttered the memorable catchphrase, "S'aright." After "The Ed Sullivan Show" left the air in 1971, Señor Wences remained in demand, performing at the White House, on "The Muppet Show," and on Broadway.
Born and raised in Salamanca, Spain, under the name Wenceslao Moreno, the performer began his career as a bullfighter until a nearly fatal accident at age 15 inspired him to join the circus, where he learned juggling, tried being an acrobat, and discovered a knack for ventriloquism. Wenceslao toured his act around Europe for years before he decided to try his luck in the United States. In 1936, Weneslao sailed on a ship bound for Ellis Island. Upon arrival, he wasn't allowed immediate entry, stopped by officials who weren't convinced the vaudeville engagements he'd arranged were legitimate.
Kahlil Gibran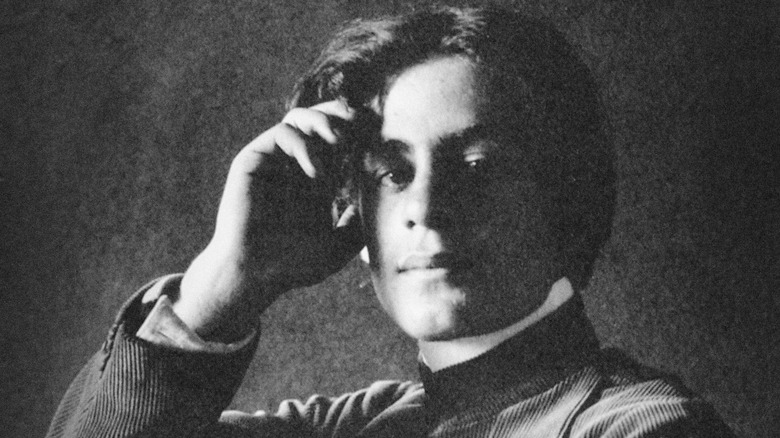 Heritage Images/Getty Images
First published in 1923, upwards of nine million copies of "The Prophet" have sold in the United States, making its author, Kahlil Gibran, the third-best-selling poet in history. The book of 26 philosophical poems, presented as lectures, is often quoted and widely used as an instructional aide and spiritually-oriented self-help guide. Gibran's influence on modern poetry and philosophy is such that public schools in New York City were named in his honor.
In 1895, when he was 12 years old, Gibran departed Lebanon (at the time, it was a part of Syria) with his family, Christians seeking sanctuary from the strictly Islamic Ottoman Empire. Gibran and his family landed at Ellis Island on June 17, 1895, and settled in Boston. Gibran adored his homeland too much to ever attain full U.S. citizenship, and he'd temporarily return to Lebanon to further his studies in 1898, just three years after his immigration.
Ayn Rand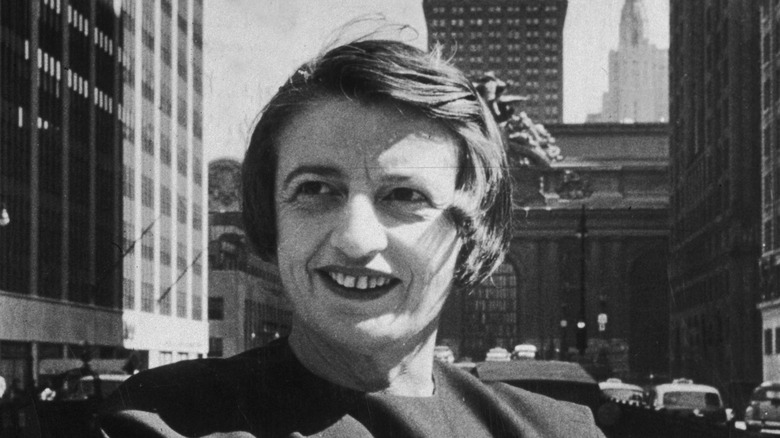 New York Times Co./Getty Images
Ayn Rand wrote fiction, but as a means to an end to explore and promote her philosophy of objectivism: a fierce and unflinching style of individualism and exceptionalism that would fuel a politically conservative moment in the 20th and 21st centuries. In best-selling works like "Anthem" (1938), "The Fountainhead" (1943), and "Atlas Shrugged" (1957), Rand (born Alissa Rosenbaum in St. Petersburg, Russia, in 1905), lionized capitalists, maverick businessmen, free-thinkers, and other characters who embodied ideals perceived as all-American.
Following a period of literature study at the University of Petrograd, Rosenbaum made plans to see family in Chicago and secured a tourist visa. The journey from Russia to the Midwest took her through Ellis Island in February 1926, where the 21-year-old was quickly processed. She never returned to Russia, then in its early Communist era, opting instead to head to Hollywood to give screenwriting a try. Changing her name to Ayn Rand, she had composed "We the Living" and "Anthem" by the end of the 1930s. After marrying actor Frank O'Connor in 1929, Rand acquired full American citizenship in 1931.
Isaac Bashevis Singer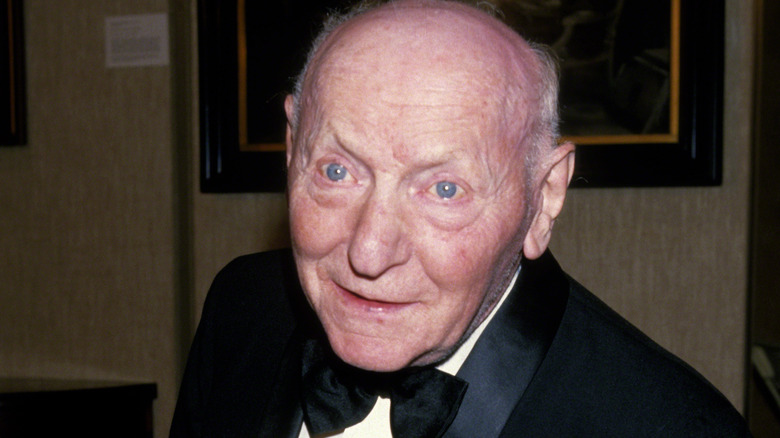 Images Press/Getty Images
Easily the most popular 20th-century practitioner of literature in the ancient Jewish language of Yiddish, Isaac Bashevis Singer would later incorporate English into his work and become a bestseller author. Born in Poland when it fell under the purview of Russia's czars, Singer spent his childhood in a forced ghetto, and would write of the European Jewish experience in fictional works like "Enemies, A Love Story," "Yentl, The Yeshiva Boy," "The Slave," and "The Magician of Lublin." In 1978, Singer won the Nobel Prize for literature, a bit over a decade before his death in 1991.
Singer had planned to become a rabbi, like his father and grandfather, but with the rise of Adolf Hitler and the Nazi Party in Germany in the 1930s, antisemitism grew in Poland. "This was one of the reasons, or perhaps the main reason, why I wanted to get away from there," Singer said in "Ellis Island Interviews: Immigrants Tell Their Stories In Their Own Words." With ambitions to be an author, and to study with his brother, a writer who'd already immigrated to the U.S., 31-year-old Singer secured a tourist visa and, in 1935, booked a tourist class ticket on the Champlain, a French ship. "The first thing I saw from the ship was the Statue of Liberty," Singer said about his arrival at Ellis Island," and it always made a great impression on me."
Cary Grant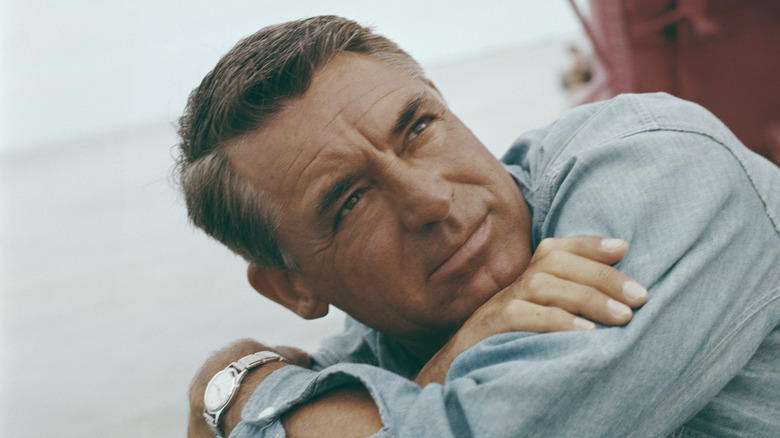 Archive Photos/Getty Images
Nearly always presented as a suave and charming leading man, Cary Grant was among the biggest stars of Hollywood's mid-20th century "Golden Age." The crisply British-accented Grant starred in all kinds of films, but he enjoyed true success with romantic comedies, including "The Philadelphia Story" and "Bringing Up Baby," and thrillers directed by Alfred Hitchcock, such as "North by Northwest" and "Suspicion." Twice he was nominated for Academy Awards, and after making "Walk Don't Run" in 1966, Grant spent the final two decades of his life in retirement.
Grant's career began on the stage, under his real name of Archibald Alexander Leach. Born in Bristol, England, he joined a traveling theatrical troupe that embarked on a tour of the United States in 1920. The 16-year-old was processed at Ellis Island, and permitted to enter the country on employment grounds, but when the troupe's tour wrapped up and they headed back to England, Leach stayed behind. He played Broadway and the vaudeville circuit, and then went to Hollywood to make movies, whereupon he adopted the stage name of Cary Grant. In 1942, well into his film career, Grant was certified as a full American citizen.