Why Elvis Presley Never Demanded Better Projects As His Career Was Declining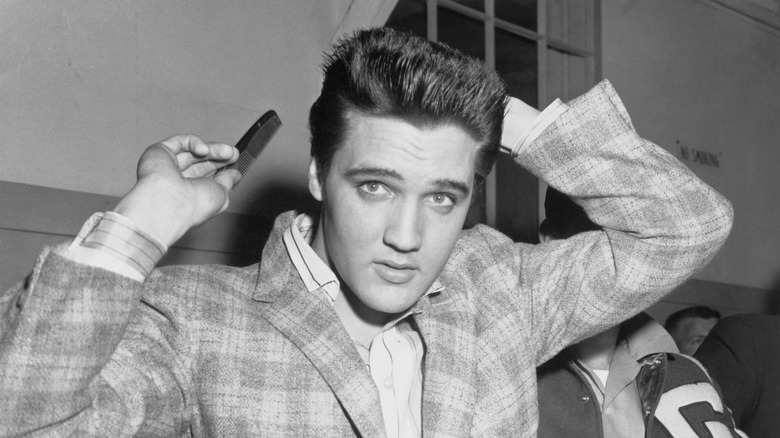 Bettmann/Getty Images
As the popularity of the recent Baz Luhrmann-directed biopic "Elvis" shows, almost five decades on from his death Elvis Presley remains the undisputed King of Rock 'n' Roll. His music, particularly his early hits such as "Jailhouse Rock" and "Blue Suede Shoes" remain timeless classics, while Elvis' importance in creating the genre of rockabilly, bringing rock 'n' roll to the masses, and constituting a break from the past to lay the groundwork for the musicians who would follow in the '60s and '70s is now an accepted part of music history.
But while Elvis remains an icon, his career is a story often two in two parts. While he was a world-beating phenomenon in his early days, as time went on the King became something of a spent force, caught in an endless cycle of ever-decreasing quality in terms of both his acting and movie roles. He was managed for the majority of his career by the formidable Colonel Tom Parker, a hardnosed negotiator who knew how to extract the most remuneration for both himself and his client from any project in which he might become involved. But many, including Elvis' own wife, have since identified Parker as the reason that Elvis' later years were so checkered.
The sad state of Elvis' late career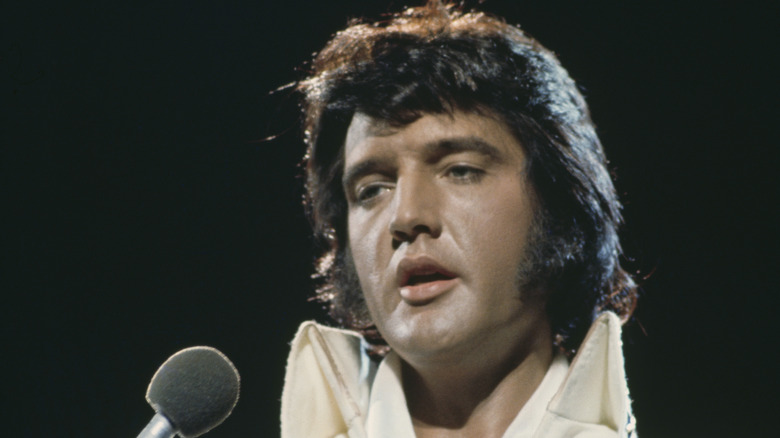 Fotos International/Getty Images
The story of Elvis Presley, one of the most significant figures in the history of popular music, is ultimately a tragedy despite his enormous cultural impact. With music tastes changing throughout the 1960s, Parker increasingly marketed Elvis as a movie star, with the rockabilly pioneer starring in 31 films between 1956 and 1972, including two concert documentaries, per The Washington Post. James L. Dickerson claims in his book "Colonel Tom Parker: The Curious Life of Elvis Presley's Eccentric Manager," that Parker drew up a schedule meaning that he had to star in three movies a year, earning the manager a huge income in the process. But with all the filming, the King found himself with little time to perform his beloved rock 'n' roll and he went for years without playing on stage.
Finally, in 1968, Elvis staged his fabled comeback, with his broadcast special, "Elvis," marking his return to music. It was his first TV appearance since he left active army duty in 1960, and his first performance in front of an audience since 1961. But while the special seemingly gifted Elvis the chance to recharge his waning music career, Parker put a pin in the chance of the King returning to the cutting edge of rock music by signing him up to a lengthy though lucrative series of Las Vegas residencies, which would remain his bread and butter throughout the 1970s as he increasingly suffered from addiction issues which would play a central part in his untimely death.
Elvis couldn't stand up to Parker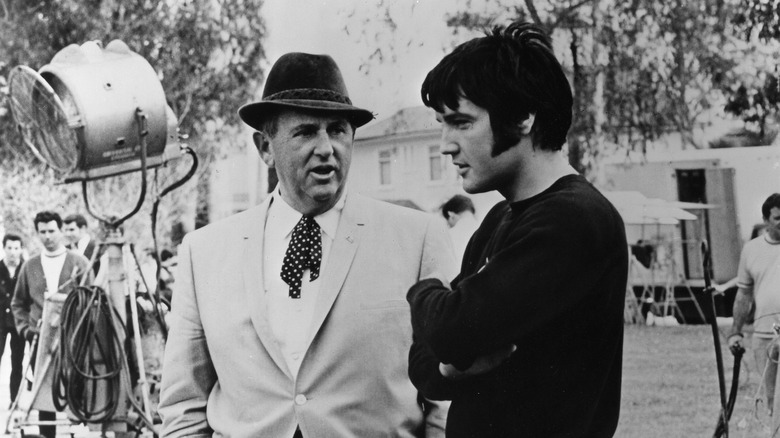 Michael Ochs Archives/Getty Images
Shortly before Elvis Presley's shocking death, three of the King's former bodyguards published a book titled "Elvis: What Happened?" Though considered by some to be a cash-in publication, the joint memoir offered a fair insight into a life and career that was starting to unravel. The book is notable for its effusive praise of Colonel Tom Parker, with bodyguard Red West saying: "I'm a great believer in fate ... It was just as if Tom Parker and Elvis Presley were destined to meet. Tom Parker was and is amazing. With Elvis and him it was like a joint and socket who had been looking for each other."
But while Parker was instrumental in getting Elvis to the very top of the music industry, in recent years there has been growing criticism of how he managed Elvis in the '60s and '70s. Parker was always intensely money-driven but became even more desperate to increase profits due to his growing gambling habit. His need for quick money seemingly encouraged him to push Elvis toward more cynically commercial roles, and he even drove songwriters away from working with Elvis due to his insistence that his side should receive more royalties from recordings than average.
Elvis' wife, Priscilla Presley, believed that her husband was scared to challenge his manager over the decision-making that was killing his career. In "Elvis & Me," she claims that when it came to Parker he felt unable to question his business decisions. Sadly, those decisions ended up impacting Elvis' artistry, causing him anxiety even as the money rolled in.