Matthew Perry's Special Bond With Courteney Cox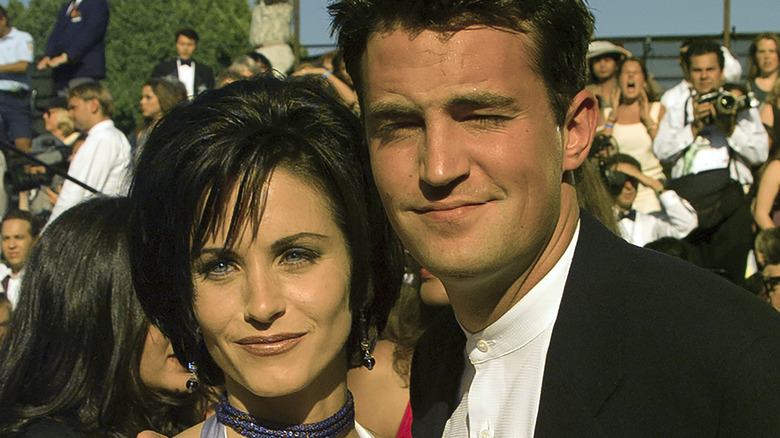 Bob Riha Jr/Getty Images
The will-they, won't-they saga of Ross and Rachel was a cornerstone of "Friends" from beginning to end, but the halfway-point love affair between Chandler and Monica, which culminated in marriage, adoption, and a move out to suburbs in the series finale, has remained a highlight of the later seasons for many a "Friends" fan. The comic chemistry between stars Matthew Perry and Courteney Cox proved just as strong in romantic situations as when they were fighting to reclaim apartments or spilling embarrassing secrets before the group.
That chemistry was built up over the 10 years Perry and Cox appeared together on the show. "Friends" was their first time working together, and the occasion of their first meeting according to Us Weekly. Cox told "Friends — Til the End: The One With All Ten Years" that she was initially up for the part of Rachel but felt more drawn to Monica; in an interview on "Late Night with Seth Meyers," Perry said he felt Chandler was the perfect role for him, though he initially wasn't able to pursue it due to another commitment.
Cox and Perry, like the rest of the "Friends" cast, became close friends in real life and leaned on one another as the show skyrocketed in popularity. Perry credited Cox, the most established name in the cast, with setting the ensemble nature of the group. For her part, Cox said she came to think of Perry as family by the end of the series.
Their chemistry helped inspire their characters' storyline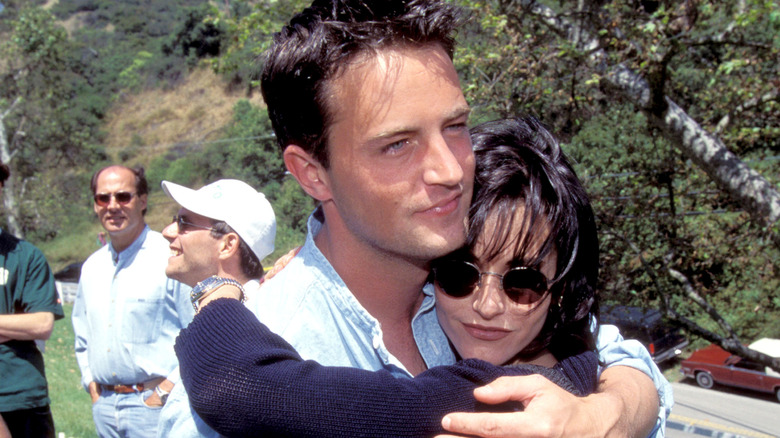 Kmazur/Getty Images
The boys of "Friends" shared a little secret about the show with "Access Hollywood" back in 2021: the cast made a pact with one another not to date within the group. It may have been initially difficult for Matthew Perry to cope with that unspoken rule; he confessed in his memoir (via The Times) that he'd had a crush on Jennifer Aniston prior to working with her on "Friends," and he told Diane Sawyer (via ABC News) that it was impossible not to develop crushes on Lisa Kudrow and Courteney Cox in turn. An anonymous source claimed to Us Weekly that Perry never fully got over his crush on Cox despite maintaining a platonic relationship with her; neither Perry nor Cox made any comment on that tabloid rumor.
But if their off-screen friendship remained just that, their on-screen chemistry from early on in the series helped suggest Chandler and Monica's eventual romance. Writer-producer Scott Silveri told Vulture that, ever since the Season 2 episode "The One Where Ross Finds Out" carried a B plot about Monica coaching Chandler through exercise, the staff had been intrigued by the possibilities of putting the two together. "There was a really fun dynamic between the two of them," Silveri said of the characters. When the hook-up finally happened in Season 4, producers hedged on whether to make it an ongoing relationship until they saw whether Perry and Cox had sexual chemistry. The actors themselves had reservations about the coupling. But as things played out, all fears were abated.
They remained close after Friends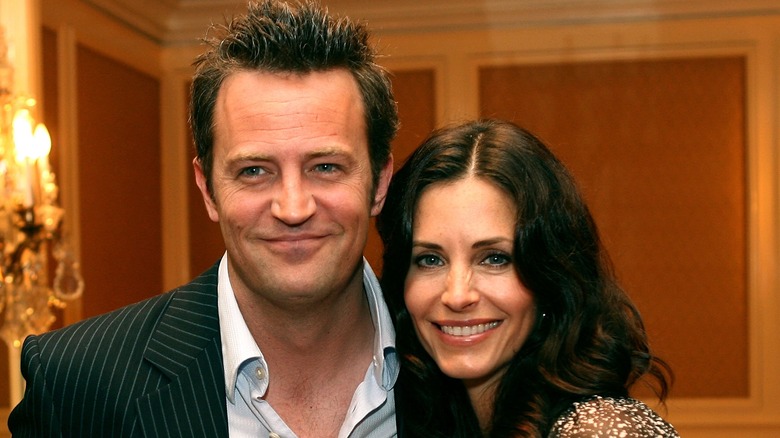 Kevin Winter/Getty Images
All the cast of "Friends" have been outspoken about how close-knit they became during the show's run, and remain to this day. On "Friends: The Reunion" (via YouTube), Matthew Perry described their friendships as the type where, if any two of them bumped into each other, they would be together for the rest of the evening no matter what. His words brought Courteney Cox, and Perry himself, to tears; they shared Kleenex halves to dry their eyes.
Cox and Perry had a few on-camera reunions over the years as well. The first was for Perry's series "Go On!" in 2012, which cast Cox as a potential romantic partner. The two joked with Access Hollywood (via YouTube) that the experience was just like "Friends" — minus "30 million" viewers. Perry later guest-starred on Cox's show "Cougar Town." "It was so great to work with him [again]," Cox told "Conan." "He's so sweet." In the same interview, she credited Perry with helping her develop her comedic personality in the years they worked together.
Cox remained supportive of Perry throughout his life. In an interview with The Sunday Times, she was sympathetic to the pressure that Perry revealed he'd put himself under to try and make "Friends" work. And when the interviewer alluded to Perry's allegedly "forlorn" appearance on the "Friends" reunion special in the context of his substance abuse issues, Cox stayed in her friend's corner. "He's just struggled for a while," she said. "I think he's doing great now." Cox would later attach her name to the "Friends" cast statement issued after Perry's tragic death from drowning (per The Guardian).