Tragic Details About MF DOOM's Death That Emerged In 2023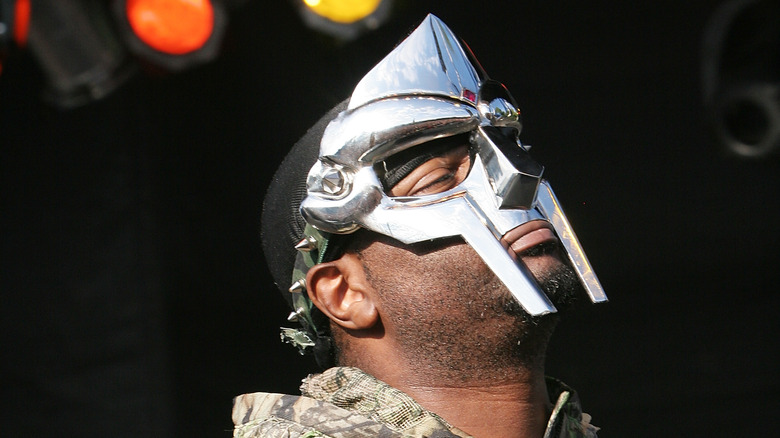 Roger Kisby/Getty Images
Formerly known as Zev Love X as part of the rap trio KMD, Daniel Dumile reinvented himself as the metal-masked villain MF DOOM in the late 1990s and early 2000s. With classic albums such as "Mm..Food" and "Madvillainy" — a collaboration with producer Madlib released under the name Madvillain — he became one of the most beloved figures in the world of underground hip-hop. However, Dumile's career went somewhat off the rails in 2010. After a European tour, the London-born, New York-raised rapper was barred re-entry into the U.S., effectively exiled from his home country, where he was married with children. Dumile was forced to settle in the U.K., and though he continued to release music, he never recaptured his prolific output nor previous critical acclaim.
On December 31, 2020, Dumile's wife, Jasmine, posted a statement on her husband's Instagram account praising the rapper as "the greatest husband, father, teacher, student, business partner, lover and friend I could ever ask for." She said that he had "transitioned" on October 31 of that year, and soon after, the world's news outlets reported that MF DOOM had died. He was 49. Few details concerning MF DOOM's cause of death were made public following his wife's Instagram post, leading to a flurry of online speculation. However, on July 4, 2023, the UK news outlet Leeds Live reported on a hearing that had taken place at Wakefield Coroner's Court, and it shed light on the rapper's final hours.
He died from cerebral hypoxia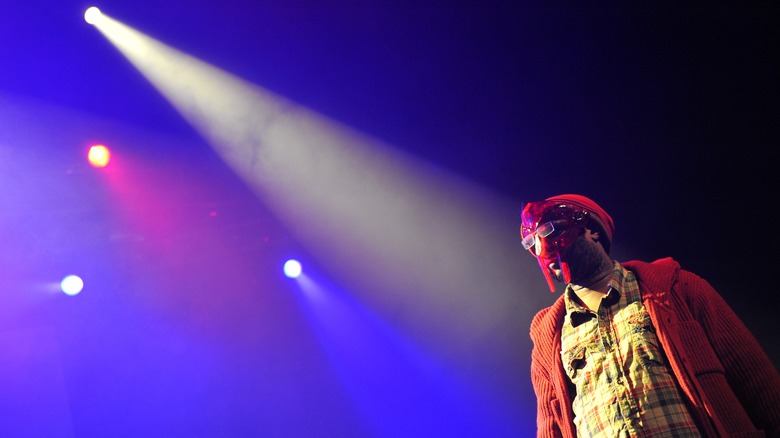 C Brandon/Getty Images
The Leeds Live report into the hearing revealed that the rapper known as MF DOOM died at the city's St. James' Hospital. Per another Leeds Live report two days later, the cause of death was a lack of oxygen to the brain — cerebral hypoxia — due to respiratory arrest brought on by angioedema, a sudden swelling of the face and tongue. This condition was caused by an adverse reaction the musician had to ACE inhibitors, a form of blood pressure medication that he had just been prescribed — and taken two doses of.
The reaction caused him to enter the hospital's accident and emergency ward. In the hearing, his wife said Dumile was left in a poorly prepared waiting room that she says "wasn't set up." She claimed that her husband was forced to call her because he couldn't get medical attention as his emergency buzzer was out of his reach. She then called hospital staff on a second phone to compel them to give Dumile additional treatment.
The report revealed that at one point the rapper attempted to get out of bed but collapsed on the floor, and there was a two-hour delay in his receiving medication to alleviate his swelling. He was then put on a respirator but died soon after. Tragically, the report also states that Jasmine was unable to visit her husband while he was in the hospital due to restrictions put in place as a result of the COVID-19 pandemic.
Hospital failings led to DOOM's death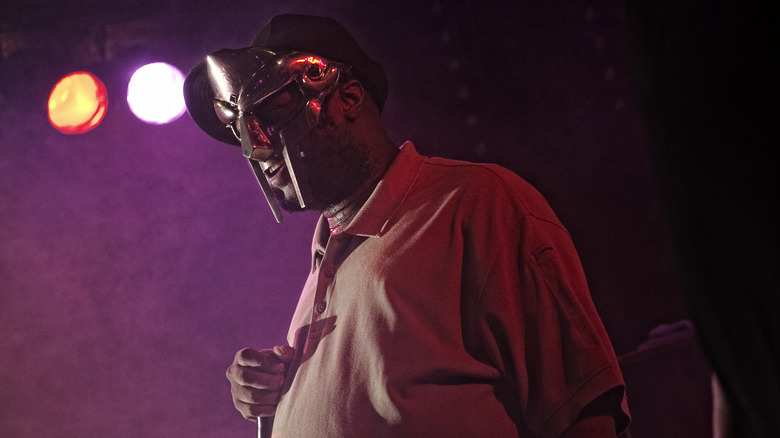 Ross Gilmore/Getty Images
It appears that Jasmine Dumile's misgivings concerning the standard of care Daniel received in the hospital are justified. A report published by the British Medical Association in October 2023 highlights the pressure that the U.K.'s National Health Service was operating under during the COVID-19 pandemic, stating that they were facing "a significant backlog of care" and that it was "poorly prepared to weather the storm of the pandemic."
Reports of the inquest into the rapper's death were accompanied by a statement from St. James' Hospital Chief Medical Officer Dr. Hamish McLure, which read (via the Evening Standard): "I would like to offer our sincere condolences to Daniel's family, friends and fans at this difficult time. I apologize that the care he received was not to the standard we would expect. Following his sad death we undertook a serious incident investigation, and the report has been shared with Daniel's family. As a result we have put in place a number of actions and the wider learning from what happened to be used as a teaching topic in a number of different clinical specialties. We also support the coroner's recommendation for clearer national guidance and awareness in this area."
The rapper had been living in Leeds, where he was receiving kidney dialysis. He was suffering from kidney and heart failure as well as diabetes and hepatitis B before being taken to the hospital following his reaction. However, medics in Leeds had been unable to access his medical records due to data protection restrictions.