How Much Food Is Actually Consumed On Super Bowl Sunday?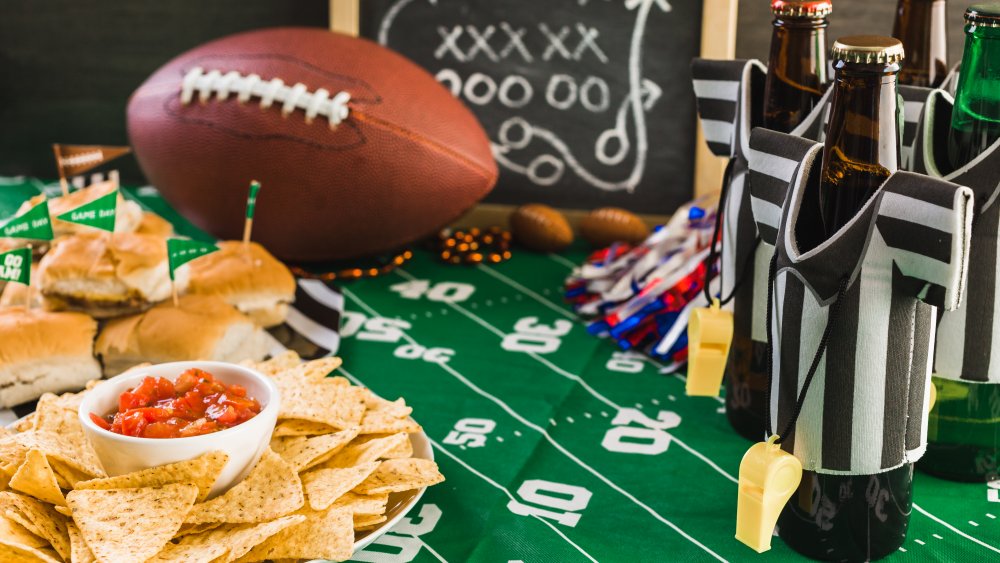 Shutterstock
Broadly speaking, primates bond through food. For instance, researchers at Leipzig, Germany's Max Planck Institute for Evolutionary Anthropology found that for chimpanzees, sharing food boosts oxytocin, a hormone that facilitates bonding. Similarly, the BBC cites research asserting that among monkeys and apes, food is used to buy mates in both the bedroom and buddy senses of the word. And on Super Bowl Sunday, jubilant humans cheer like chimps and shovel ungodly quantities of calorie-rich deliciousness into their banana holes while watching two NFL teams try to eat each other alive on the gridiron.
Thanks to all that glorious gluttony, no matter which team wins, your waistline loses. Obviously, not everyone joins in the digestive fun, but astronomical amounts of food are consumed. It's impossible to calculate the "actual" amounts of food eaten without measuring how much gets thrown away or saved for another day, but we can get a general sense of how much people might plan to pile onto their collective plates.
Sticking your football in your mouth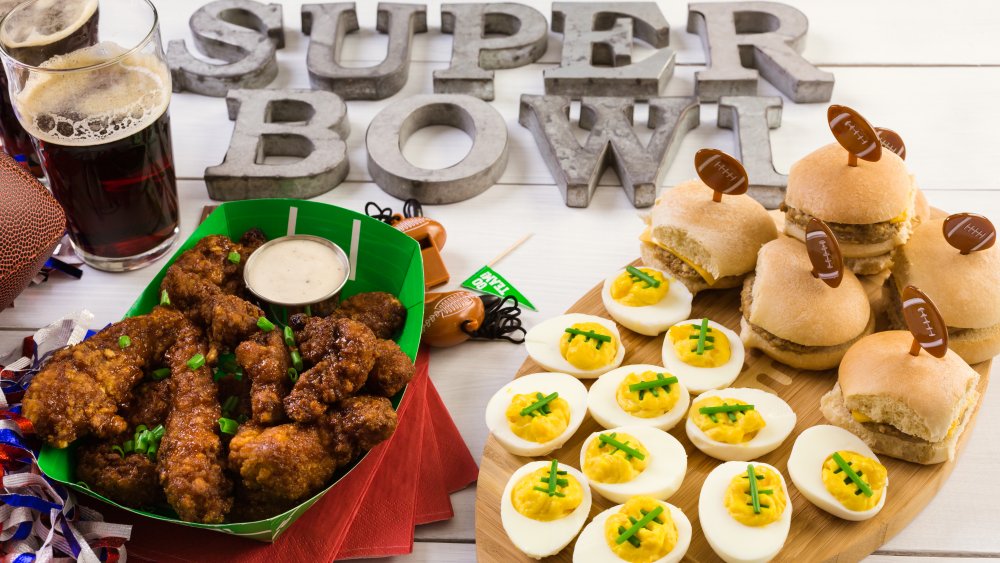 Shutterstock
Despite not being a national holiday, Super Bowl Sunday is only surpassed by Thanksgiving on the list of days when Americans eat ginormous amounts of food, according to Forbes. Prior to the 2019 Super Bowl, Time reported that game day feasters were expected to eat 1.38 billion chicken wings, 12.5 million pizzas, "four times the normal amount of nachos," and potentially hundreds of millions of pounds of avocados. They would potentially drink about 325 million gallons of beer. Though it's not clear if most of those gallons are downed by fans of the losing team after the game.
While your waistline is busy losing the battle of the bulge, food venders are winning the Super Bowl no matter the final score. Per Yahoo News, in 2018, Dominoes "sold enough pizzas to stretch across more than 5,000 football fields." In 2020, perhaps Papa John's former CEO John Schnatter will shatter his New Year's resolution and eat 50 pizzas on Super Bowl Sunday alone instead of spreading them over the comparatively less impressive 30-day period he initially announced.