Urilla Sutherland: The Truth About Wyatt Earp's First Wife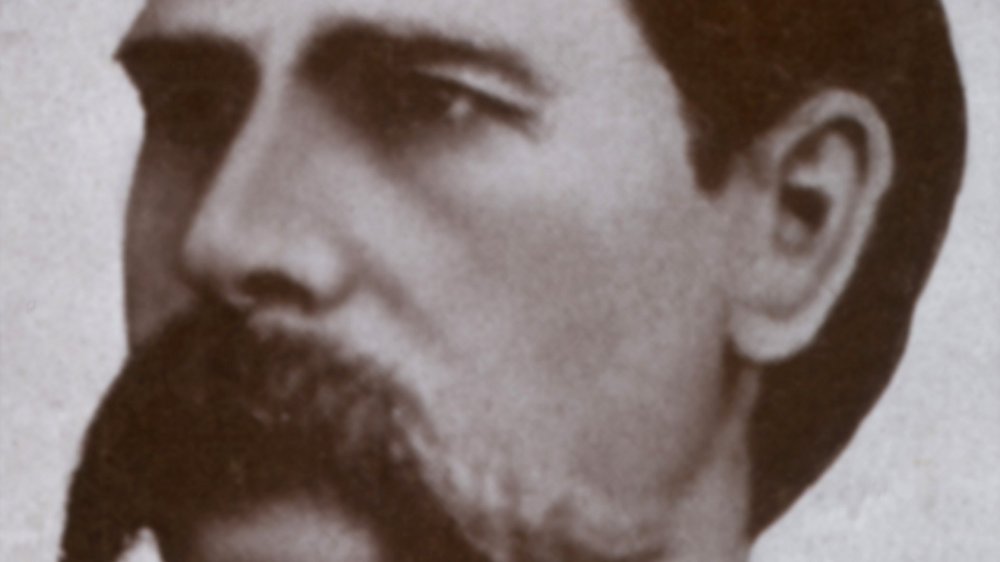 Shutterstock
In the mythos that is the American West, few names are as short as Earp. One syllable. Lots of legends. A few of which even hold up.
One of the things history tells us is how complicated life really was back in — oh, any time, really. Decisions made in a moment were predicated by a lifetime of events that may or may not have direct causal connection. Which still doesn't explain The New Coke.
The generation of Earps that included Wyatt and his brothers reveals a mixed bag of heroism and maybe not-so-heroism, romance and soul-crushing heartbreak. As Casey Tefertiller, author of 1999's Wyatt Earp: The Life Behind the Legend, wrote recently of Wyatt, "The new research shows an Earp who is anything but flawless, rather than an Earp who went through a lifetime of achievement, struggle and disappointments. He made many poor decisions in his life and a few very good ones. He was ... human."
Wyatt Earp stayed out of Boot Hill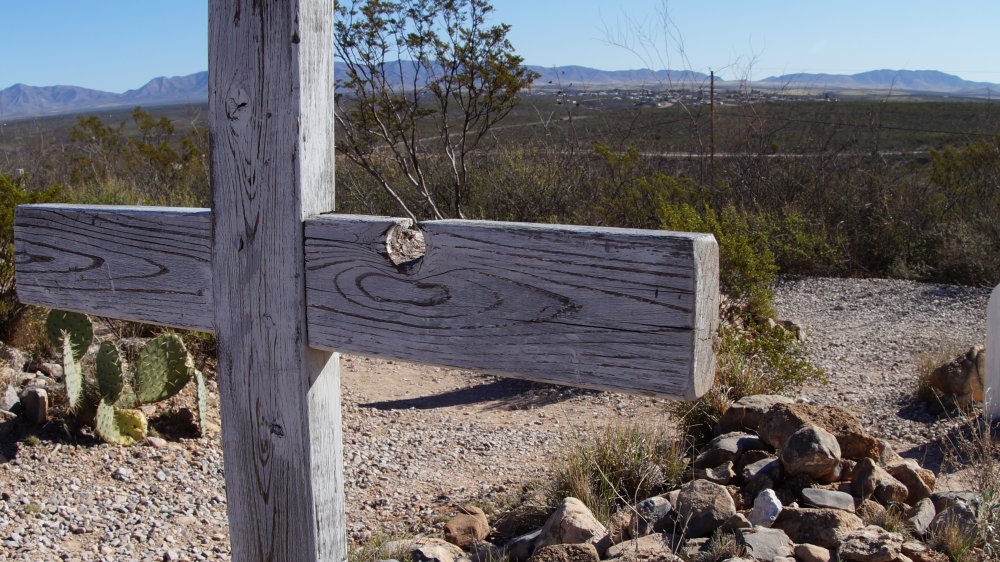 Shutterstock
One of the best things about history is that research continues. New facts and figures and eyewitness accounts emerge on all kinds of subjects, especially something as captivating to the public imagination as anything involving Wyatt Earp and his brothers. That doesn't stop prevailing information fog. Quite often historians will append an academic version of "as far as we know" (go ahead and arch one eyebrow as you read that out loud) to whatever they're writing.
Now viewed largely in the popular imagination as a gunfighter, lawman, perhaps gambler (though in the nicest possible way), Wyatt Earp's complicated humanity includes his repeated attempts to be a family man. So in terms of what passed for marital ties on the American Frontier, in light of that Earp humanity — what do we actually know?
There's an Earp, California, where you can camp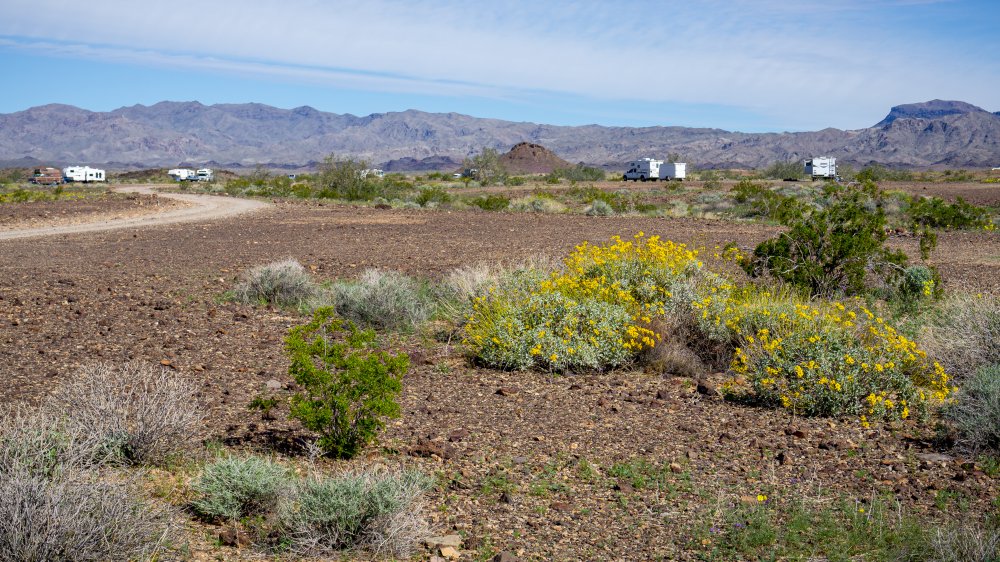 Shutterstock
We know that Wyatt and some of his brothers were involved in the business end of brothels at various points. Wyatt and Morgan worked as enforcers and were arrested repeatedly in 1872 in terms of their relationships with prostitution. James and Virgil Earp both owned bordellos at one point or another. Women were vastly outnumbered by men in the American West. It was not unusual for a client to fall in love with a prostitute and, much to the annoyance of the brothel's owner, marry her and remove her from the profession. Or, she might continue, which seemed to have been the case of James Earp's wife, Bessie, who was charged with prostitution in 1873 in Wichita, Kansas.
Wyatt is generally tied to three women: Urilla Sutherland, Cecilia Ann "Mattie" Blaylock, and Josephine Marcus. Of those three, there's a "maybe" around Marcus, but it should come as no surprise that Mattie Blaylock, the woman usually described as the "second Mrs. Wyatt Earp," had a history of prostitution.
We aren't sure when they met. No marriage record has been found (so far). We do know that Mattie and Wyatt arrived together in Tombstone, Arizona, in 1879, and might have met as early as 1871. She was about two years younger than Wyatt. When Morgan Earp was assassinated in the days after the O.K. Corral shootout, Mattie was sent to live with Wyatt's parents in California. The expectation was that once things had quieted down, he'd come get her. He never did. She moved to Pinal, Arizona, where she worked as a prostitute until committing suicide with a drug overdose in 1888. She was buried there, but there's some question as to the grave's location.
The Earp brothers had their own dark histories
Mattie had been replaced by Josephine "Sadie" Marcus. Some say she and Wyatt got involved while both were still in Tombstone. Others think they became truly involved when they met up in San Francisco, post-Vendetta Ride. Again, no record of marriage has been found, though Sadie claimed at various times that they had been married at sea. Whatever the strict legality of their relationship, Wyatt and Sadie stayed together for 47 years, until his death in 1929. Josephine followed him in 1944. They're buried together in Hills of Eternity Memorial Park, Colma, California.
Wyatt Earp's one legally recorded marriage — the first — took place when he was about 22 years old and working as a town constable. He married Urilla (possibly Aurilla) Sutherland, herself about 20, in a ceremony performed by Wyatt's father, Nicholas, who was justice of the peace in Lamarr, Missouri.
Wyatt Earp married Urilla Sutherland
How did they meet? Were they deeply in love? The records are quiet on the point. We do know that after just nine months of marriage, Mrs. Earp died, possibly of typhus, probably in childbirth; if so, the child was stillborn, and as far as we know, Wyatt's only child.
In the days that followed, Wyatt sold their home and continued to work as a constable until he was replaced, accused of mismanagement of funds. He's later accused of a number of crimes, petty and otherwise, including horse theft, before starting his sideline in law enforcement.
Did he go off the rails with grief? Was it depression? Did he finally find the love of his life — perhaps a replacement love — in Josephine Marcus? Hard to say. Because, like Wyatt Earp, the truth is complicated. As for the first Mrs. Earp, she's buried in Milford, Missouri, a few miles from Lamarr.