The Tragic Death Of Buddy Holly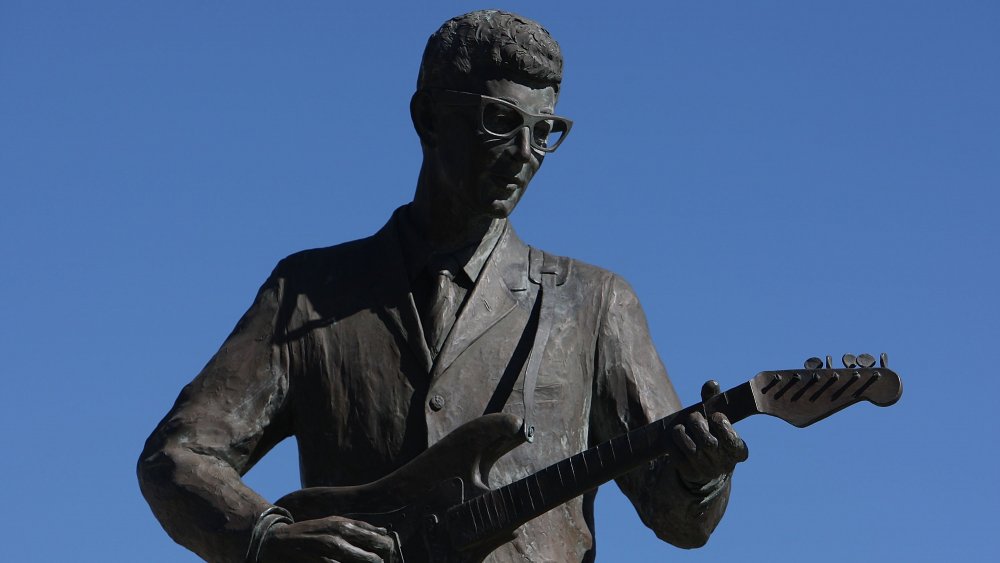 Ronald Martinez/Getty Images
It's one of those great "What If?" stories of American pop music. A winter "dance party" tour by bus through the Midwest in the depths of winter in 1959 featured a powerhouse lineup: 17-year-old Ritchie Valens, with hits "La Bamba" and "Donna" to his credit; Jiles (J.P.) Richardson, 28, "The Big Bopper," who'd scored with "Chantilly Lace" and "White Lightning"; and Charles Hardin Holley, 22, better known as Buddy Holly, with a string of hits like "Peggy Sue" and "That'll Be the Day" and a backup band that included Waylon Jennings on bass. As Biography tells the story, the tour dates hadn't been organized very well — too much distance between gigs — and the bus itself was both unheated and unreliable. Holly's drummer had to be hospitalized for frostbite.
Holly decided to charter a plane to get himself and his remaining bandmates from Clear Lake, Iowa, to the next date in Moorhead, North Dakota. Jennings agreed to let Richardson take his place on the plane; The Big Bopper had a case of the flu and was doubly miserable riding on the rickety bus. Valens flipped a coin with Holly's guitar player, Tommy Allsup, and won — sort of. The plane, a Beech Bonanza, was piloted by 21-year-old Roger Peterson. They took off just before 1 a.m. on February 3, 1959, and only minutes later crashed into a field. Why?
The wreckage "approximated a ball"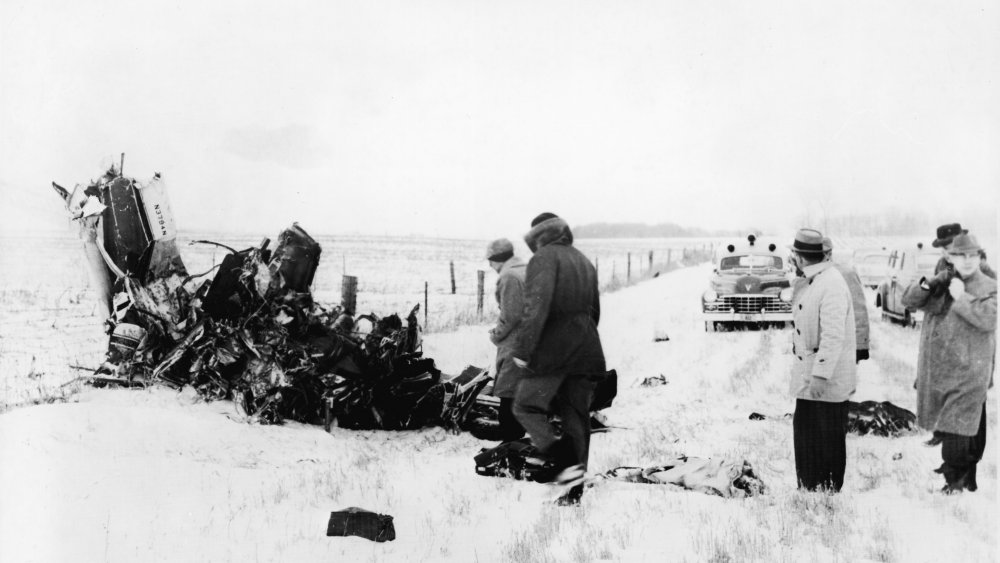 Hulton Archive/Getty Images
According to the Civil Aeronautics Board report, the aircraft was fully functioning at the time of impact. The problem was that the pilot, who'd failed his instrument certification the year before, wasn't qualified to fly through the kind of winter weather that presented itself that night. There were no surviving witnesses, so the best guess is that Peterson became confused by the information his instruments were giving him "and thought he was making a climbing turn when in reality he was making a descending turn... . The Board determines that the probable cause of this accident was the pilot's unwise decision to embark on a flight which would necessitate flying solely by instruments when he was not properly certificated or qualified to do so."
The result was gruesome but probably instantaneous. The Cerro Gordo County, Iowa, Coroner's Report on the crash reads, "The shape of the mass of wreckage approximated a ball." Peterson was found in what remained of the cockpit, but the three passengers were all thrown free of the wreckage, which was scattered over some 540 feet. All of the passengers suffered extensive head injuries that resulted in significant loss of brain tissue as well as crushing injuries to their chests. All were identified by fingerprints.
All three of them live on through recordings, films, and theater productions. Despite what Don McLean might have told us, the music didn't die that day. But those young men did, far too soon.