The Accident That Led To Keith Richards' Brain Surgery
Duffy-marie Arnoult/Getty Images
Keith Richards is many things: a legendary guitarist, an icon of rock and roll, and, perhaps most importantly, the real world representation of what happens to a cartoon coyote's body after decades of getting blown up by Acme products. Richards has led a life punctuated by physical chaos. In 1965, in front of 5,000 fans, his unconscious, electrocuted body shot backwards after his guitar touched a mic stand. His nasal cavity has seen more powdered, uncut, pharmaceutical fun than the combined surviving writing staff of Saturday Night Live. Chuck Berry once punched him in the face for touching stuff he shouldn't have touched. It takes a lot of life for Jack Sparrow to be considered a more toned-down version of you. Keith Richards has lived that life.
For a time, Rolling Stones fans seemed to forget about whatever reverse Dorian Gray keeps Keith Richards' outside aging while his insides grind on, immortal and untouched, and in 2006, they got a good solid scare. That's because in April of that year, it looked as though the world might have finally found the weathered old rock god's kryptonite: namely, falling out of a very small tree.
Crowned with a spike right through his head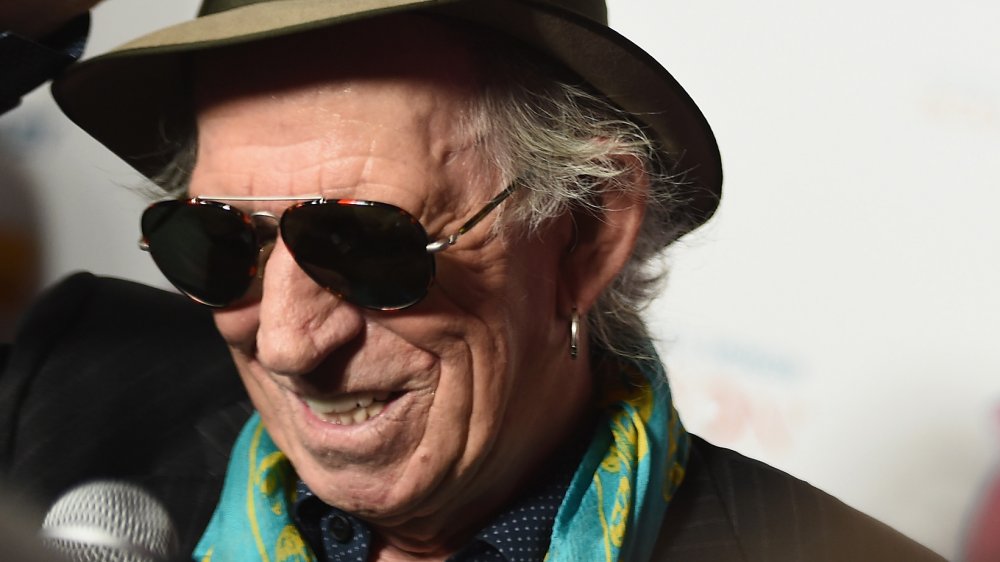 Michael Loccisano/Getty Images
Richards described the incident in his autobiography, Life. His hospitalization was widely reported on at the time, with various news sources claiming that he'd either fallen out of a palm tree or injured himself in a jet ski accident.
In truth — or at the very least, according to the memory of a permanently buzzed '60s rock star — Richards was on a break from a Rolling Stones tour, vacationing with his wife on a private island. After going for a swim, he perched on "a gnarled low tree that was basically a horizontal branch" to dry off. An attempt to swing off of a branch and onto the ground ended poorly when his wet hands slipped, and Richards fell backwards, striking his head on the trunk.
According to Ultimate Classic Rock, Keith was unphased by the blow until two days later when he was struck by a sudden, intense headache. A couple of seizures followed, and the guitarist was transported to New Zealand for emergency surgery.
It turned out the Richards had suffered a skull fracture, leading to cranial bleeding and a subdural hematoma. Per Richards, the surgeons "opened up the skull, sucked out all the blood clots and then put the bone back on like a little hat with six titanium pins." He was back on stage a few weeks later, and has "never had a headache since."