The Real Reason Karl Malone Wasn't In The Last Dance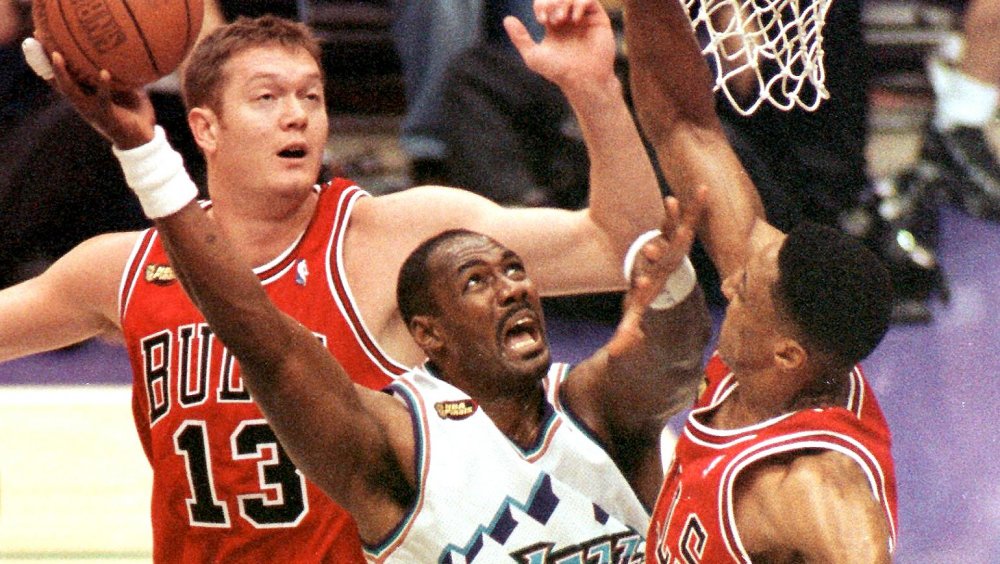 George Frey/Getty Images
Mailmen deliver in any condition, day or night — except, of course, on Sundays. That observation led to an inspired moment of trash talk which Scottie Pippen delivered to "Mailman" Karl Malone of the Utah Jazz during Game 1 of the 1997 NBA Finals. As USA Today contributor Charles Curtis recounts, with just under 10 second left in regulation and the game tied at 82, Malone had two shots to put the Jazz over the Bulls at the free throw line. But his chance to be the hero was shot to hell after Pippen rightly reminded him, "The Mailman doesn't deliver on Sundays." The taste of disappointment was washed down with a buzzer-beater by Jordan.
As Curtis observes, Pippen's special delivery to Mailman was conspicuously missing from The Last Dance, the 10-part series documenting Jordan's final run with the Chicago Bulls. In fact, there was a distinct lack of Malone in general.
The Mailman doesn't deliver interviews, either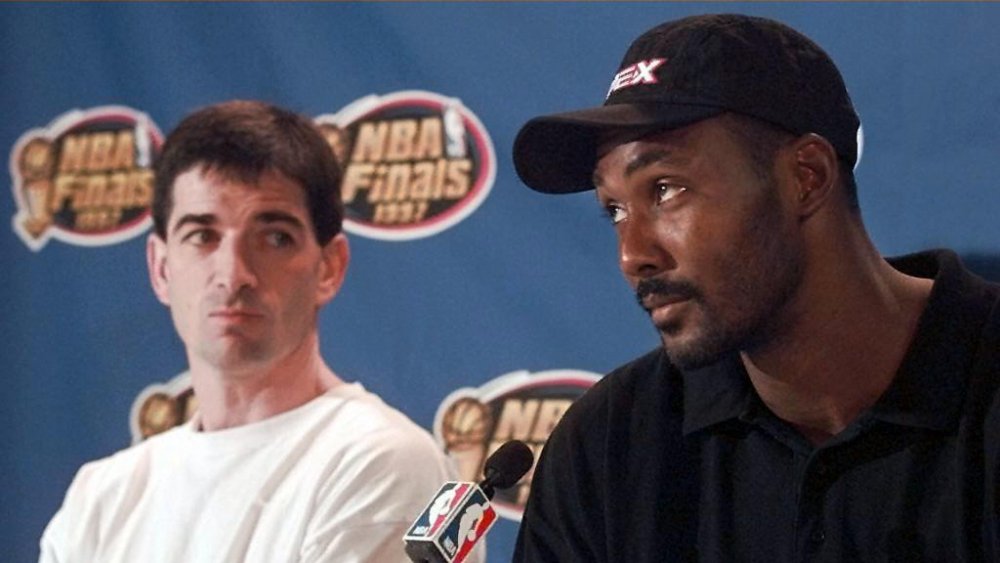 Jeff Haynes/Getty Images
Chris Bengel notes in an article for CBS Sports that the last episode of The Last Dance looks at the back-to-back finals series between the Bulls and the Jazz. That would have been an ideal time to get some input from the Mailman himself about those outings. But director Jason Hehir revealed on an episode of The Dan Patrick Show that Karl Malone refused an interview: "He declined through another party. We asked him multiple times. Believe me, we exhausted just about every avenue. We started in January 2018 on that one because we knew that [Malone] was gonna be a tough sell."
Did Hehir ask Malone to do the interview on a Sunday? Who knows? But the Mailman wasn't the only former Jazz player who was reluctant to play ball with the filmmaker. Hehir recalled that it took "like two years of chasing" to even get John Stockton on the phone. He was very reluctant, allegedly telling Hehir, "I don't want to be a part of a Michael Jordan puff piece." He ultimately agreed, but Mailman kept treating it like a Sunday.