These Are The Perks UPS Drivers Get For Doing Good Work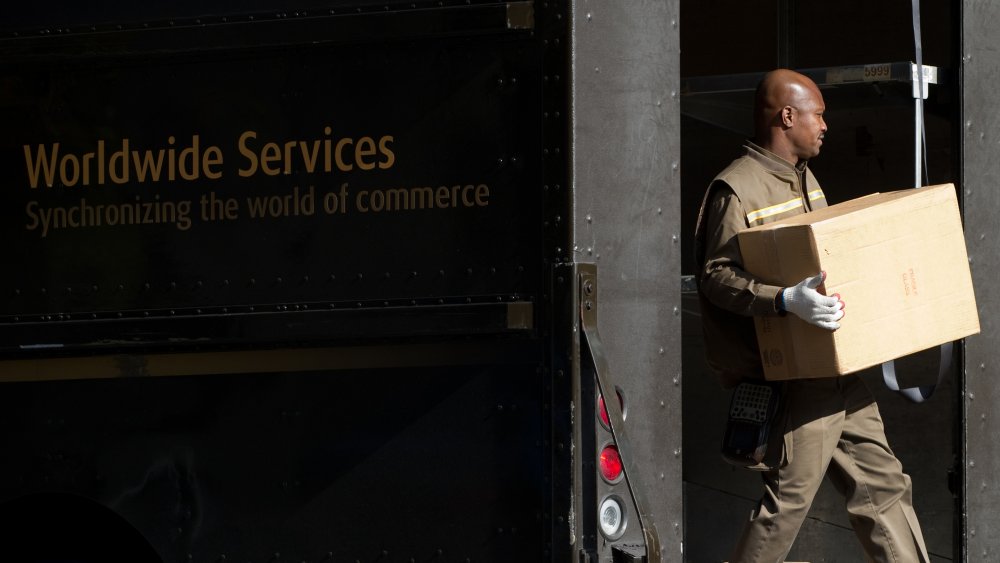 Saul Loeb/Getty Images
When United Parcel Service — UPS — started, it was pretty simple: Take stuff from one place in Seattle to another place in Seattle, safely and punctually. It was well over 100 years ago — 1907, actually — that two teenagers set up shop as American Messenger Company. They weren't the first, but they were competitive. It was renamed Merchants Parcel Delivery around the time they added motor vehicles — motorcycles, and a Ford Model T, according to the company's history site. Vehicles meant deliveries could be consolidated. Business was good — very good — and with more business came expansion — first, to Oakland, California — and then a new name: United Parcel Service, in 1919. "Service," said Charlie Soderstrom, one of the company founders, "is all we have to offer." That, and a fleet of brown trucks, which was his idea, too; brown gave them a "stately appearance."
Drivers, then, are the very public face of UPS to this day. No doubt deliveries have been up so far in 2020, for a variety of reasons, with an impact on a number of parcel services, including UPS. The brown trucks and brown-clad personnel driving them are the very definition of ubiquitous ("existing or being everywhere at the same time; constantly encountered," says Merriam-Webster). They drive a lot of miles, with a longstanding commitment to driver safety (think dogs, think ice) as well as safe driving.
The safer you are, the better the rewards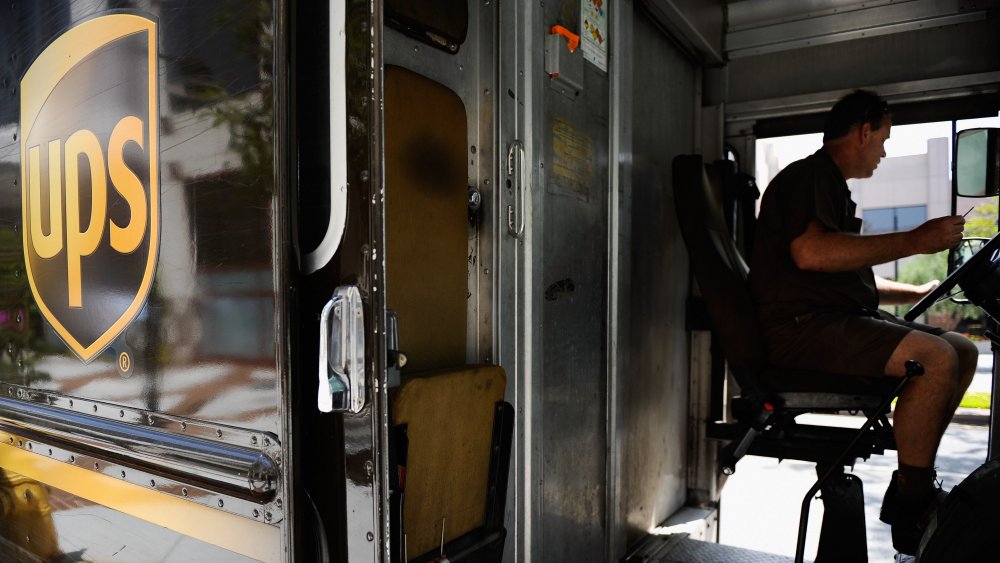 Kevork Djansezian/Getty Images
Even as far back as 2017, UPS had nearly 10,000 drivers inducted into the "Circle of Honor," driving without an avoidable accident for 25 years or more. Collectively, that's 14 billion miles, just from these elite drivers. Doing a job well certainly has its own gratification — as Ralph Waldo Emerson said, "The reward of a thing well done is having done it" — but UPS takes it a step farther. As Mental Floss tells us, UPS drivers with superlative track records qualify for steadily more impressive gifts as a reward for accident-free service. The ranks of the gifts for which drivers qualify come in five-year increments. "The more years of safe driving you had, the better the gifts got," said Kevin Dyer, a former driver with 38 years' experience. "I got a set of golf clubs one year."
The tricky part, of course, is following the rules and maintaining that record, year after five-year bump. One avoidable accident, and the driver reverts to zero. After backing into a small tree, Wendy Widmann "had to start all over again. I was just getting to the good gifts like bikes and gas grills." As for the 25-year-avoidable-accident-free Circle of Honor inductees: You can see by their outfits that they are good drivers; they each receive a special patch and a bomber jacket.