There's A Surprising Adam Sandler Movie Crushing It On Netflix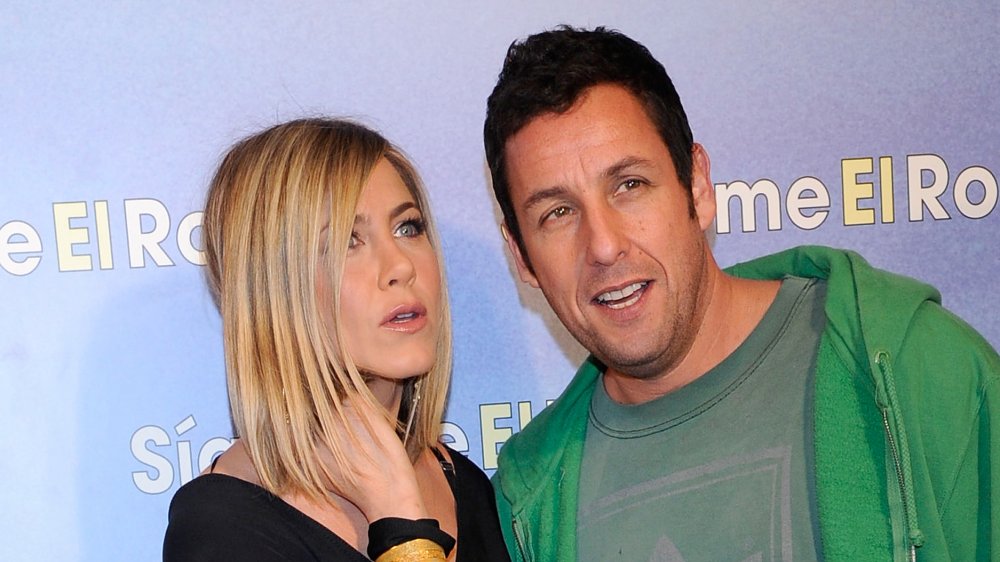 Fotonoticias/Getty Images
There's an old Hollywood legend — almost a superstition, actually — that if the cast and crew have a good time making a film, all of the fun happens off-camera and none of it leaks onto the screen. Of course, it's a given, 99.9 percent of the time, that actors doing publicity for their latest release will talk about what an amazing experience they had, everyone's now best friends, blah blah blah. And then the knives are sharpened and the memoirs come out and they dish. And even though it kind of feels like eavesdropping, there's a part of us that wants to pay attention, and listen, and ask, "Really?"
It's a wonder that anybody in Southern California is speaking to anybody else, ever. And then there's the genuine friendships that arise within the business that is shows. And then we stumble upon the unlikely pairing of Adam Sandler and Jennifer Aniston, he of Saturday Night Live and Billy Madison, per Biography, and she of Friends and a long list of light comedies (again, via Biography). Both came out of TV to have successful film careers, but apparently both also share a friendship going back to their teens. As reported by The Cheat Sheet, they became friends when Aniston was dating a friend of Sandler's.
Jennifer Aniston, Adam Sandler, and Brooklyn Decker star in "Just Go With It"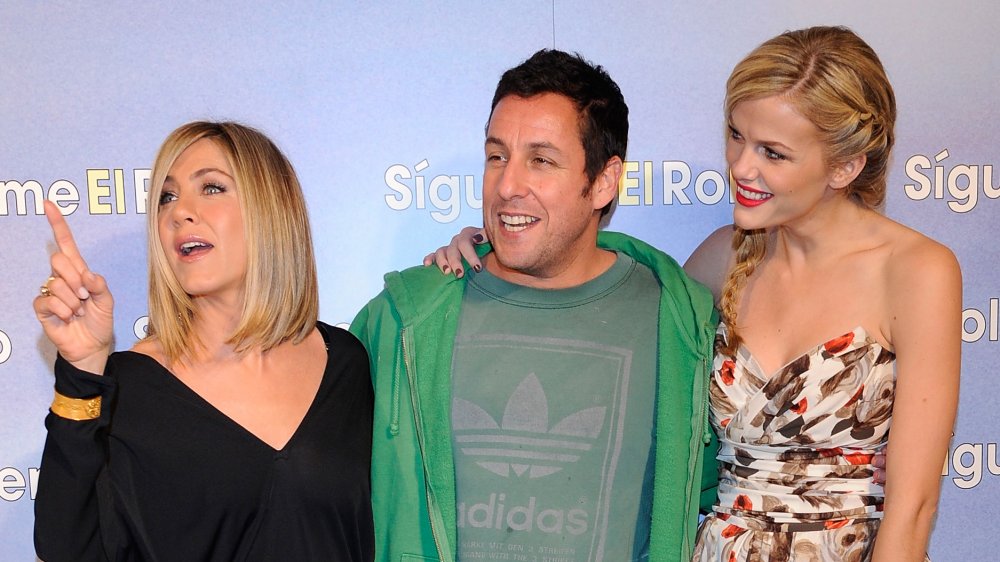 Fotonoticias/Getty Images
It seems it stayed that way — she was a guest when Sandler married in 2003, and attended the recent bat mitzvah of one of Sandler's daughters. Their friendship spilled over into what was the most popular Netflix original movie at the time, 2019's Murder Mystery, playing a husband and wife who, well, work together to solve a murder mystery. The romantic aspects are tough to play, since she genuinely thinks of Sandler as "like a brother," as they told Oprah Winfrey. On the other hand, she told The Hollywood Reporter that Sandler was "the only reason" she agreed to the project.
Turns out that Murder Mystery isn't their only joint success in Netflix's catalog. Their first on-screen collaboration, Just Go With It, has attracted a new (and huge) audience of late. The 2011 romantic comedy, directed by Dennis Dugan, performed well at the box office, and now it's cropping up repeatedly on the smaller screen.
It's a loose remake of a movie based on a Broadway play based on a French play, according to a review in The Chicago Tribune, but it worked, and it's still working — just like the friendship between Aniston and Sandler. Adam told Us Weekly that the duo will be reuniting for a Murder Mystery sequel. "Jennifer and I are great friends," he said. "She works well without me. I'm just glad when she invites me for the ride!"