Should You Get A Bed For Your Dog?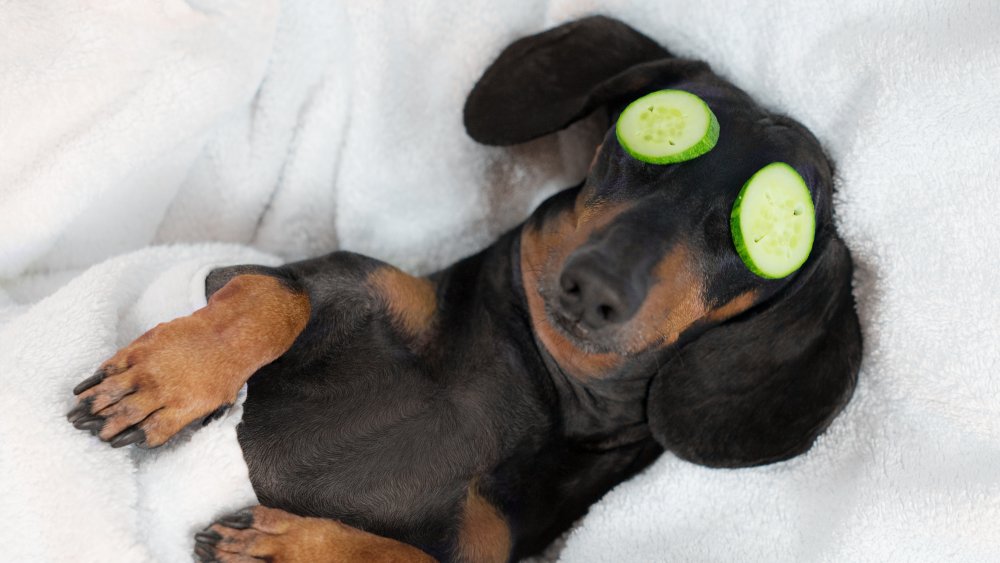 Shutterstock
Genuine, committed, dyed-in-the-wool dog owners are like golfers: They're really easy to shop for. There's always some item or accessory or tool or accoutrement out there to ease life's journey for the pet and the owner. Town and Country tells us, for instance, you can get a dog collar that serves as a GPS tracker, which certainly isn't a bad idea, but also tracks the animal's activity level. And that just sounds like nagging. There are also dog-centric DNA tests available, though like a lot of genealogy, perhaps we can all agree that sometimes it's better not to know.
Once you've got a collar, a leash, those colorful little bags that let you clean up after the dog, maybe a personalized water or food dish — don't dogs deserve a good night's sleep, too? The American Kennel Club (AKC) tells us that dogs will sleep from 12-18 hours a day, depending on breed, age, and activity level, no doubt.
Whose bed is it, anyway?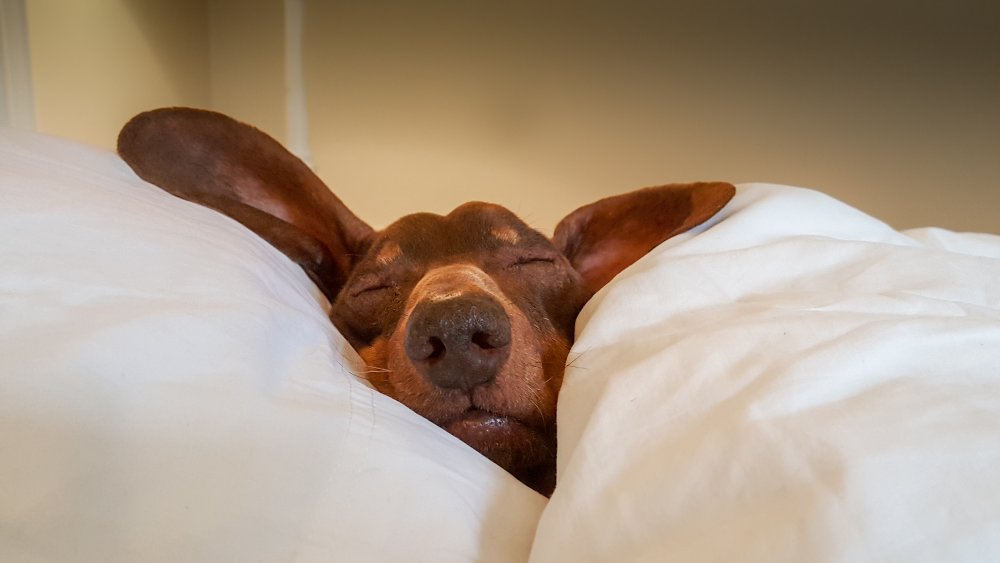 Shutterstock
Sometimes a dog will share a bed with its human, but there are obvious disadvantages to that, including that moment when (depending on size, or maybe not even) they take over from you. Disputes over space, however loving and well-intended, do not make for a restful night's sleep. And humans and canines both need their zzzzzs.
Just like your grandmother told you, there are two sides to every story, and the question of dog beds is no exception. NBC News quotes Canadian veterinarian Ian Sandler, who said, "I'm not sure if [a dog bed] is so integral for their health." "Integral" is the key word — dog beds are basically a way of giving the animal its own space and providing for its comfort. Helpful. Comfy. But not required. Still, many people take the plunge and invest in a dog's sleepy time. Veterinarian Dana Varble, also speaking to NBC, points out that "providing a good bed can be very important" in terms of improving a dog's "quality of life."
A good dog bed will provide comfort and support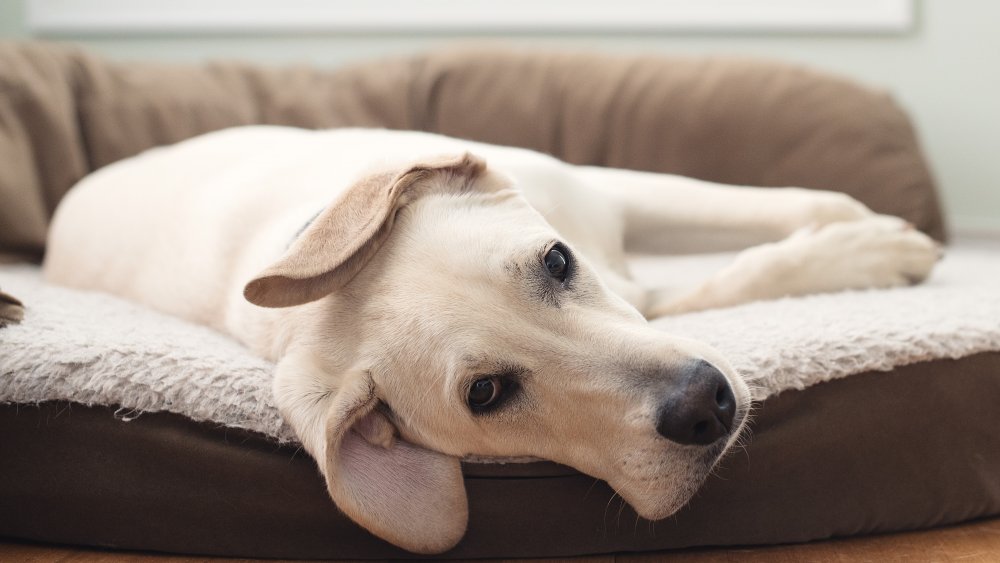 Shutterstock
Sure, when the spirit moves them, dogs will sleep almost anywhere they'll fit, but hard surfaces on a regular basis can lead to pressure sores on the animal. Proper support becomes more important as the animal ages, says the AKC — just like humans, dogs can develop issues with joints and arthritis as they age. For that matter, a proper dog bed will give helpful support to growing puppies, too. If you can afford it, there may be no reason why you shouldn't want a dog bed for Rover — so long as it's in decent condition.
Dog beds, no matter how sturdy, will suffer wear and tear over time. Keep an eye on it. If the upholstery starts to tear, or stuffing starts to leak, it's time for a replacement. Just as with human furniture, use can mean the dog's bed will offer less support, and less comfort, over time, which sort of defeats the purpose of the thing. Please don't be offended or annoyed if the dog still opts to sack out somewhere besides the new bed you brought home. Dogs won't necessarily stick to just one spot in order to grab 20 winks. Give it time.
A good night's sleep doesn't just make the dog perkier. Scientific American reports that dogs who sleep well have better memory consolidation — they learn and retain information more efficiently. When it comes to pampering your dog, don't skimp. They'll remember.