UFC Star Dana White's Private Relationship With His Wife Anne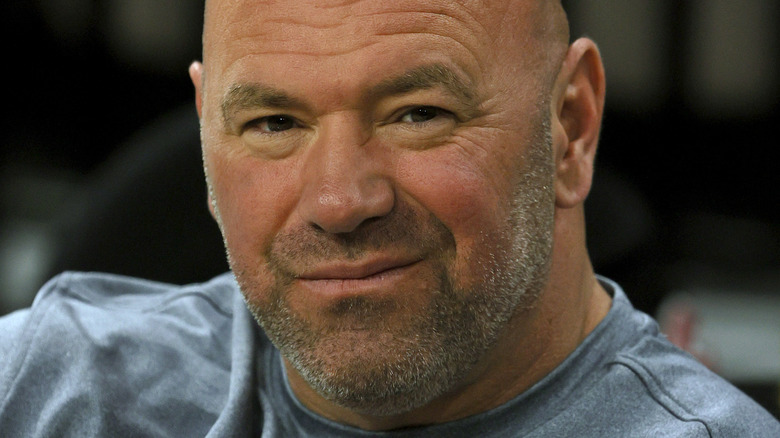 Ethan Miller/Getty Images
The following article includes allegations of domestic abuse.
There's no denying that MMA big shot and U.F.C. President Dana White has led an interesting life, as Forbes explains. Most of what's known about White, though, has one thing in common: It all relates to his career trajectory. On the other hand, updates about the U.F.C. leader's personal life are few and far between. Some MMA fans may not realize that White has a wife named Anne White. That said, in early 2023, a troubling incident caught on security camera between White and his wife put their relationship in the headlines (via The New York Times).
Private life aside, White has never been a stranger to scandal. Early on, White was chased from Boston by infamous gangster Whitey Bulger's men. To recover, White then relocated to Las Vegas. While there, he joined forces with Lorenzo and Frank Fertitta to purchase U.F.C. The promotions company soon grew into a multi-billion industry through which the MMA mogul earns around $20 million per year. With a fortune like that, some might rest on their laurels, but White? He's still very much in the game, with "Mortal Kombat"-style fight islands, and in 2023, the premiere of White's "Power Slap League" on TBS, a plan delayed by the aforementioned marital controversy (per ESPN).
The private side of White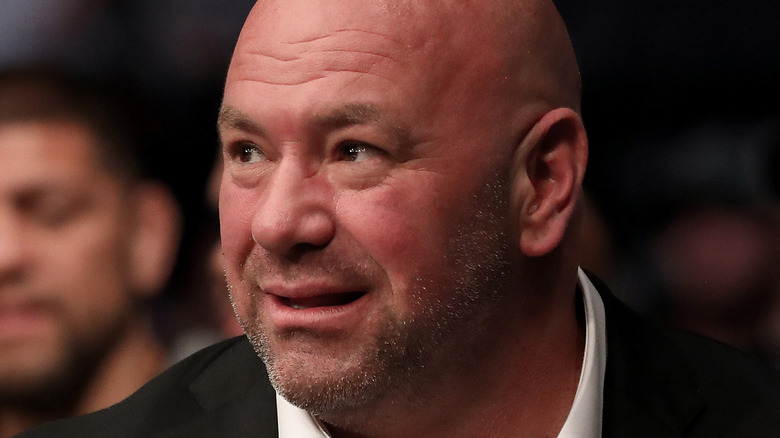 Alex Menendez/Getty Images
As Brad Nash of GQ wrote in 2018, details of the White family are extremely scarce. This is by design, as Dana White is famously private when it comes to his personal life ... and, evidently, his wife, Anne White, doesn't much care for the limelight, either. Here's what is known about Anne: She married Dana in 1996. They have been together pretty much forever, seeing as they first met in the eighth grade and were already dating in high school. The couple has three children, two sons and a daughter, and Anne appears to prefer staying with them to help her husband do his thing.
Don't think that Anne White just spends her days cooped up in some tiny duplex, though. As mentioned, White's UFC success has made him a wealthy man, and the family's accommodations very much reflect that fact. According to Eli Segall of the Las Vegas Review-Journal, the White family resides in a 6,000-square-foot mansion in the very appropriately named Tournament Hills area of Las Vegas. They've also acquired a number of nearby luxurious houses for a cool compound of four sizable mansions. What's also known, on New Year's Eve 2022 White and Anne rang in the New Year at a nightclub in Cabo San Lucas, Mexico.
White was seen slapping his wife in security camera footage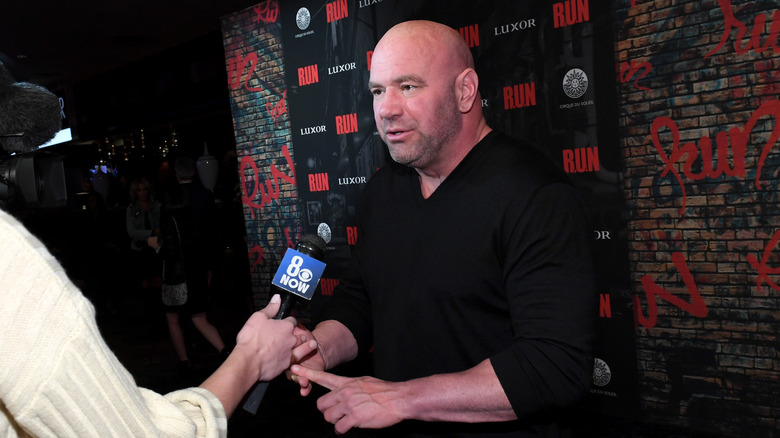 Ethan Miller/Getty Images
While in Cabo, Dana White was captured on camera slapping his wife, Anne White, in the face, according to The Times. The resonance with White's planned "Power Slap League," set to premiere a short time later, was an uncanny coincidence. The altercation took place shortly after midnight on New Year's Eve. In security footage first published on TMZ, the couple is seen arguing, after which time Anne slaps Dana, to which he retaliates twice. The couple is then seen physically engaging momentarily. Reportedly, no one was injured. After the news broke of the domestic violence incident, the debut of the "Power Slap League" was delayed, as ESPN reports.
White issued a statement to TMZ that read: "You've heard me say for years, 'There's never ever an excuse for a guy to put his hands on a woman,' and now here I am on TMZ talking about it." He also explained that both he and his wife were drinking heavily. Meanwhile, Anne also wrote in a statement (via TMZ): "To say this is out of character for him is an understatement — nothing like this has ever happened before ... [T]hings got out of control, on both sides." Anne also wrote that the couple had apologized to one another and asked for privacy. In the immediate aftermath of the incident, criticisms were levied against UFC's reportedly lax stance on domestic violence amongst athletes and executives.
If you or someone you know is dealing with domestic abuse, you can call the National Domestic Violence Hotline at 1−800−799−7233. You can also find more information, resources, and support at their website.