The Truth About 50 Cent's Boxing Career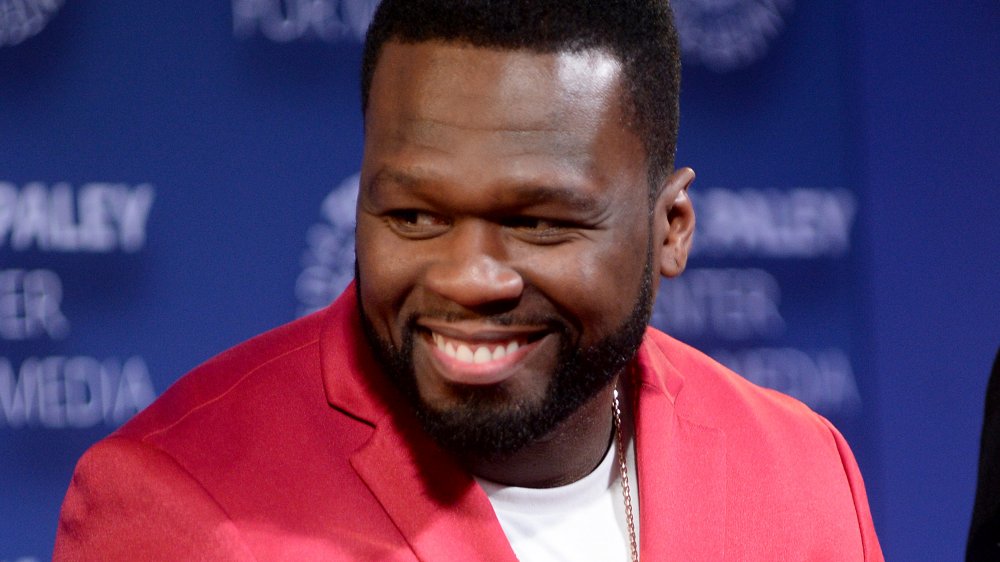 Brad Barket/Getty Images
50 Cent, born Curtis Jackson in 1975 in Queens, New York City, is almost as famous for what he's overcome than for his actual achievements in the entertainment field — although those achievements are remarkable indeed. The son of a single mother, a drug dealer who died when he was 8, according to Biography, Jackson was raised by his grandmother.
Despite the care, as a 12-year-old he managed to find his own way into the world of drug dealing. When he was 19 he was busted for selling cocaine and, later, in possession of crack and heroin. Sentenced to boot camp instead of prison, he began to concentrate on music — he'd already been rapping as 50 Cent, a name he took from a 1980s Brooklyn criminal. His music career was derailed when he was seriously wounded in a shooting (nine times' worth) in 2000, but a 2002 mixtape caught the attention of Dr. Dre and Eminem, who signed him to their labels and produced his first album, Get Rich or Die Tryin', which went on to sell more than 9 million copies. Since then, he's dabbled in a variety of performance media — acting, producing, music videos, concerts and endorsement deals.
With all of that success, it might be surprising to know that his original ambition wasn't on the stage: It was in the ring.
50 Cent and Eminem have had a longstanding friendship and business relationship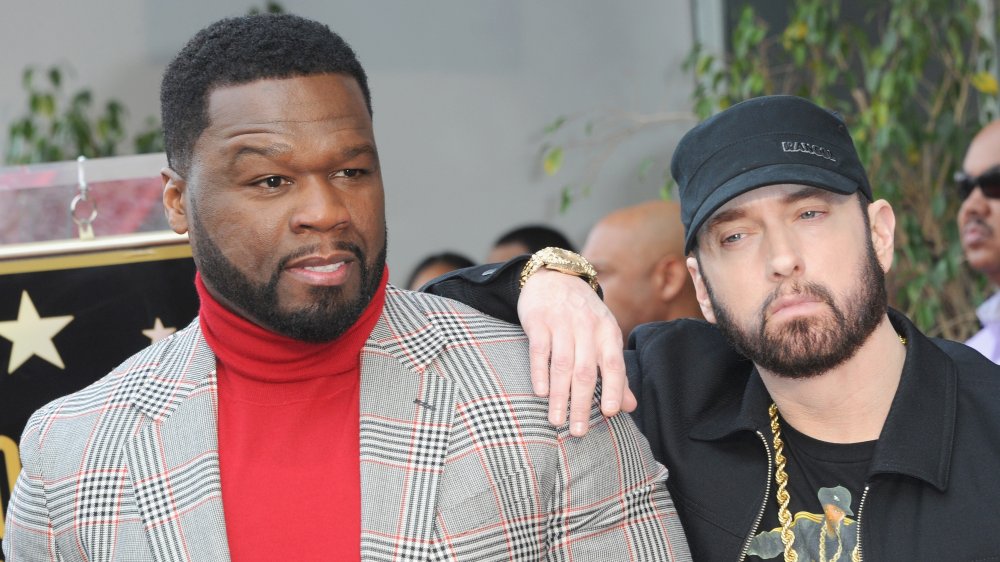 Albert L. Ortega/Getty Images
Around the time 50 began dealing, he was also dealing out punches at a local boxing gym, according to a 2007 Blender article, which quoted him saying, "When I wasn't killing time in school, I was sparring in the gym or selling crack on the strip," with the two avocations overlapping at times: "At the slightest infraction, I was punching someone in the face.
Some sources, including XXL, report that a young Jackson had the boxing skills to compete in the Junior Olympics, though supporting evidence is scant. Regardless, it seems boxing helped prepare him for future success. Capital Xtra quotes 50 saying "I was competitive in the ring and hip-hop is competitive too... I think rappers condition themselves like boxers, so they all kind of feel like they're the champ."
These days, 50 still occasionally takes to Instagram to post video of his boxing workouts, and according to Bleacher Report, had even planned to start a boxing promotion business with Floyd Mayweather until their relationship devolved into social media beef. 
No matter the arena, it's clear that 50 Cent can roll with the punches. According to Rolling Stone, at 50's Hollywood Star of Fame ceremony in January 2020, Eminem said the rapper is "not only a business partner to me, this is one of the best friends I've known in the world. I would say it's much more fun to be his friend than it is to be his enemy, 'cause this guy is ... relentless. And he won't stop." If that's not a champion's attitude ... what is?