The Real Reason Grace Slick Became The Singer Of Jefferson Airplane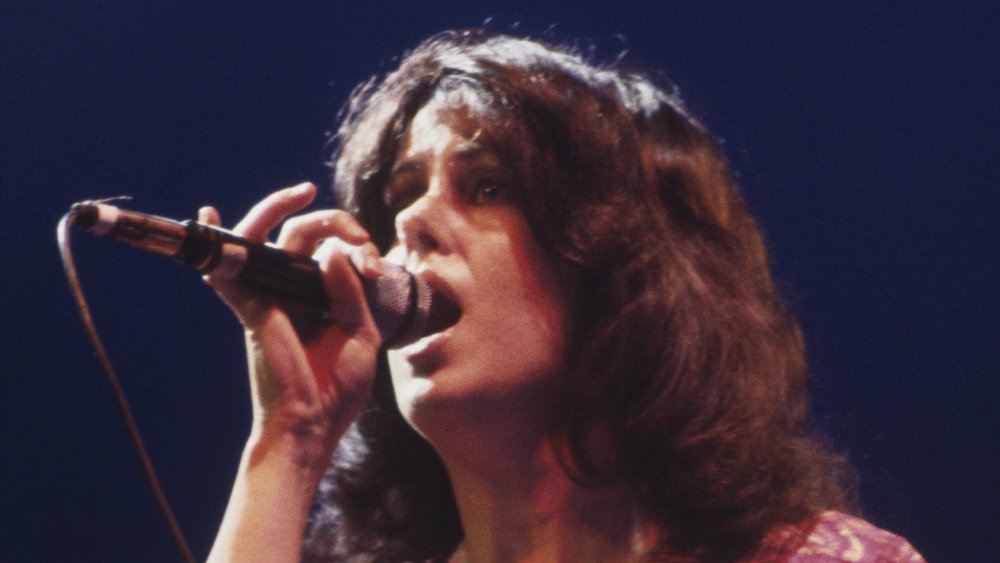 Michael Putland/Getty Images
According to Best Classic Bands, the night was October 16, 1966, and the venue was the much-beloved Fillmore West concert venue in San Francisco. Also soon-to-be-much-beloved was the new woman singing lead for Jefferson Airplane, a former floor model for the I Magnin department stores named Grace Slick.
Slick was born Grace Barnett Wing in Chicago on October 30, 1939, as Biography tells us. She'd dropped out after a couple of tries at college and married a childhood friend, Jerry Slick. She'd even started her own band, The Great Society, and was part of the burgeoning rock scene that was San Francisco and the Haight Ashbury district — friends with people like Jerry Garcia and David Crosby.
For its part, Jefferson Airplane also included a woman on lead vocals, Signe Toly Anderson. Anderson had a change of heart in terms of career trajectory when she became pregnant, later giving birth to a daughter, Lilith, as we learn from Louder Sound. Anderson bid Jefferson Airplane goodbye, leaving a bit of a personnel hole.
Grace Slick built a career on rock and roll
Michael Putland/Getty Images
Airplane's bass player, Jack Casady, recruited Slick to join the fun. They had a two-night gig at the Fillmore lined up. Anderson was the singer on October 15. Slick stepped in on October 16.
While she was with Great Society she was not only singing, but writing, including two songs that she brought with her to Airplane: "White Rabbit" and "Somebody to Love," the latter written with her brother-in-law, Darby Slick.
Grace fronted Jefferson Airplane from 1966-72 — an eternity, by rock band standards — then rejoined when the band's personnel shifted and became Jefferson Starship. More personnel shifts followed over the years, as well as changes in focus, style, and image for the band eventually known simply as Starship. Ultimate Classic Rock quotes Slick: "the two bands had different focuses, purposes, and conduct; one was a circus, the other a musical shopping mall." Whatever the tenor of things, Slick bowed out, mostly for good, "at about 49," she told Vanity Fair in 2012. "That's too long as far as I'm concerned."