The Tragic Death Of Lynyrd Skynyrd's Ronnie Van Zant
Tom Hill/Getty Images
Lynyrd Skynyrd was a band with deep roots in the south — Jacksonville, Florida, specifically, where they came together in the mid-1960s, reports the BBC — youthful buddies who named their group after a PE teacher they shared. The 1973 album Pronounced 'Lĕh-'nérd 'Skin-'nérd was their gateway to national fame and eventual fortune, followed up in 1974 by Second Helping. "Sweet Home Alabama" and the concert staple "Freebird" came from those heady years, as did the call to bigger and better things, like national tours.
Ronnie Van Zant was the frontman for the band, which included Bob Burns on drums (at first, later replaced by Artemis Pyle), plus Larry Junstrom on bass and Gary Rossington and Allen Collinson on guitars. They had a unique, driving sound — rock sensibilities with a touch of twang that served them well, both in the recording studio and on the road. And it was the road that would provide one of the moments for which the band is most famous today: a moment of airborne tragedy ending in the swampy woods near the Mississippi-Louisiana border.
It was 1977 and the band was prosperous enough to charter a plane to reach tour dates. As History relates, the plane in question had actually been turned down by Aerosmith, who had concerns about the plane's crew.
Van Zant hated flying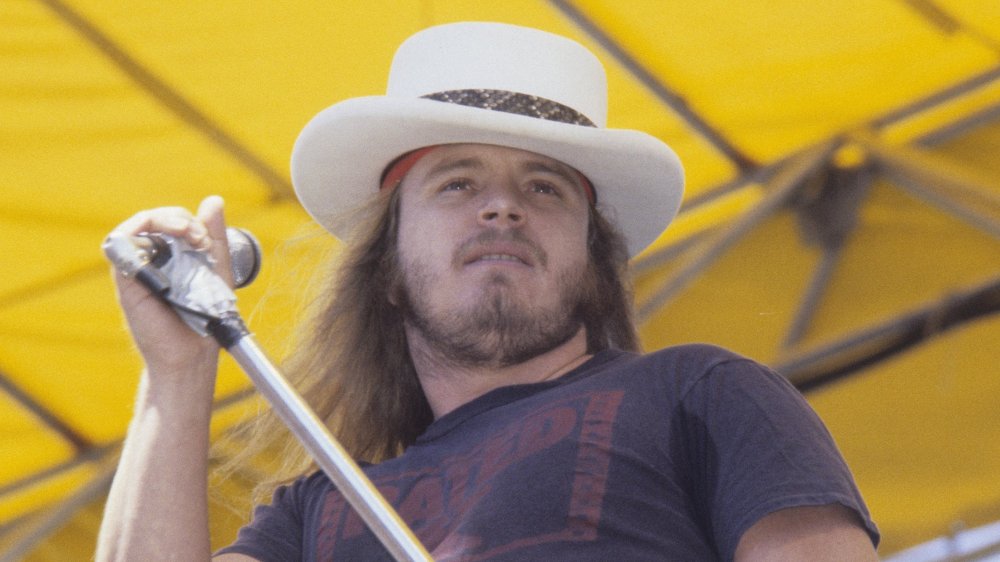 Richard Mccaffrey/Getty Images
The aircraft itself was definitely past its prime — over 30 years old, with far too many miles on it. Lynyrd Skynyrd took the charter instead, though not without some misgivings; as Rolling Stone quotes Lynyrd Skynyrd drummer Artemis Pyle, "We were flying in a plane that looked like it belonged to the Clampett family." They would fly from Greenville, South Carolina, to Baton Rouge, Louisiana. Once there they'd start to travel by Learjet. But first they had to get there.
Van Zant himself "loathed flying," as Rolling Stone reports. Nevertheless, the band was aboard when the plane took off at 5:02 p.m. on October 20. Van Zant was actually laying on the floor of the cabin, trying to relieve back pain with the help of backup singer Leslie Hawkins. About 100 minutes into the flight, the crew discovered they were dangerously low on fuel. Both engines cut out at 4,500 feet. Pyle remembered that Van Zant retrieved a pillow on his way back to his seat, stopped, and shook Pyle's hand. "Ronnie knew that he was going to die."
As the Houston Press reports, the crash took Van Zant's life, as well as the lives of band member Steve Gaines and his sister, backup singer Cassie; and Dean Kilpatrick, the assistant road manager. The pilot and co-pilot also died; 20 others aboard lived. Van Zant died instantly of blunt force trauma to the head. According to Encyclopedia Britannica, he was 28 years old.