The Tragic Backstory Of The Rolling Stones' 'Gimme Shelter'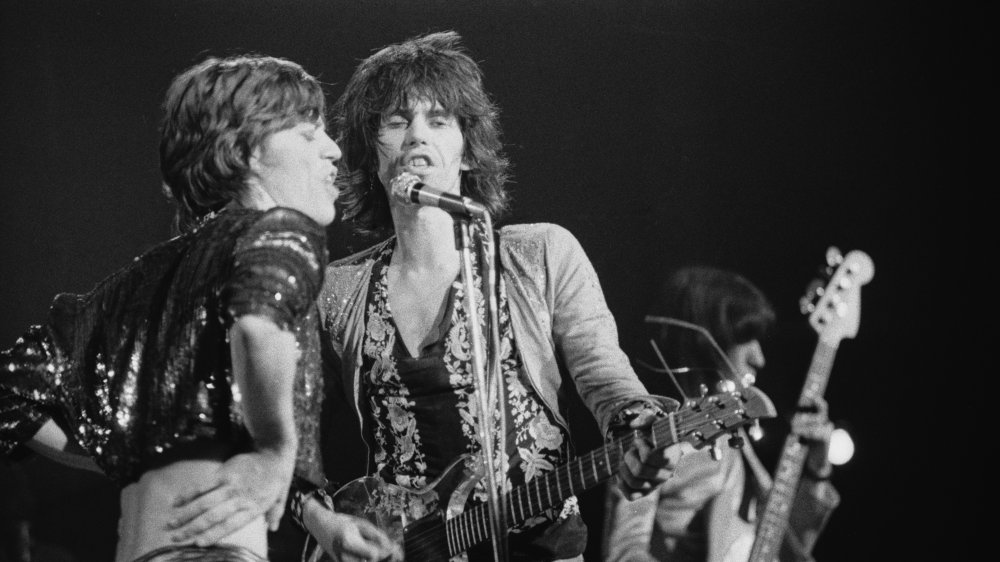 Evening Standard/Getty Images
Originally released in 1969 as the first track on the Rolling Stones' Let It Bleed, "Gimme Shelter" is a haunting, layered, remarkable piece of music. It was described fittingly by co-writer Mick Jagger as "an end of the world song," and it's easy to see why. Keith Richards plays his trademark intertwining riffs on top of one another, the only credited guitarist on the track, accentuating bleak lyrical themes of widespread destruction and the fear that chaos and violence are right around the corner. Rolling Stone and Ultimate Classic Rock have both called it the Stones' greatest song ever.
And like a lot of great art, there's a heaping pile of pain behind it. Some of it was intentional — Richards stated in his autobiography, Life, that the idea for "Gimme Shelter" started when Mick Jagger was out of town with constant Stones presence and Richards' then-girlfriend Anita Pallenberg, filming a movie called Performance. Richards was convinced that the two were having an affair, and claims that his unease led to the development of the song's grim opening tones, according to the Guardian.
Merry Clayton and the Rolling Stones
Taylor Hill/Getty Images
There's a darker tragedy wrapped around the Rolling Stones' "Gimme Shelter," as well. It's one of rock and roll's most pervasive and legendary stories. It might even be true.
The track features guest vocals by Merry Clayton. In an interview with All Things Considered, Jagger recalled that the inclusion of a female singer on the song was a spur of the moment decision, and that Clayton was called in the middle of the night, summoned to a Los Angeles recording studio with little information and given a few shots at recording her part. Clayton's vocals on the track are stunning, and the amount of effort put into the performance is clear when her voice cracks two thirds of the way through the song.
According to Open Culture, not long after leaving the studio, Merry Clayton suffered a miscarriage. The tragic turn of events has since famously been attributed to the strain that she put herself through, screaming the track's lyrics three times in a row after waking up in the middle of the night.