Was Elvis' Manager A Killer On The Run?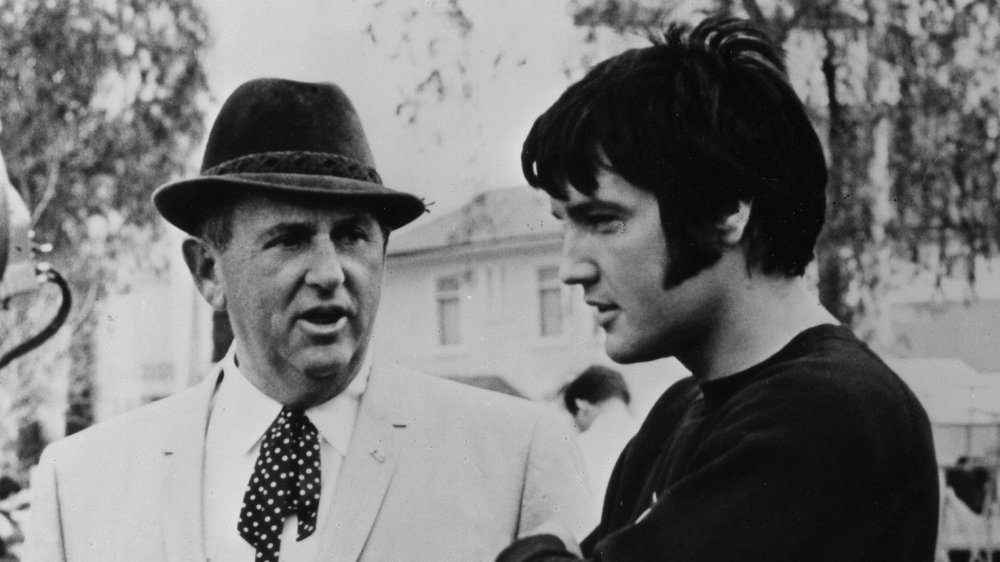 Michael Ochs Archives/Getty Images
Colonel Tom Parker was a doughy human rabbit hole of shadowy weirdness. Yes, his accomplishments were varied and impressive. He worked as the sole manager to Elvis Presley throughout the singer's career, and through the sheer act of spending most of his time around the King, managed to nudge out Sanders as the United States' Colonel that smelled the most like fried chicken. Probably.
But while Presley was sucking up the spotlight, Parker shied away from public attention. The information he gave on his own history was vague and decidedly sketchy: he was born around 1900 in Huntington, West Virginia (there's no record of a child with his name being born in the area at that time) and managed circus acts (there's no record of that, either.) Even the designation of "Colonel" was a lie — Parker had served in the Army, but as a private. He went AWOL, spent time in military prison, was released after suffering a breakdown and being diagnosed as a psychopath, and then purposely ballooned up to 300 lbs when World War II broke out so that he'd be deemed unfit for service.
And all of that is just the tip of the sketchy, sketchy iceberg. In Alanna Nash's biography The Colonel, Parker is described not only as an illegal immigrant who jumped ship and assumed a fake name, but also, potentially, as a stone cold killer.
The nebulous past of Colonel Tom Parker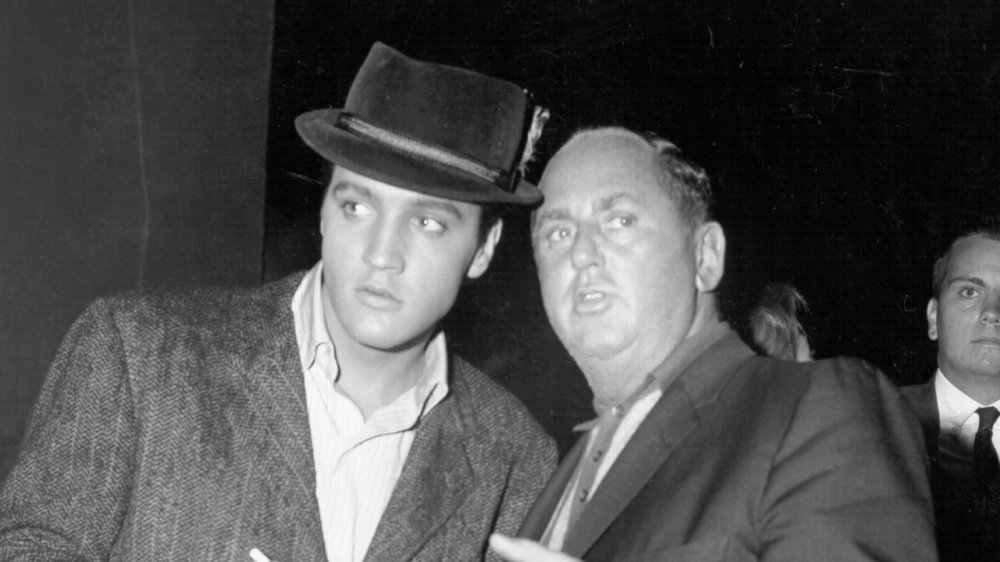 Michael Ochs Archives/Getty Images
The evidence? Circumstantial. The source of the tipoff? Anonymous. But there's a compelling case to be made for Colonel Tom Parker secretly spending his life as a killer on the lam.
In May of 1929, Anna van den Enden, a 23 year old newlywed living in the Dutch town of Breda, was viciously beaten to death. Her business was burglarized, and the killer poured pepper over the crime scene in order to evade detection by police dogs. Eyewitness accounts pointed to "a well-dressed man" leaving the area in a hurry.
There was a young man, also from Brema, who was well known for his affinity for fancy duds: Andreas Cornelis van Kuijk. Coincidentally, van Kuijk hopped onto a boat headed for the United States on the day that Anna was killed, taking none of his possessions and neglecting to inform his family that he was leaving. Nobody in Brema heard from him until 1960, when Smithsonian Magazine reports that his sister spotted him in a magazine article, standing behind Elvis Presley, and going by the name Colonel Tom Parker.
Then, sometime in the late 1970s, a reporter named Dirk Vellenga who'd made a personal quest out of uncovering the Colonel's past, received an unsigned and deeply creepy letter.
A colonel of truth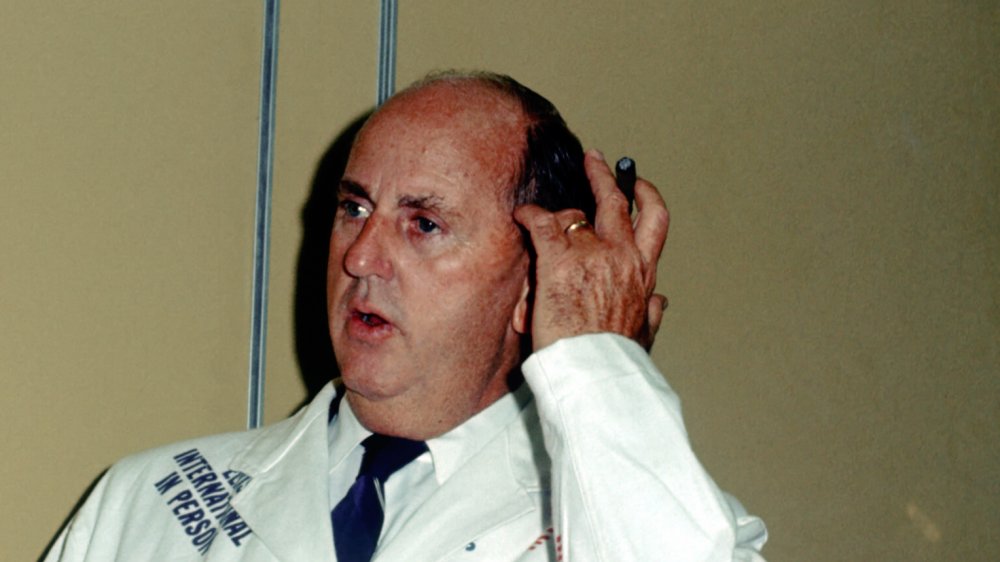 Michael Ochs Archives/Getty Images
The letter ended with the following words:
"At last, I want to say what was told to me 19 years ago about this Colonel Parker. My mother-in-law said to me, if anything comes to light about this Parker, tell them that his name is Van Kuijk and that he murdered the wife of a greengrocer on the Bochstraat.... This murder has never been solved. But look it up and you will discover that he, on that very night, left for America and adopted a different name. And that is why it is so mysterious. That's why he does not want to be known."
In the end, the murder was never solved, and Parker was never formally accused. In theory, the Colonel's involvement in a murder could go a long way towards explaining some of his eccentricities. Across his career as Elvis Presley's manager, he refused millions of dollars worth of concert deals overseas, refusing to leave the U.S. on account of never having acquired a passport. While he certainly could have scaled this obstacle thanks to the Alien Registration Act of 1940 and become a naturalized citizen, it appears, for whatever reason, that he didn't want to draw attention to himself.