What The Surviving Stars Of Blazing Saddles Are Doing Today
It's been a while, but unlike a lot of comedies, Blazing Saddles holds up nearly 50 years after its release in 1974. It was the Western parody that saw not only the longest flatulence joke in cinematic history, but lined up racial stereotypes and slapped them silly.
Mel Brooks was the director, co-screenwriter, and a supporting player. In 2016 he told Rolling Stone (which called Blazing Saddles "the funniest movie ever made") that the use of the N-word in the original script (quite a lot, to be honest) bothered him. So he called Richard Pryor to ask for advice. According to Brooks, Pryor said, "This is real. I like this. Pryor added, "Well, Mel, you can't say it. But the bad guys can say it. They would say it!" Pryor was supposed to play the lead — Black Bart — but the studio nixed it. Brooks was ready to walk on the project, but Pryor asked him to stick it out — he'd still get paid for writing, and he needed the money. Instead of Pryor they cast Cleavon Little, a Tony Award-winning stage actor
Gene Wilder, who played the retired gunfighter, the Waco Kid, was a friend of Mel's from their work on an earlier movie, the first version of The Producers. Originally, Gig Young, a former matinee idol, was supposed to play the part, but his alcoholism got the better of him. Brooks called Wilder as a last-minute replacement and he agreed.
Mel Brooks is one of the few surviving stars of 'Blazing Saddles'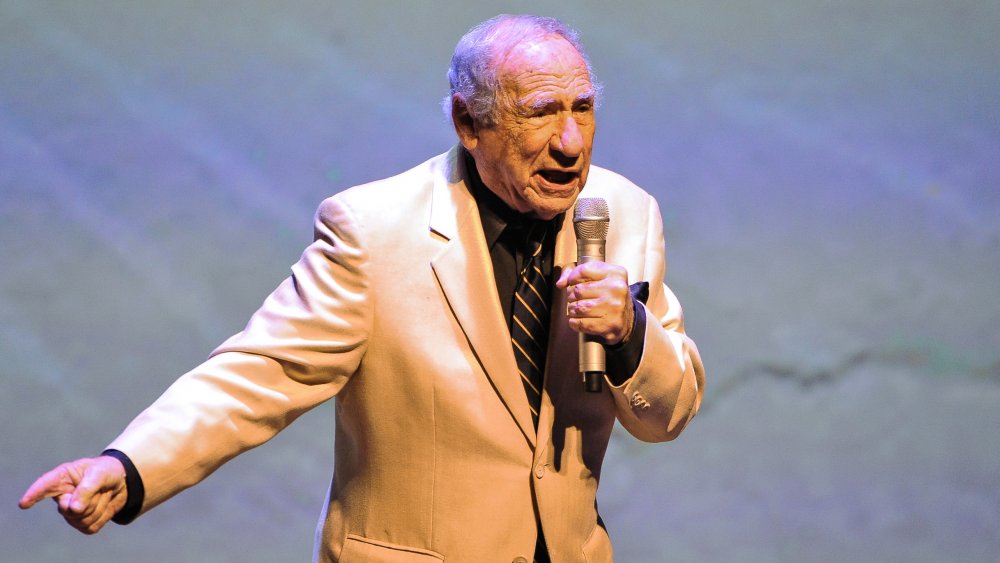 Allen Berezovsky/Getty Images
The film is filled with veteran character actors — Slim Pickens (Taggart) had a long career as a supporting player in westerns; Alex Karras (Mongo, who was "pawn in game of life") was an ex-pro football player transitioning into show business. John Hillerman worked on the original Magnum, P.I. as the stuffy Higgins. And nearly all of them are gone. Little died in 1992; Wilder in 2016; Harvey Korman (Hedley Lamarr) in 2008; Pickens in 1983; Madeline Kahn (Lili Von Shtupp) in 1999; and Karras in 2012.
Of the rest, Robyn Hilton, the governor's secretary, might still be alive, though as Legit reports, she's more or less disappeared from public view. Burton Gilliam was memorable as Taggart's sidekick, Lyle, and is still a working actor, according to his IMDB profile — as of this writing he has one film in post-production, and spent three years as a supporting player on the series Bail Out, among other projects. Brooks himself is still alive, a robust 94 years old. He remains active — he recently cut a comedic video with his son, Max, to reinforce the importance of self-isolating during the pandemic. He lost his wife, Anne Bancroft, in 2005, and recently had the sorrow of burying his best friend of 70 years, Carl Reiner, age 98, per TMZ.
Asked by Rolling Stone what he thought his legacy would be, Brooks replied, "Oh, I don't know. Who ... cares? ... I won't be around for any of it anyway."