Why Ronda Rousey Can't Stand Steven Seagal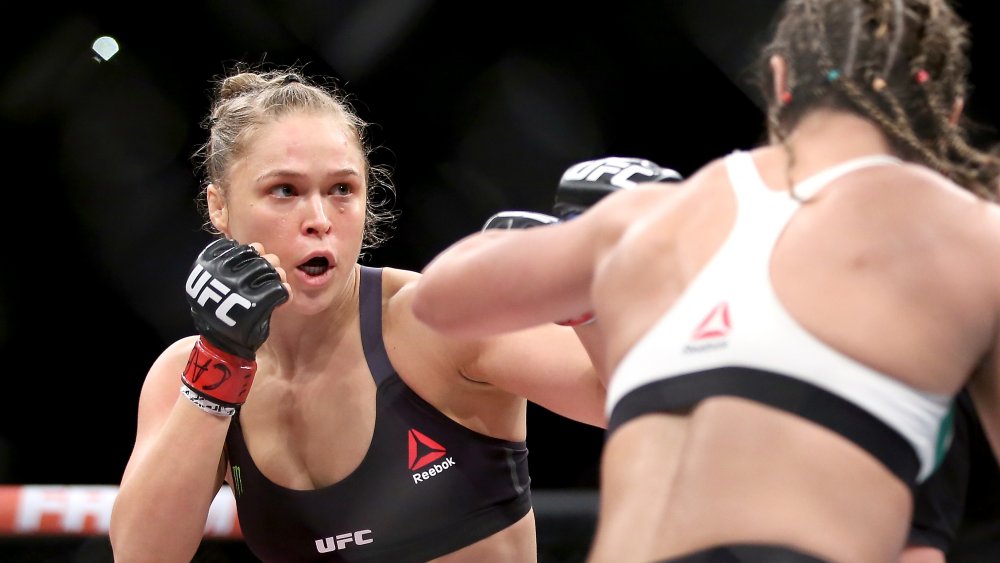 Matthew Stockman/Getty Images
When you do a simple Google search — not "I Heart Steven Seagal," but maybe something close — you're more likely to come up with hot lists of people who don't like the nineties action hero with a penchant for "kill" and "justice" in his movie titles. It can't just be an image thing, although being Vladimir Putin's bosom buddy doesn't help, and in a way, it's Seagal's own fault, for appearing in reality TV shows like Steven Seagal: Lawman on A&E. Charlize Theron trash talked him to Howard Stern, according to Yahoo, saying how he is "overweight and can barely fight," and Seagal's reputation is also clouded by over a dozen allegations of sexual assault, as reported the Wrap in 2018. He's accused of everything from rudeness to bullying, both physically and emotionally, during the production of his various projects ... though every once in a while, somebody pushes back.
One notable person who Seagal was famously trounced by is Gene LeBell, the martial artist turned movie stunt coordinator. The story told is that, back in the day, Seagal was throwing his weight around, claiming he could get out of any chokehold, including one applied by LeBell, according to UpRoxx. When LeBell applied said hold, though, Seagal could not extricate himself and, according to legend, the movie star soiled his pants in the process.
Ronda Rousey's connection to Seagal's embarrassing Gene Lebell episode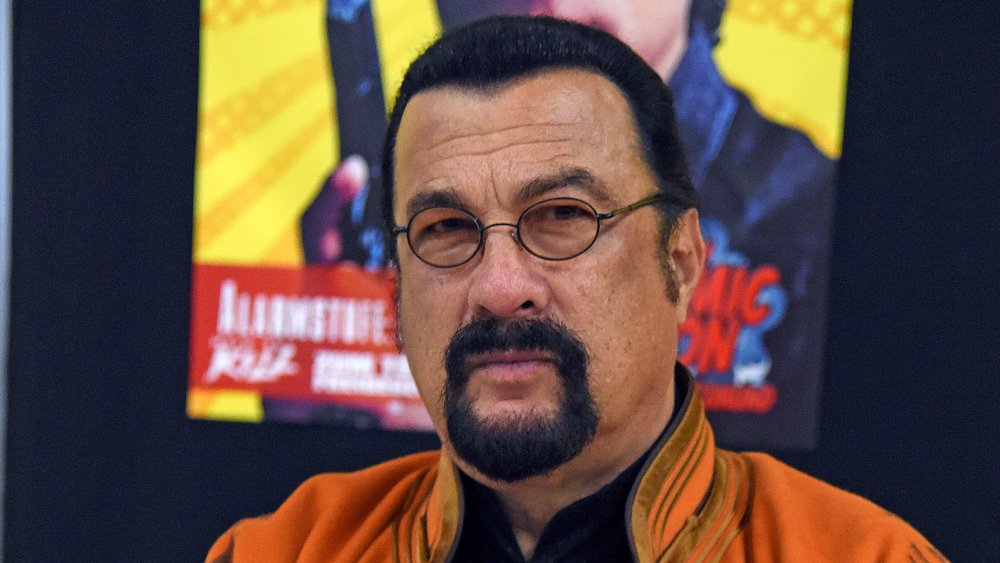 Tristar Media/Getty Images
There are different versions of the chokehold story out there, though LeBell himself was self-deprecating, in an interview on The MMA Hour, relayed by UpRoxx: "Well, if a guy soils himself, you can't criticize him, because if they just had a nice big dinner an hour before, you might have a tendency to do that." 
So, what does this have to do with Ronda Rousey, who's not only an MMA competitor, but also an Olympic medalist in judo? Well, she's LeBell's niece. In an interview on MMA Interviews.TV, Rousey was asked about this incident, and told that  Seagal claims it never happened, to which she laughed. Of Seagal, she said, "I mean, obviously the guy is a liar ... the guy doesn't have a very good track record." Continuing further, in regard to negative comments Seagal made about LeBell, she said that if he ever said anything bad about her uncle to her face, she'd repeat the same chokehold maneuver, and make Seagal soil himself a second time.
She seemed more amused than riled up, but definitely didn't have a high opinion of Seagal. When asked if she thought he was a "legit force," she said that her uncle, who is now 87 years old, would still destroy Seagal in a fight. Seagal doesn't seem to have responded to any of this, but honestly, this is probably not a family you want mad at you.