What Disneyland Was Like On Opening Day In 1955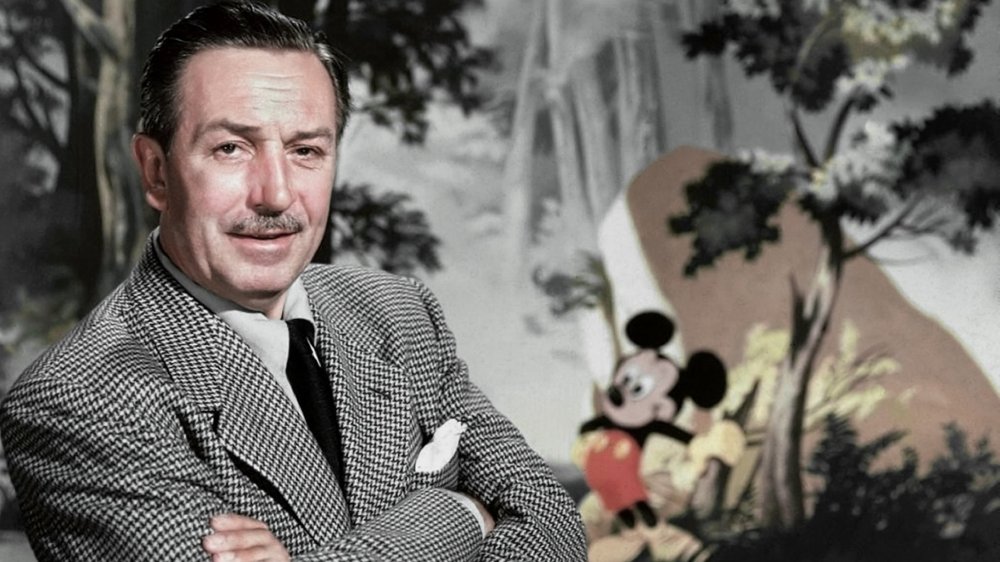 Donaldson Collection/Getty Images
Now it's known officially as Disneyland Park, but when the doors opened on July 17, 1955, it was simply Disneyland. Or, if you were of a skeptical mindset, Walt's Folly. The "Walt" part was, of course, an actual person, Walter Elias Disney, an animator who'd been pushing the boundaries of "possible" for decades. Walt was the artist and visionary, and his brother, Roy, was the money guy who kept operations funded somehow while Walt took chances that made little or no sense at the time. Until, of course, they paid off. Enormously.
Walt studied at the Art Institute of Chicago and got his professional feet wet in Kansas City, working in advertising and, finally, producing his own short animated films. And in 1923 he went bankrupt, as Biography tells us. Later that year he and his brother and another colleague moved to California and founded what later became Walt Disney Studios. It was successful with short films and their special star, Mickey Mouse (maybe you've heard of him?) became a household name.
Disney reached higher by producing the first animated feature-length film. Skeptics were, well, skeptical — it would be too expensive and time-consuming to ever recoup costs, especially during the Great Depression. They were wrong. Snow White and the Seven Dwarfs made significant profits, initially returning $8 million on a $1.49 million budget. (And it keeps making money — about $418 million so far.)
The "Mark Twain" capsized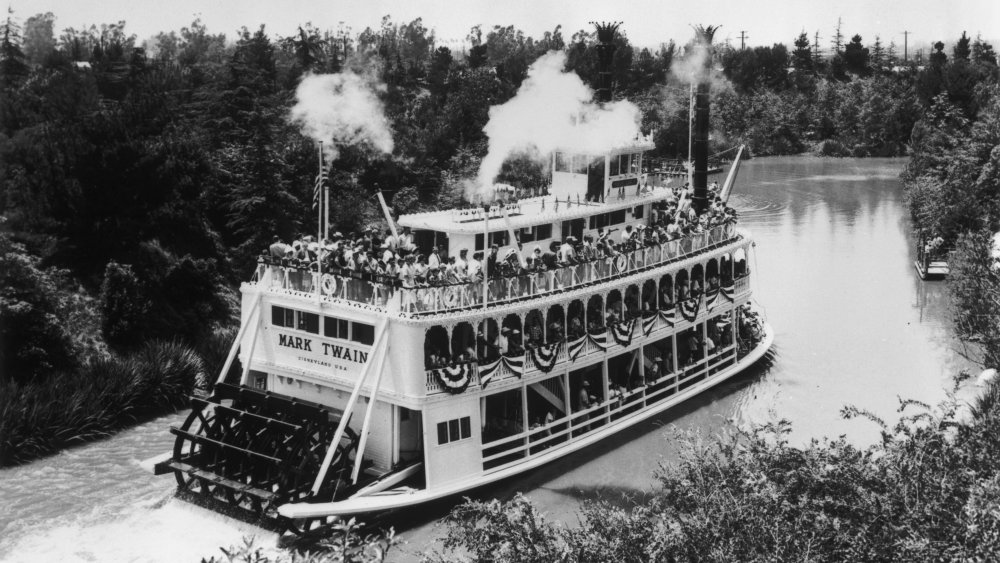 Photoshot/Getty Images
That gamble had paid off. The studio continued to produce animated content, both shorts and features, and capitalized on its characters — The Mouse was everywhere — and in less than 20 years Walt decided to reach again: a truly family-friendly theme park. Amusement parks had kind of a seedy reputation in those days — watch where you step, keep one hand on your wallet, staffed by people with fewer teeth than you'd expect — and Walt envisioned a place that was safe, clean, and truly family-friendly.
Ground broke ground on 160 acres in Anaheim, California — the site of former orange groves — in 1954, budgeted at $1 million and soon skyrocketing (for 1950s dollars) to $17 million — about $130 million today and an enormous risk for an independent animation studio, as History reports. Part of the financing came from partnering with ABC-TV to provide content, but also got on-the-ground coverage when the Magic Kingdom opened for an "international press preview" on July 17, 1955, reports The Atlantic. Sort of, anyway. Employees who survived that day refer to it as "Black Sunday."
It really was a hellish experience for nearly everyone. No one anticipated the public's response to the opening, and traffic management was sorely lacking. On a 100-degree day in July, cars were backed up for seven miles. Enterprising individuals had forged tickets, and the park was soon swamped beyond capacity. (Another entrepreneur charged people $5 a pop to climb his ladder and hop the fence. It's the land of opportunity, folks.)
No one anticipated the public's enthusiastic response
It wasn't just the massive crowds that were the problem. Many of the spanking-new attractions harkened back to the studio's own history — sort of "meta" before "meta" met itself — with rides like "Snow White's Scary Adventures." Even scarier was a gas leak at Sleeping Beauty's Castle, which caused a wee conflagration, though quickly contained. The Mark Twain Riverboat capsized. The stagecoach in Frontierland would flip over if it became too top-heavy. Paint was still being applied throughout the park, and — remember, hot weather — most of the drinking fountains weren't working. A plumbers' strike had forced Walt to prioritize what would get done. Probably wisely, he opted for the lavatories.
Other rides simply weren't ready, Dumbo the Flying Elephant among them, says Mental Floss. The TV coverage, a 90-minute live special, had its moments, including future president Ronald Reagan as emcee, but its challenges, including visitors tripping over cables and one of the hosts, Bob Cummings, caught on camera in a serious kissing moment with one of the dancers.
The park survived, and so did Walt (until 1966 anyway, and no, he wasn't cryogenically frozen), and so did Disney Studios. There are now Disney-centric amusement parks around the world, and the House of Mouse is an entertainment empire second to none.