The Tragic Death Of Joe Walsh's Daughter
Kevin Kane/Getty Images
The early seventies marked a joyous time for Eagles member Joe Walsh. He married then-Boston University student Stefany Rhodes, welcomed oldest daughter Emma Kristen in 1971, and moved west to Boulder, Colorado a few short months later. Walsh was working on new music, in what would later become the album "Barnstorm" from Walsh's new band of the same name. In the meantime, mother and child would walk to the playground nearly every day, spending sunny afternoons on the swings together. "She was warm and funny," Rhodes later told the Daily Camera of Emma's personality in 2010.
However, a terrible death would soon shake the household. As explained by Ultimate Classic Rock, as a result of an automobile accident on the way to driving Emma to a playdate in April 1974, Walsh's wife Stefany Rhodes was hit by another driver in their family hometown of Boulder, Colorado. The driver of the other vehicle reportedly ran a stop sign, hitting the passenger side of the Walshes' green Porsche.
A devastating loss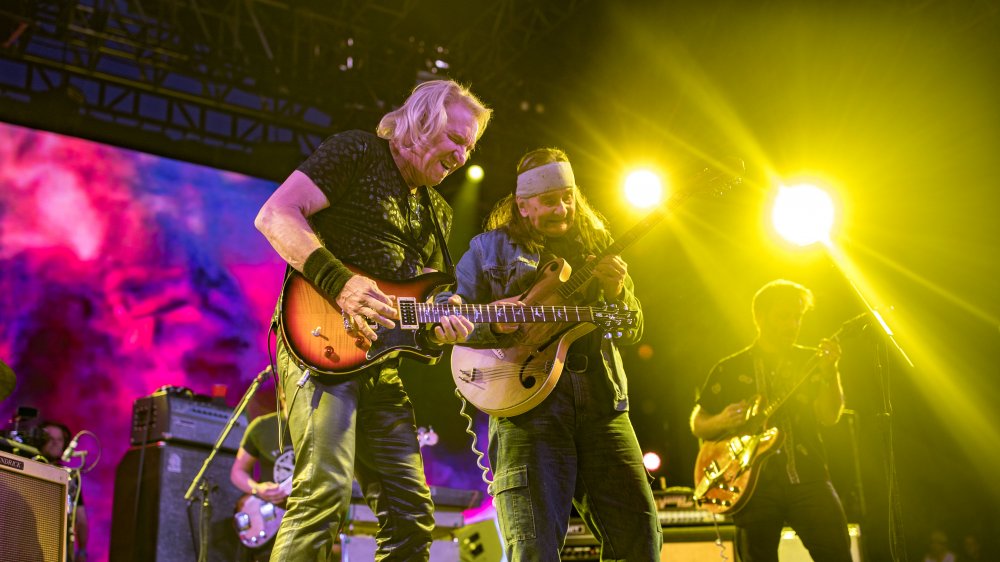 Christopher Polk/Getty Images
The car spun out of control, right into a fence across the street, with Emma sustaining massive trauma to the head. The toddler was taken off life support later that day, just weeks before her third birthday.
Her death caused rising tensions in the Walsh family, with Rhodes and Walsh splitting officially soon after. "The accident kind of did us in," Rhodes later said, as reported by the Daily Camera. "We divorced shortly afterward." The Eagles guitarist memorialized his suffering during the dark period in his 1974 solo album "So What" including the title track "Song for Emma".
"To help with closure, I wrote this song for her," Walsh told Rolling Stone in 2016. "And over the process of the next year, my wife and I, we just weren't strong enough to get through the grief and so we separated and eventually got divorced. But I met a girl in Los Angeles, and my song 'Help Me Through the Night' was to her about being there for me. Because I was a wreck. But she was there so that I could grieve Emma."