The Tragic Fate Of America's First Modern Singer-Songwriter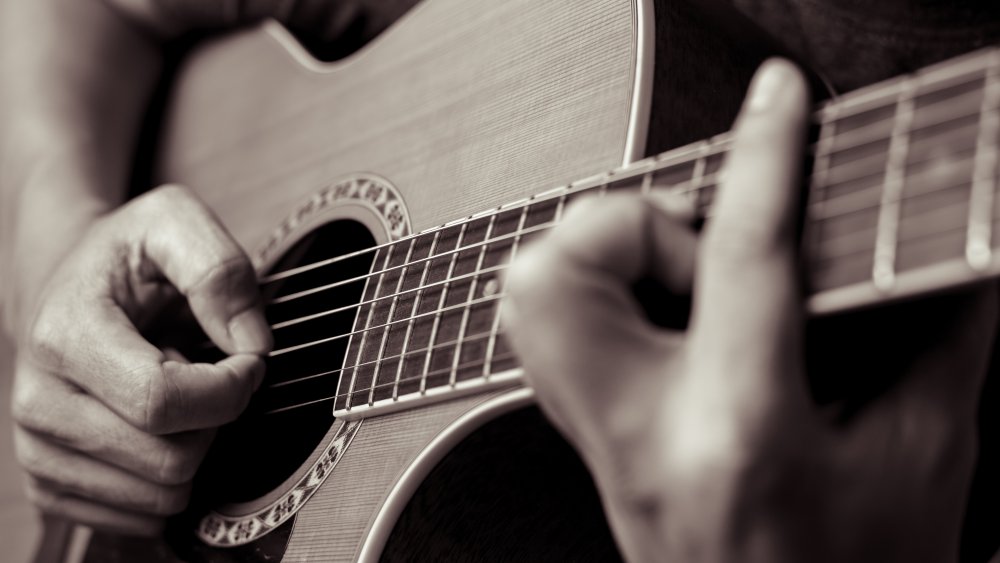 Shutterstock
When we think of the roots of modern music, big names such as Elvis Presley, The Rolling Stones and Aretha Franklin all come to mind. The beginnings of popular music as we know it today date back farther, however, to a time when Bob Dylan, Joni Mitchell and Joan Baez were still in school, to a woman (per the BBC) whose name you probably haven't even heard. New Hampshire-born Connie Converse is considered to be the first modern singer-songwriter. She settled among the beatniks and bohemians in New York City's Greenwich Village in the 1950s, writing hauntingly raw lyrics over guitar melodies. According to Ninja Journalist, Converse excelled outside of the music world as well: as a teen, she was valedictorian of her high school, won numerous academic awards, and earned a prestigious scholarship to Mount Holyoke College.
She was certainly ahead of her time artistically. New York City animator-turned-record producer Gene Deitch recognized her unique qualities early on. As Ninja Journalist reports, Deitch said of her, "Her name was Connie Converse, plain-Jane, wearing glasses, and not at all looking like she would fit in with our crowd. When she started to sing, she transformed us!"
The year 2009 marked a turning point in Converse's musical career, with the release of the album How Sad, How Lonely, featuring songs recorded in Deitch's kitchen in the 1950s. Unfortunately, Converse never saw the rewards of her efforts; she had disappeared some 35 years before the album's release.
The mystery behind Connie Converse
Fear of failure as a musician plagued Connie for years, who struggled to earn recognition for her efforts in the music industry. She also dealt with depression and alcoholism, eventually terminating her music writing career altogether once she moved to Ann Arbor, Michigan. In 1974, at the age of 50, Connie wrote to her friends that she aimed to create a fresh start for herself. She loaded her car with all her belongings and drove off into the distance, never to be heard from again.
Per The AWL, the mystery of her disappearance is still unsolved. Police found no trace of the musician, and although it is generally believed that she committed suicide, the actual fate of the singer remains unknown. Years after Converse's disappearance, someone told her brother Philip that they had seen a phone book listing for "Elizabeth Converse" (Connie's birth name) in either Kansas or Oklahoma, but he never pursued the tip further, as The AWL reports. Nearly 10 years after Connie disappeared, her parents hired a private investigator in hopes of finding their daughter. The investigator told the family that he couldn't disclose Connie's whereabouts, even if she did run away, since it was her right to disappear.