Elvis Was Less Creative Than You Might Think. Here's Why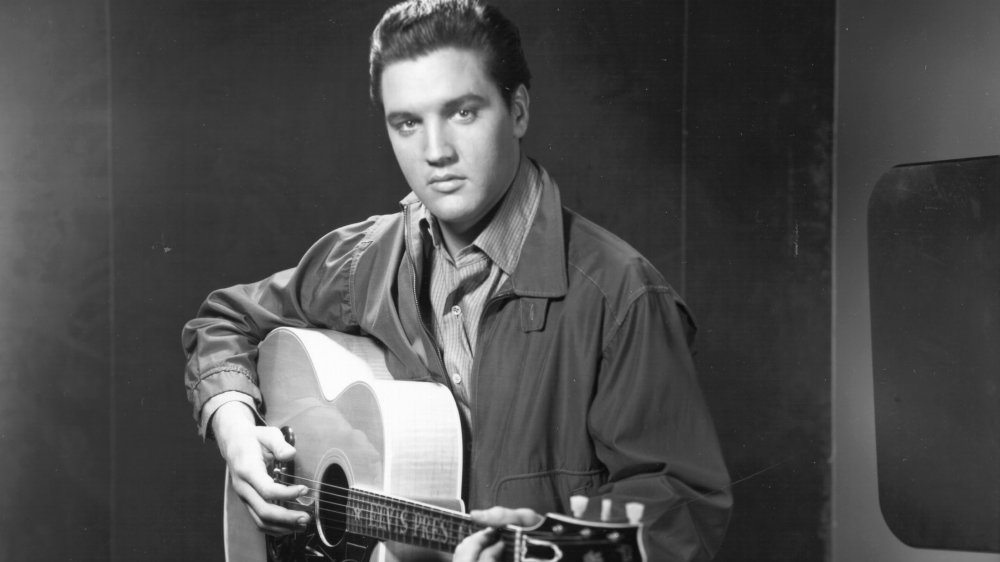 Michael Ochs Archives/Getty Images
"Are you a musician?" "Well, I sing." "So you aren't." So goes the conversation far too often when people who perform music in one way or another come together. Get famous enough at it, and people are going to question your actual abilities, because recording studios create magic out of next to nothing. It happened in the case of Elvis Presley, and that was even before autotune.
Almost from the beginning, people asked: Is that really him? And if it's really him, how much of it is really him? At first his sound confused people — guitar legend Chet Atkins told interviewer Larry Katz in 2013, "The first time I ever heard him I thought, 'What in the hell is this?' I couldn't tell if he was black or bluegrass or gospel or what. Of course, that was what made him what he was." That vocal ability was undeniably the main part of the package, but Elvis was also an instrumentalist. He got his first guitar for his 11th birthday, as History records (what he really wanted was a bicycle. Or a rifle) and eventually he added piano and drums to his skill set. Even Atkins admitted that when it came to guitar, Elvis "played pretty good." Which is high praise indeed.
He claimed he only knew three chords (he was joshing)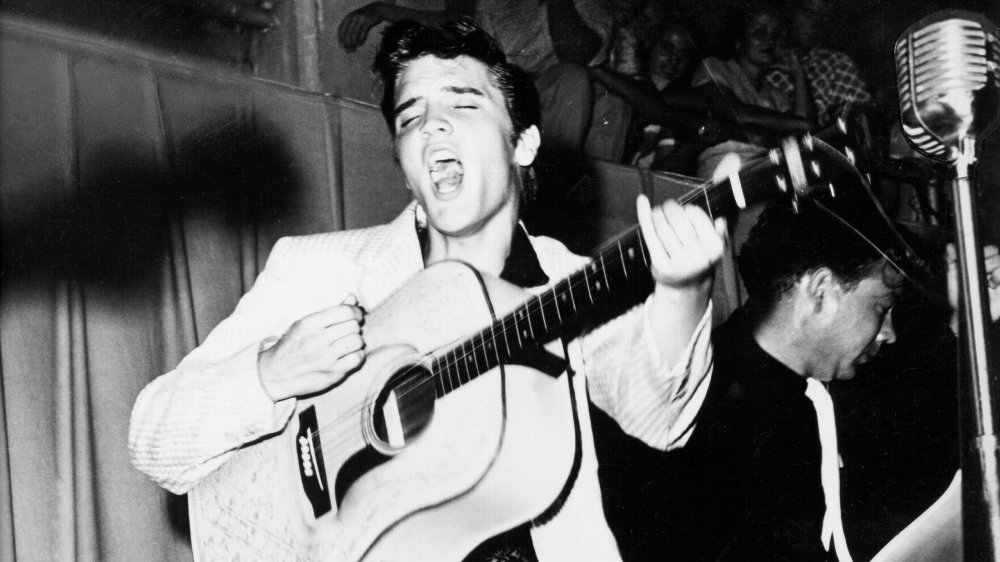 Michael Ochs Archives/Getty Images
Substantiating that is Johnny Cash, whose 1997 autobiography, Cash, is quoted by Medium. Cash first saw Presley performing in 1954. "The thing I really noticed that night, though, was his guitar playing. Elvis was a fabulous rhythm player. He'd start into 'That's All Right, Mama' with his own guitar alone, and you didn't want to hear anything else. I didn't anyway."
Presley's early Sun Studios recordings from the mid-1950s back up Cash's estimation of Elvis's abilities. The recordings are sparse in instrumentation — a bass, an electric lead guitar, and Elvis on rhythm guitar. Once he truly hit it big, other players took over the guitar chores for him, though he still contributed to recordings from time to time, and also played during stage performances.
Part of the problem was that Elvis could be self-effacing — as Medium reports, he would often tell audiences, "I only know three chords." In a 1959 interview with Dig Magazine, posted on the Phoenix Elvis Forum, he tells the interviewer he can't read music "and I can't play the guitar, either.... I use it as a brace." Elvis recorded a track in 1970 titled "I Didn't Make It on Playing Guitar," which adds to the myth. Basically it's a studio jam session; it wasn't even released until 1996, nearly 20 years after his death at 42. But the rhythm guitar is work is exceptional.
He played songs; write them? Not so much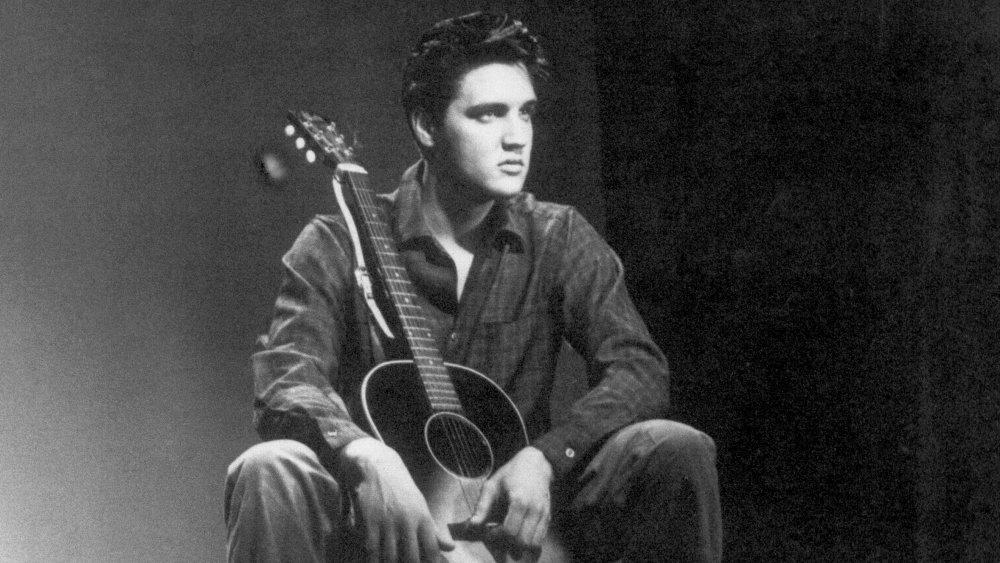 Michael Ochs Archives/Getty Images
As for his co-writing credits on the songs themselves — again, from Dig: "It's all a big hoax, honey. I never wrote a song in my life. I get one-third of the credit for recording it. It makes me look smarter than I am. I've never even had an idea for a song," though he did admit the phrase "all shook up" came to him in a dream, he passed it along to one of his friends, and the next day the song appeared.
Playback says there was a little more than that to the story. His recording label insisted that he get co-writing credit on new songs or else he wouldn't record. At the point where an Elvis recording was guaranteed to sell copies, it was a deal that was hard to pass up by struggling songwriters. On the other hand, Elvis applied his own interpretation to a song, new or old, and while he might not have written the source material, he shaped it and crafted it into something uniquely his. And that's uniquely creative.