This Is The Oldest Building In The US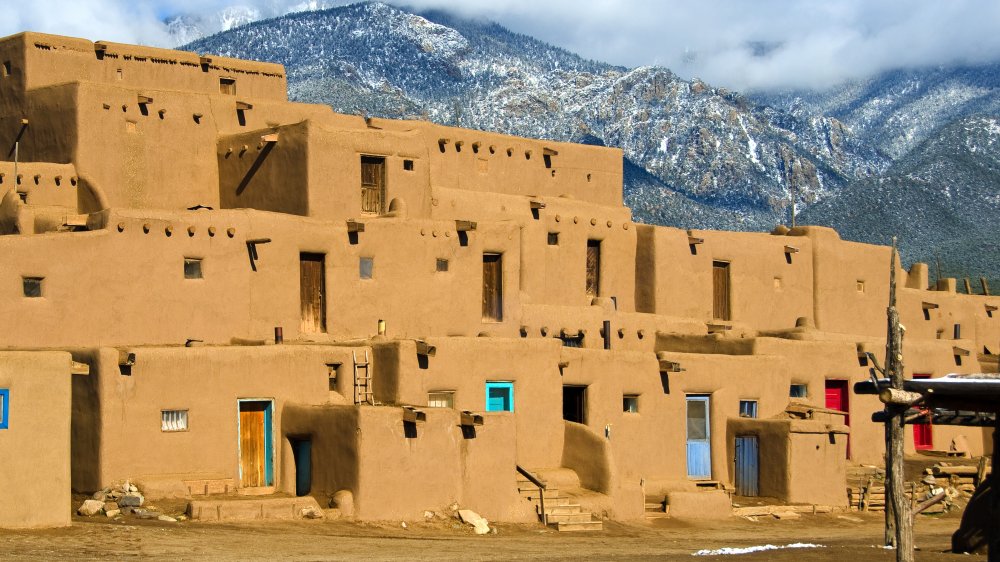 Shutterstock
According to Oldest.org, Taos Pueblo is the oldest still-standing structure in the United States, with an estimated build date of sometime within 1000 CE and 1450 CE. The Pueblo is made up of a series of homes and ceremonial buildings built from adobe, a material composed of earth, water, and straw and formed into bricks. Per the offical Taos Pueblo website, ancestors of the Taos people lived in what is now New Mexico 1,000 years ago and today appear much the same as they did upon completion of the Hlauuma (north house) and Hlaukwima (south house).
The adobe walls are several feet thick, with large timbers brought in from surrounding forests supporting the roofs. The outside wall of the Pueblo is continually reinforced with fresh layers of mud, while the inner walls are whitewashed. The series of homes have common walls but no connecting doors; originally, the only way  to enter the pueblo was from the top, as there were neither doors nor windows.
A vital community for hundreds of years
Shutterstock
Approximately 150 people now live in the Taos Pueblo full time, which makes it not only the oldest native structure in the United States, but the oldest continually inhabited community as well. Others have homes within the Pueblo walls, but usually live in other houses near their fields, or in more modern homes outside the official walls that are still within Pueblo land; tradition dictates that no electricity or running water can exist within the Pueblo walls. 
Overall, according to their official website, over 1,900 Taos Indians live on Taos Pueblo lands. The land is made up of 99,000 acres, including the sacred Blue Lake, which was part of 48,000 acres returned to the Pueblo people from the United States government in 1970. The government stole the land in 1906, to be used as National Forest lands. Today, Blue Lake and the mountain lands that make up the 48,000 acres are off-limits to all but Pueblo tribe members. Everyone else is welcome to visit the Taos Pueblo buildings on most days. Tourism, arts, traditional crafts, and food sales are important parts of the economic life of the Pueblo; visitors may purchase traditional mica-flecked pottery, silver jewelry, moccasins, boots, and drums.