The Tragedy Of Abbott And Costello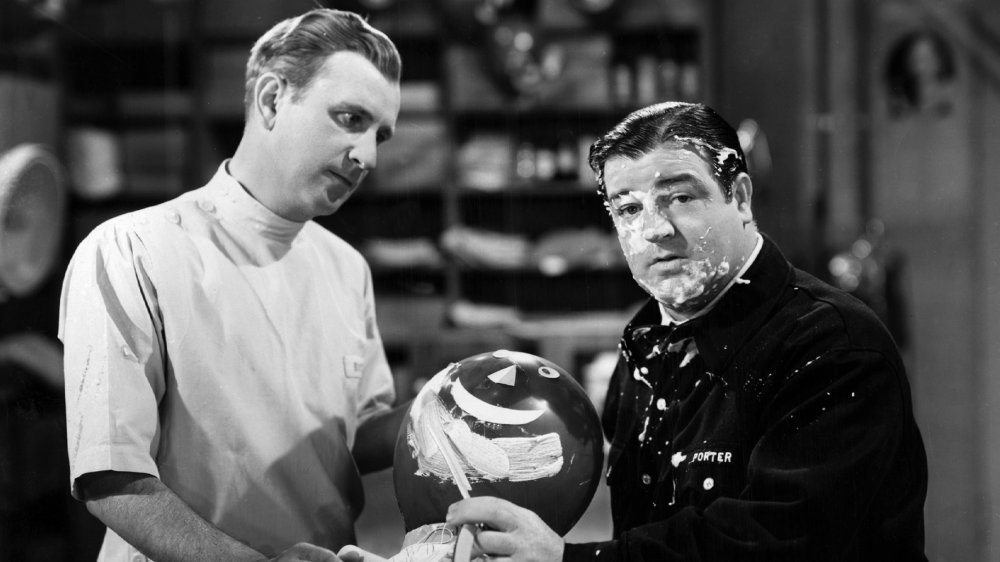 United Archives/Getty Images
If you're a fan of comedy — and, really, who isn't? — then the hugely influential duo Abbott and Costello remain, decades after their final performance, essential viewing. A classic example of the comedic double act, straight man Bud Abbott and funny man Lou Costello starred in two movies a year at the peak of their popularity, and went on to influence generations of comedians who followed along after them. Jerry Seinfeld has described Abbott and Costello as "a seminal influence" on his life, according to the The New York Times, and explained in DVD extras to his own classic sitcom, Seinfeld, how their shtick was the precursor to many aspects of the show. At the height of his fame in 1995, Seinfeld even hosted a TV special introducing the double act's most famous routines. "Imagine two guys whose jokes were so remarkable that they're still getting laughs 60 years later," said Seinfeld, according to the Chicago Tribune.
But the performers of the timeless "Who's on First?" sketch had to steer themselves through numerous personal problems, including addiction and ill health and a tragic death, during a joint career which waned, sadly, long before its time.
Ego and money are a dangerous mix, especially in a close partnership at the height of its fame. The seeds of discontent were sown by a decision they made in their early days when they performed as part of Minsky's Burlesque.
Abbott and Costello: a troubled partnership
Michael Ochs Archives/Getty Images
Abbott was considered the more valuable side of the partnership in the early days — according to a posting by the University of California at Santa Barbara, none other than Groucho Marx described him as the "greatest straight man ever" — and was thus paid 60 percent of their earnings. As the pair's fame grew, however, Costello, as the man getting the laughs, began to demand more of a cut, and eventually, his take grew to 60 percent, according to Celebrity Net Worth. It is reported that Costello also wanted to have the order of their names changes in the credits of their movies, an idea the studios rejected.
Besides the alcohol addiction and gambling habits that were common to both men, a personal tragedy was to change the dynamic of the pair forever, when Costello's infant song, Lou Jr., drowned in the family pool just days before his first birthday. In Swing It!! The Andrews Sisters story, Maxine Andrews claimed that after the accident Costello "didn't seem as fun-loving and as warm ... He seemed to anger easily ... there was a difference in his attitude."
Costello died of a heart attack on March 3, 1959, aged 52. Though their partnership had long since ended, The Los Angeles Times quotes Abbott as saying, "My heart is broken. I've lost the best pal anyone ever had." Abbott died in 1974, per Encyclopedia Britannica.