The Untold Truth Of Hunter S. Thompson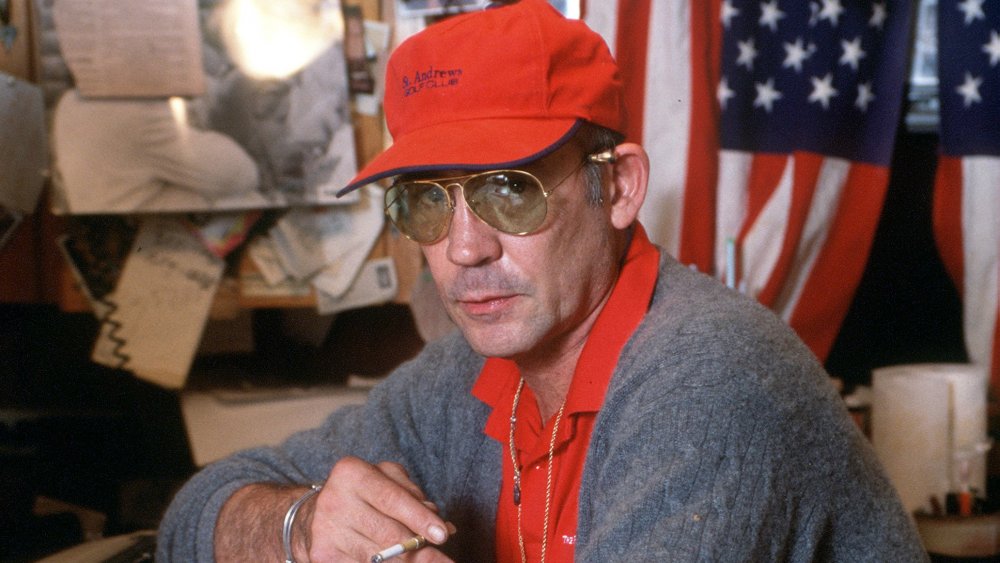 Paul Harris/Getty Images
Of the many respected writers who were actually terrible people, few are more notorious than Hunter S. Thompson. Born in 1937 in Louisville, Kentucky, Thompson had " had a number of run-ins with the law as a young man," according to Encyclopedia Britannica, before he joined the Air Force in 1956, serving as sports editor for a base newspaper until his discharge in 1957. He continued working as a journalist, and found national attention in 1967 for his book Hell's Angels, an account of his time riding and living with the motorcycle gang. The book also launched his unique reporting style, "[taking] readers deep inside a subculture largely inaccessible to the outside world," as noted by Rolling Stone. His reputation was cemented in 1970 with the publication of "The Kentucky Derby is Decadent and Depraved" in Scanlan's Magazine. It was here, per NPR, that Thompson and his frequent collaborator, illustrator Ralph Steadman, joined forces for the first time. They ignored the horse racing to focus on the spectators: the "whiskey gentry ... a pretentious mix of booze, failed dreams and a terminal identity crisis." The article inspired a Boston Globe editor to name Thompson's free-wheeling, intoxicant-soaked writing style "gonzo."
Thompson's other primary 1970 activity was running for sherriff of Pitkin County, Colorado, with several other candidates who were running on the "Freak Power" ticket. They were unsuccessful, but it resulted in Thompson's article "The Battle of Aspen," his first work for Rolling Stone magazine.
'A savage journey into the heart of the American dream'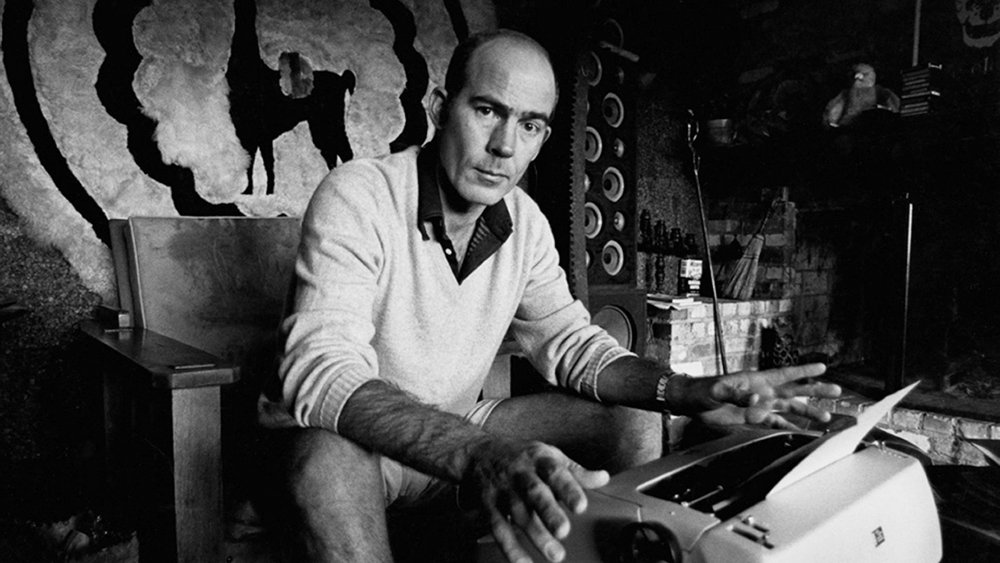 Michael Ochs Archives/Getty Images
The "Freak Power" movement was not just a stunt; in his book Freak Power: Hunter S. Thompson's Campaign for Sheriff, Daniel Joseph Watkins notes that Thompson returned from covering the 1968 Democratic Convention "disgusted yet motivated by what he'd seen: protests violently suppressed, riots, corrupt politicians and abusive cops." Freak Power's idea was to "take control of Aspen and transform it from a conservative mining town into a mecca for artists, rebels and activists." Thompson, reported Rolling Stone, was a "self-described political junkie." 
After "The Battle of Aspen," Thompson sent Rolling Stone editor Jann Wenner the opening of an article he'd been working on: "We were somewhere around Barstow on the edge of the desert when the drugs began to take hold," his lede for Fear and Loathing in Las Vegas. Thompson's signature work had begun as a 250-word assignment from Sports Illustrated on the Mint 400 motorcycle race. Thompson instead turned in 2,500 words about "a savage journey into the heart of the American dream." Unsurprisingly, Sports Illustrated rejected the story "along with his expenses," but Rolling Stone not only accepted the story but sent Thompson back to Las Vegas to expand the piece, "reporting on the National District Attorneys Association's Conference on Narcotics and Dangerous Drugs." The "hilarious and electrifying" article ran in two parts, complete with Steadman illustrations. It was published as a book in 1972, and adapted into a 1998 movie starring Johnny Depp as Thompson.
'Football season is over'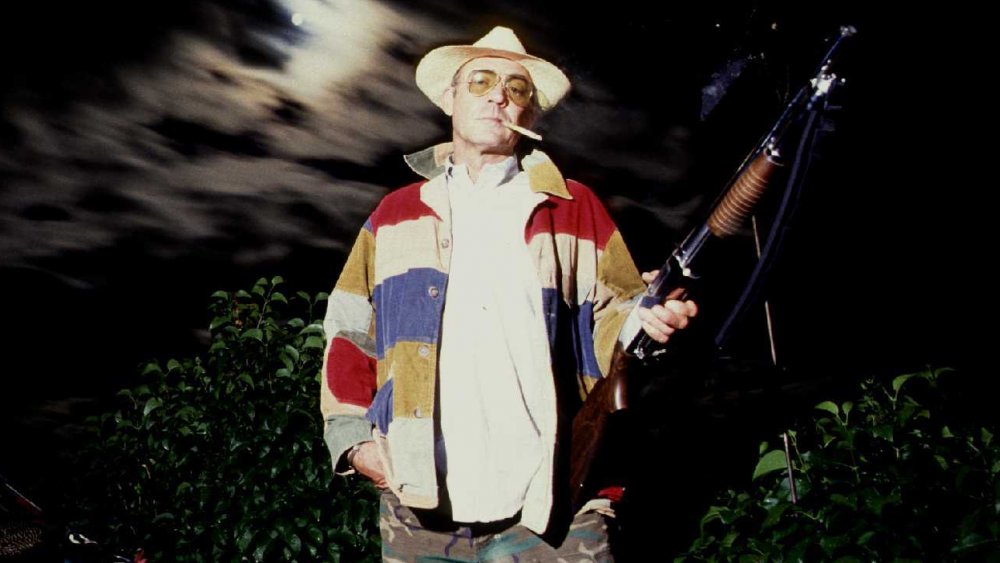 Paul Harris/Getty Images
Fear and Loathing in Las Vegas made Thompson a celebrity, a status from which he never quite recovered. In 1972 he " filed 14 dispatches for Rolling Stone from the presidential campaign trail," discarding the typical "reverent approach" used by journalists to refer to politicians as "waterheads," "swine" and "fatcats," and presciently observe: "You almost have to be a rock star to get the kind of fever you need to survive in American politics." In 1974, Doonesbury cartoonist Garry Trudeau immortalized Thompson as the character "Uncle Duke," a tribute Thompson hated, per The Guardian. Thompson saw Uncle Duke "as a form of copyright infringement" and declared, "If I ever catch that little b****** [Trudeau], I'll tear his lungs out."
Jann Wenner noted that Thompson's infamy "kind of trapped him, between the fame and the drugs. After the election and Watergate, he wrote small things for us. But he'd miss flights and never turn anything in." Thompson's final words in Rolling Stone were his suicide note, titled "Football Season Is Over," which he left behind before he shot himself in February, 2005 with one of his many beloved guns. His final wish was carried out that August when "more than 200 friends ... gathered at Thompson's Colorado home, where his ashes were shot out of a 153-foot cannon under a full moon."
(If you or anyone you know is having suicidal thoughts, please call the National Suicide Prevention Lifeline at 1-800-273-TALK (8255).)