Here's Why Eddie Van Halen Buried His Iconic Guitar With Dimebag Darrell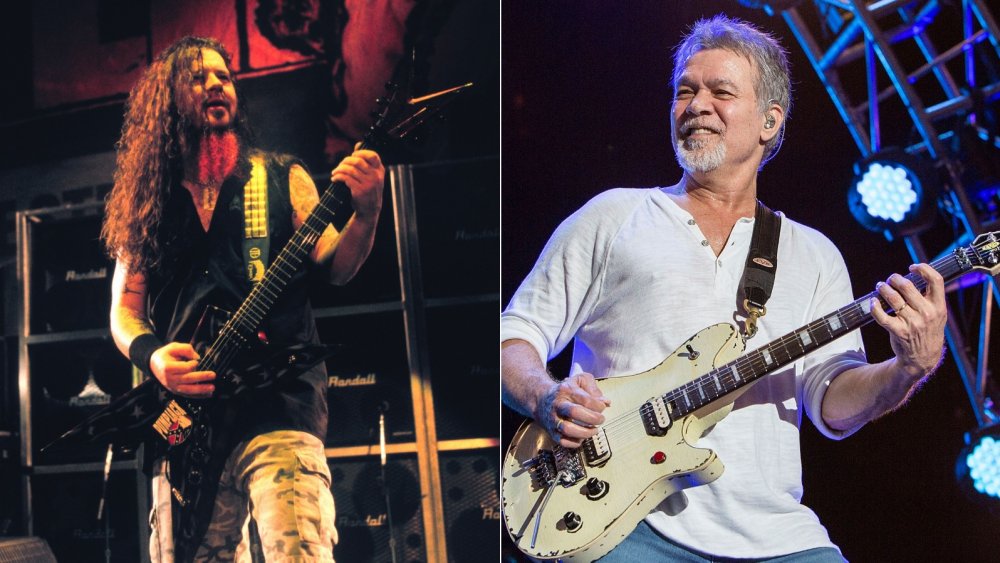 Tim Mosenfelder / Daniel Knighton / Getty Images
Eddie Van Halen and Dimebag Darrell Abbott were phenomenal guitarists that the world was sad to let go. Dimebag Darrell was gunned down in 2004, while Eddie Van Halen struggled with throat cancer for years before the cancer eventually took his life on October 6, 2020. Both came from prominent rock bands and both knew of each other's talents. Dimebag had been a fan of the entire Van Halen crew for a long time, and Eddie Van Halen had embraced his fellow guitarist. Van Halen also gave him one final gift after Dimebag's passing.
Eddie Van Halen and Dimebag Darrell had only known each other for a few weeks before Dimebag Darrell's tragic on-stage murder at the hands of a gun-wielding fan, but in that short time, the pair managed to bond close enough that Van Halen was willing to offer up his iconic guitar to Dimebag Darrell for the purposes of rocking out in the afterlife. Or maybe, Eddie Van Halen had a soft spot for his fans, and Dimebag Darrell was one of his biggest fans. Either way, it's pretty clear that Van Halen respected both Darrell Abbott as a person and Dimebag Darrell as a musician. There isn't much else that could explain how the two of them got so close in such a limited amount of time. It had to come as shock when Eddie Van Halen's new friend died so shortly after their meeting, but, hopefully, the two of them are riffing with each other in the great beyond. 
Dimebag Darrell Abbott was a serious Van Halen fan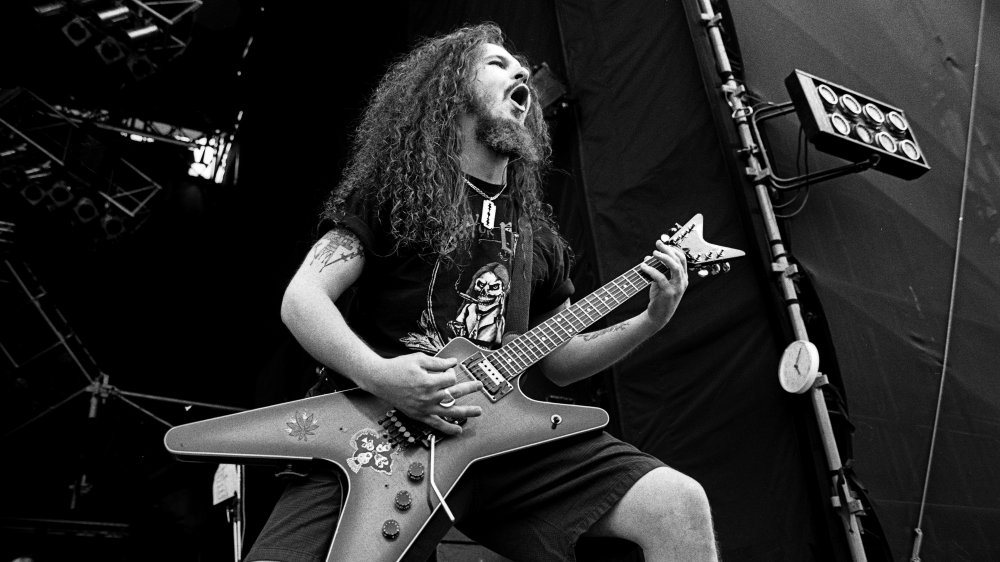 Martyn Goodacre/Getty Images
The two guitarists were each part of a pair of brothers playing guitar and drums in their bands. Eddie Van Halen and Alex Van Halen were the founding members of Van Halen, while Dimebag Darrell (Darrell Lance Abbott) and Vinnie Paul Abbot both played for Pantera and Damageplan. Both sets of brothers were quite close to each other and, according to Vinnie Paul, hit it off right away when they met each other.
Vinnie Paul told Team Rock that the last words he and his brother said to each other before Dimebag's tragic death were "Van Halen." It was a mantra of theirs that reminded them to "let it all hang out and have a good time." Vinnie Paul also talked about the first time Dimebag met Eddie Van Halen. They hung out with Van Halen while they were setting up and doing soundcheck for one of the band's shows, and Dimebag was ecstatic. He got to play Eddie's guitar and everything. Vinnie Paul recalled Dimebag's words for Ultimate Classic Rock after the encounter: "My brother looked at me, and he goes, 'Man, you know what? If this plane was to go down in a crash right now, I'd be okay with it. I finally got to meet the dude that made me wanna play guitar.'"
Dimebag Darrell was buried with Van Halen II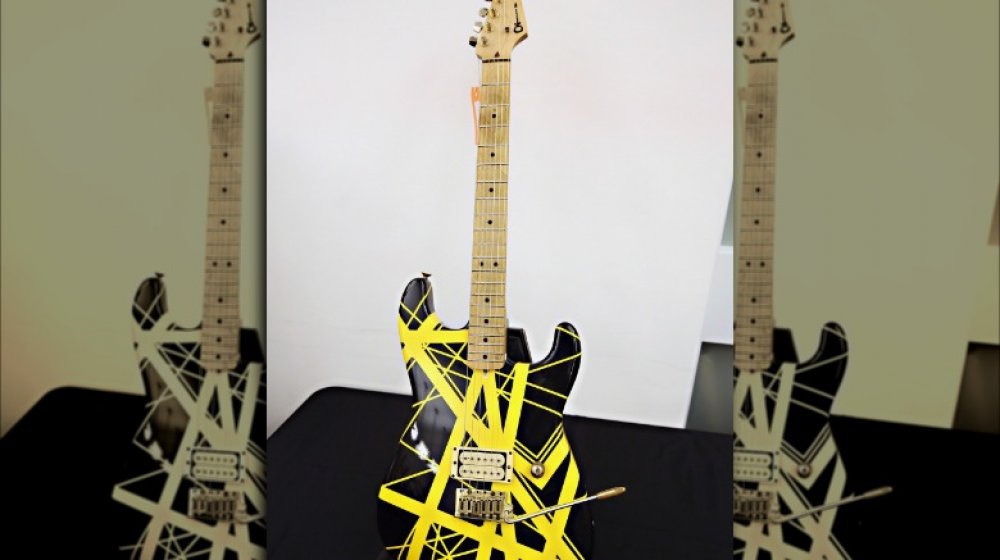 Cindy Ord/Getty Images
After Dimebag Darrell's death, Vinnie Paul and Dimebag's girlfriend, Rita Haney, were discussing which guitar to bury Dimebag with. He'd already had a special casket donated by the band KISS, so a fitting guitar was next on the docket. Eddie Van Halen called and said he'd pick out a special one just for Darrell, according to Ultimate Classic Rock. Everyone was expecting a replica guitar of the same type that Haney said Dimebag had discussed the night he met Eddie. According to Hany, Dimebag had offered to pay $30,000 for a striped guitar from Eddie's collection, "but Eddie told him he'd do a special one for him." Instead of red and white colors, Haney requested yellow and black: "Darrell always said that the yellow and black was your toughest guitar," she told Eddie. Well, there was no way Eddie was going to let Dimebag Darrell rest in peace with a newly striped guitar that had never seen any real action. He had other plans.
Eddie came by the day of Dimebag Darrell's funeral with the guitar in hand. It was indeed the yellow and black that Haney had requested — the same iconic guitar he held on the back of the Van Halen II album. He told Haney that "an original should have an original." Van Halen refused to view Dimebag during the ceremony so he could remember the late guitarist how he had known him in life. Eddie Van Halen then told Dimebag's friends and loved ones: "I'm here for the same reason as everyone else: to give some love back." To his idol, Dimebag was thought to be full of life and to have "lived and breathed rock 'n' roll."