Inside The Tragic Death Of Duane Allman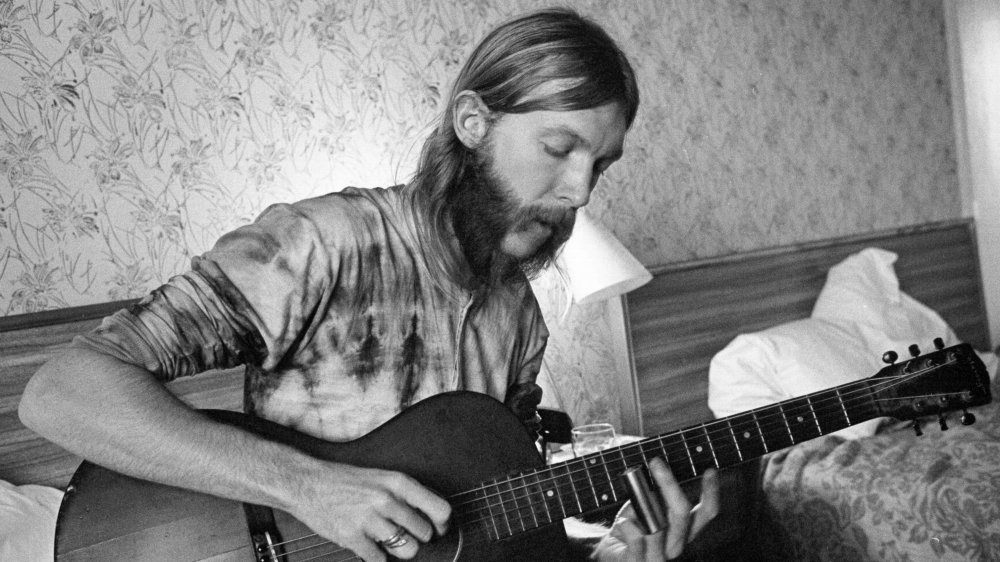 Michael Ochs Archives/Getty Images
Despite the fact that he only lived to be 24 years old, Duane Allman of the Allman Brothers became a legendary guitar player in the short time he was around. Born in Nashville and raised in Florida, Allman was a popular session musician for Atlantic Records, playing out of the storied Fame Studios in Muscle Shoals, Alabama well before he and his brother Gregg started their band, per History. He played on the recordings of a diverse slate of artists, including Wilson Pickett, Clarence Carter, Aretha Franklin, and Boz Scaggs, to name just a few. Perhaps his most famous work outside of that with his own band was his contribution to Derek and the Dominos' "Layla," on which both he and Eric Clapton played guitar. (The 1957 Gibson Les Paul Goldtop guitar he used on "Layla" as well as the first two Allman Brothers records sold at auction in 2019 for $125 million, as reported by Ultimate Classic Rock.) 
In late 1971, Allman seemed to be on top of the world. The Allman Brothers' 1970 concert album At Fillmore East, which "many people say is among the best concert recordings ever made," according to History, was their biggest hit yet, reaching number 13 on Billboard. They were working on their third studio album, Eat A Peach, but in late October Duane and the rest of the band were "in the middle of their first real vacation in more than two years," according to Rolling Stone. 
"The sky is crying, look at the tears roll down my cheeks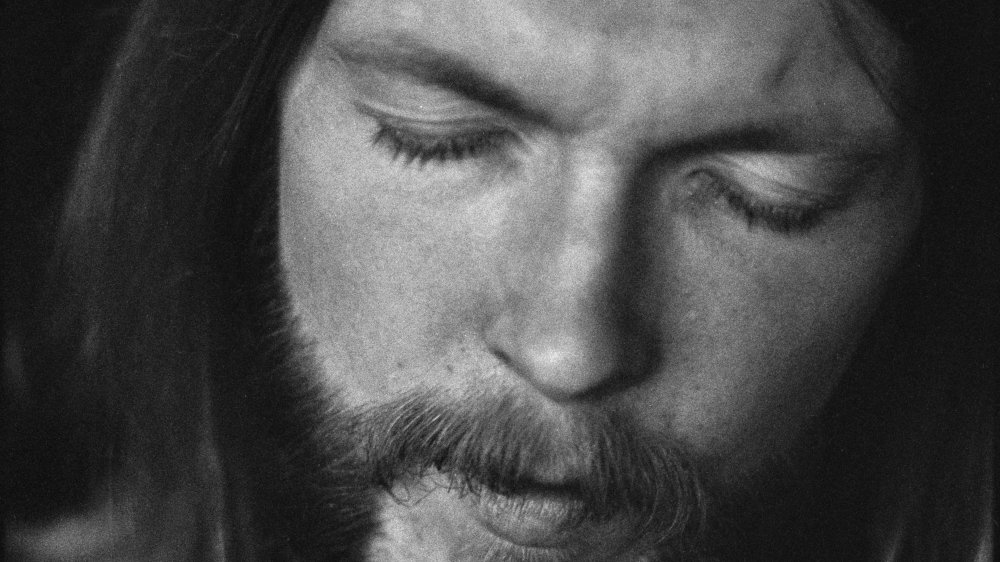 Michael Ochs Archives/Getty Images
On October 29, Duane stopped by the band's "Big House" in Macon, Georgia to wish Linda Oakley, wife of bassist Berry Oakley, a happy birthday. Around 5:45 p.m., he left on his motorcycle. Shortly thereafter he swerved to avoid a truck. His motorcycle turned over and pinned him underneath as it skidded about 50 feet. Allman's girlfriend, Dixie Meadows, and Berry Oakley's sister, Candy, were following at a distance. When they caught up to him they called an ambulance. Allman stopped breathing twice on the way to the hospital. Despite three hours of surgery, he died of his massive internal injuries.
Over 300 people attended his funeral, at which the remaining members of the Allman Brothers Band played music, beginning with what Rolling Stone called "the familiar pattern of an introduction to a slow blues" while Gregg Allman sang, "The sky is crying, look at the tears roll down my cheeks." Eat a Peach went on to be the biggest hit of the Allman Brothers' career at that point, reaching number 4 on Billboard; it was the last album to feature Duane.
In 2011, Rolling Stone named Duane Allman the ninth best guitar player of all time. Robert Randall wrote: "Duane died young, and it's just one of those things. You could tell he was going to get 50 times better. But God works it out like that, and that's the legacy he left behind."