What Happened To AC/DC Guitarist Malcolm Young's Iconic Guitar?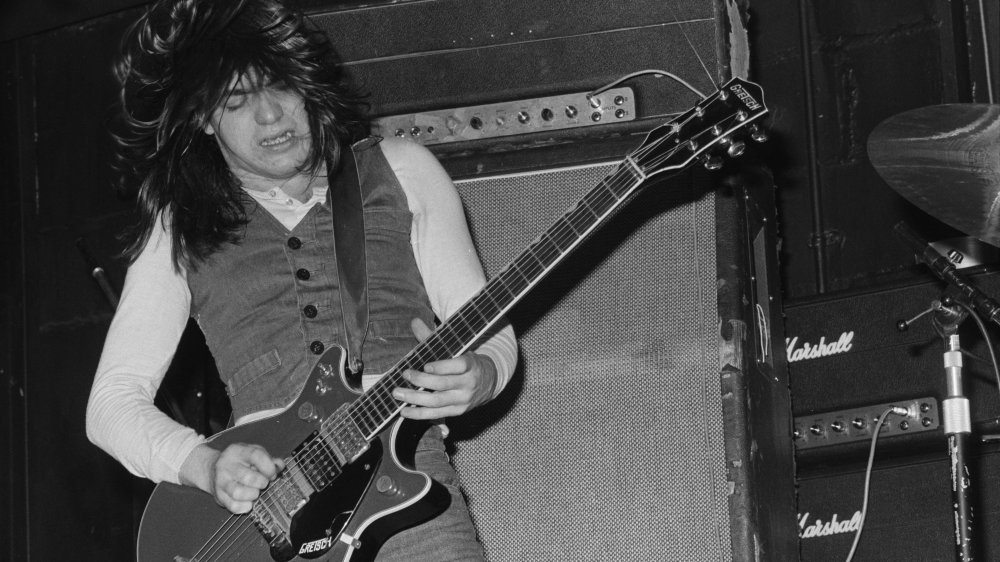 Michael Putland/Getty Images
Malcolm Young, the legendary rocker, guitarist, and founding member of the Australian rock band AC/DC, died of complications from dementia on November 18, 2017. Malcolm, along with his brother Angus Young, formed the band in 1973, when he was only 20 and Angus was just 18 years old, according to Britannica.
Inspired by the set of initials on their sister Margaret's sewing machine, they adopted the name AC/DC after the abbreviation for "alternating current / direct current" electricity, which they believed encapsulated their powerful rock music and raw, electric style. AC/DC signed an international record deal in 1976, and began touring worldwide. They achieved international stardom in 1977, following the release of Let There Be Rock, their first album to chart in the United States, according to All Music. Throughout the late 1970s, AC/DC released three more albums and continued to reach the charts in both the U.S. and the United Kingdom.
The band experienced a tragic setback in February of 1980, when singer Bon Scott died unexpectedly. He was replaced by Brian Johnson, and AC/DC bounced back with the release of their most successful album, Back in Black, in July of 1980. They continued to perform and make hits throughout the 1990s and 2000s, selling millions of albums over the course of their multi-decade career. As the rhythm guitarist and de facto leader of the band, Malcolm Young was extremely influential in developing the band's signature sound, co-writing most of the songs.
'Mal always wanted the music to go on'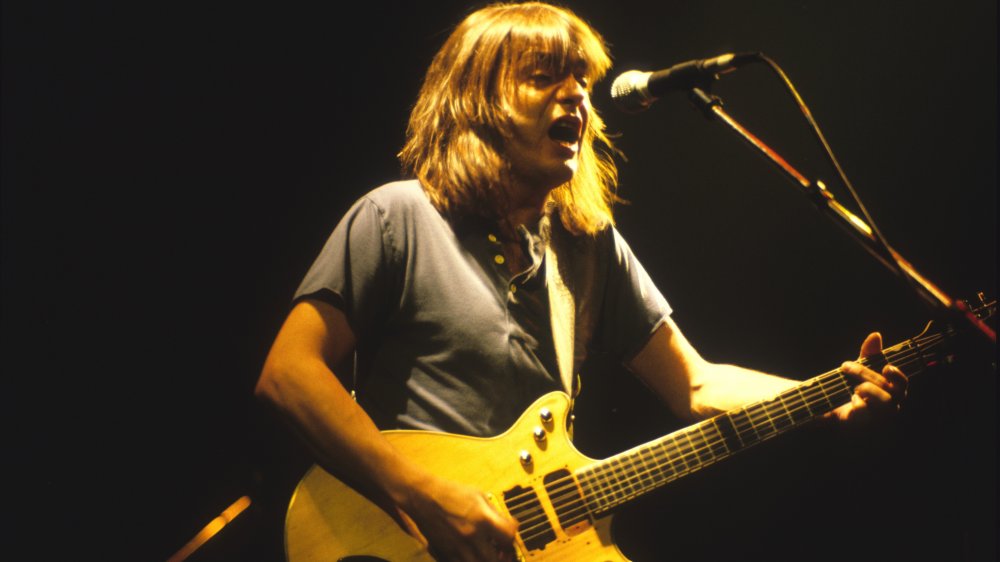 Jim Steinfeldt/Getty Images
Malcolm shredded with his famous 1963 red Gretsch Double-cutaway Jet Firebird guitar, which he nicknamed "The Beast," per Solo Dallas. But in 2014, he was forced to retire due to health issues. He had been diagnosed with dementia in September of that year, and was reportedly suffering from "a complete loss of short-term memory," according to the Sydney Morning Herald.
Young insisted that the band continue to tour and make music without him. The band's singer, Brian Johnson, told Rolling Stone in 2014, "Mal always wanted the music to go on ... And I'm not going to say no." Young's nephew, Stevie Young, toured with AC/DC in the subsequent Rock or Bust World Tour, and eventually became a full-time member of the band.
Over the next few years, Malcolm's dementia only worsened, and towards the end of 2017, he succumbed to the disease. Malcolm Young died peacefully in his Sydney care facility at the age of 64, in the company of his family and friends, according to News.Com.Au. As for The Beast: The rock star took his iconic instrument with him to his grave. His brother and bandmate, Angus Young, carried his brother's beloved guitar into Malcolm's funeral services at St. Mary's Cathedral in Sydney, where the instrument was displayed. The guitar was then placed inside the coffin with Malcolm before he was finally laid to rest in a private burial service, per WROR.