The Tragic Death Of AC/DC's Malcolm Young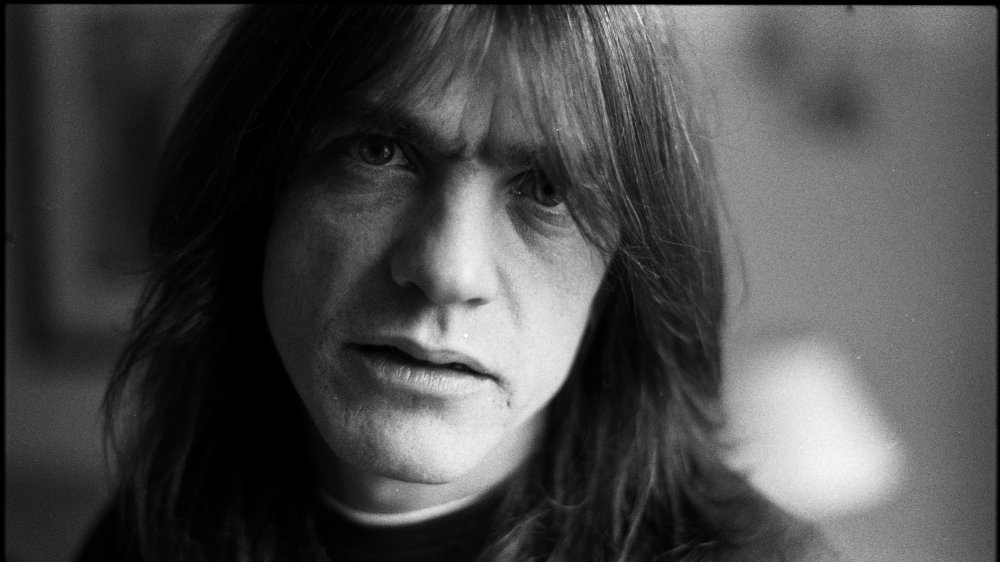 Martyn Goodacre/Getty Images
When AC/DC founder and rhythm guitarist Malcolm Young died on November 18, 2017, the world lost a true rock and roll giant. Since 1973, Malcolm and his brother Angus had been united as the dual creative force behind the band that served up a seemingly endless supply of iconic rock staples like "Back In Black," "Highway to Hell," and "You Shook Me All Night Long." The 1980 album Back In Black has sold 25 million copies, per RIAA, and remains the United States' biggest selling hard rock album of all time. The band's success would have been impossible without Malcolm Young. In their collective statement upon his death, they called him "the driving force behind the band," as quoted in Rolling Stone, as well as "a perfectionist and a unique man" who "took great pride in all that he endeavored." Angus Young called their bond "unique and very special" and said his brother "leaves behind an enormous legacy that will live on forever."
When Malcolm left AC/DC in 2014 at the age of 61, his family confirmed that he had been living with dementia that had finally made it impossible for him to carry on with his band. Per Rolling Stone, the band had just recorded their first album without Malcolm. His nephew Stevie Young had filled in on his guitar parts in the then-new AC/DC album Rock or Bust and would be joining the band on their 2015 world tour. 
'The embodiment of rock itself'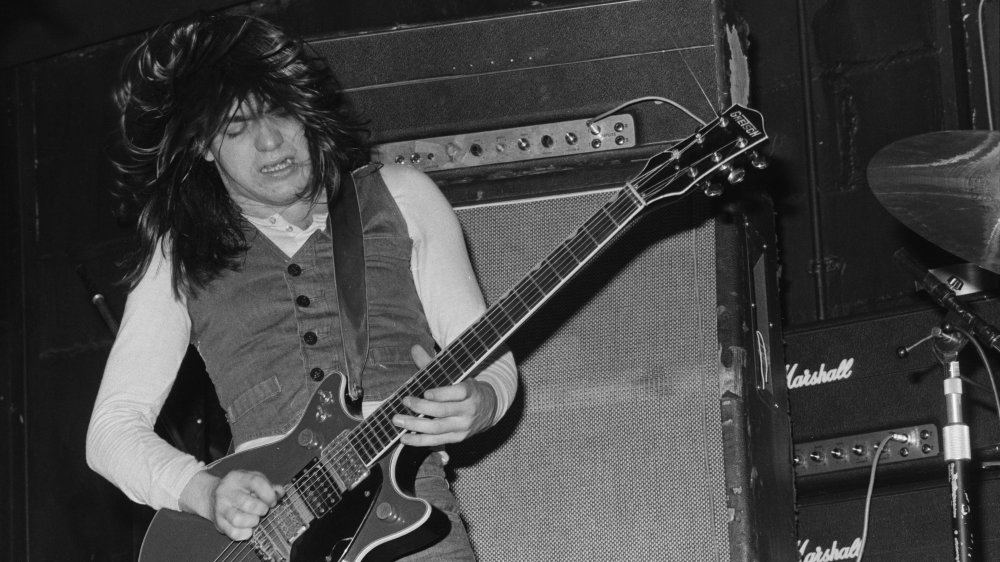 Michael Putland/Getty Images
Despite many years in the spotlight, Malcolm Young was down-to-earth and practical. His first job had been in a bra factory at the age of 15. He told Rolling Stone in 2008 that he'd never felt like a pop star, calling his role in AC/DC "a nine-to-five sort of gig. It comes from working in the factories, that world. You don't forget it."
His role in the band was one of calm strength and steadiness; Rolling Stone described him as "a compact pillar of rhythm guitar next to the drum riser, while his brother eats up the spot­light." Malcolm's no-nonsense approach to life was evident on stage and off. After the band finished the 1988 album Blow Up Your Video, the longtime heavy drinker "abruptly decided to quit drinking and left the band for sev­eral months." He reportedly stayed sober for the rest of his life.
Tributes poured in from fellow rock royalty upon Young's death, reported Rolling Stone. Guns N' Roses' Slash called him "one of the best ever rhythm guitarists in Rock n Roll." Heart's Nancy Wilson declared him "the embodiment of rock itself" and praised his "simple solid guitar truth that taught us all about the 'less is more ethic.'" Foo Fighters' Dave Grohl remembered watching a live AC/DC performance as a child as "the first time I lost control to music. The first time I wanted to be in a band." Not bad for "a nine-to-five sort of gig."