How Michael Jordan May Have Ruined This Player's Career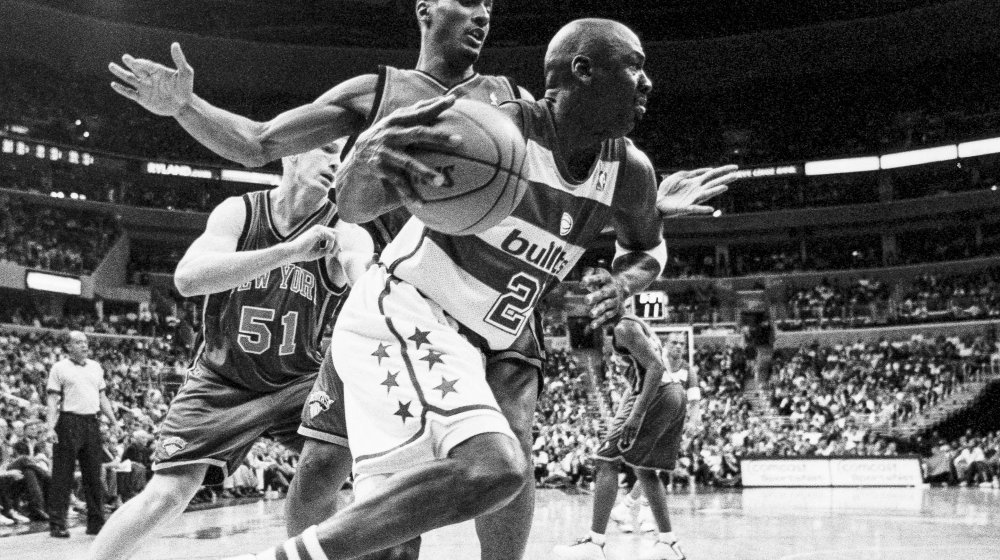 Simon M Bruty/Getty Images
It was cute back in the 1990s when all those kids in the Gatorade commercial sang, "I wanna be like Mike." At the time being "like Mike" meant dedicated, talented, and possessing a winner's attitude and smile. Little did we know back then that to more precisely emulate Michael Jordan, you would have to be a trash-talking, teammate-bullying inveterate gambler who makes an enemy of just about everyone who crosses your path. Kareem Abdul-Jabbar couldn't stand Air Jordan for the megastar's failure to use his global platform to speak out against issues involving racial injustice. Steve Kerr wasn't a fan of the black eye Jordan gave him during training camp in 1995 (that's right: they were on the same team).
Jordan's mouth was legendary among the ballers who played both against and with him during his 15 seasons in the NBA. And it appears as though his trash talk game was as vicious as his physical one. According to Viral Hoops, Jordan ruined several players' careers with words alone. One former teammate (who remained unnamed, possibly in fear of a form of retribution only someone "like Mike" could think up) said that Jordan "practically ruined [reserve forward] Rodney McCray for us" by screaming at him, "You're a loser! You've always been a loser!" That's right, McCray was also on Jordan's team. On the roster, at least.
Michael Jordan reportedly destroyed Muggsy Bogues's career with one un-PC remark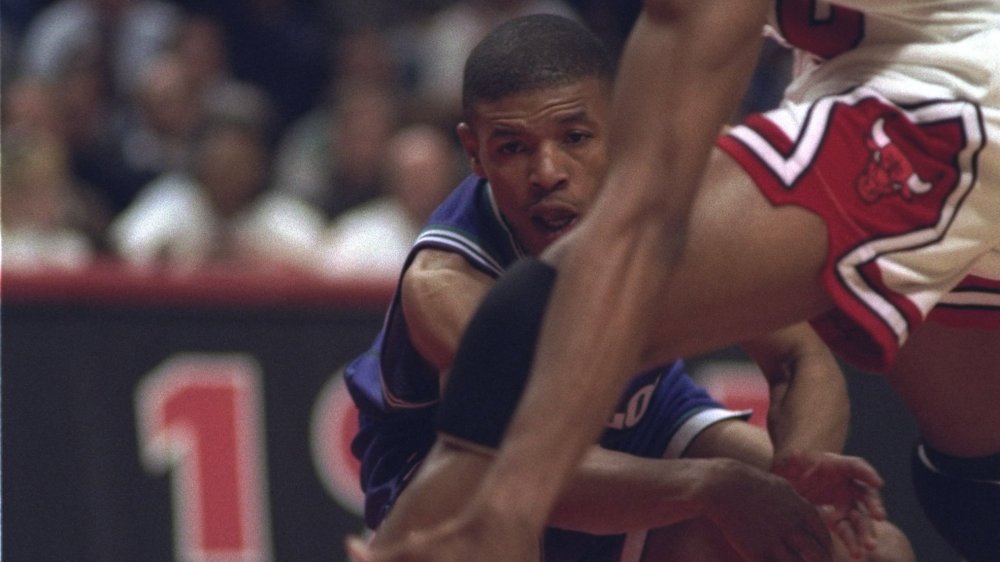 Jonathan Daniel/Getty Images
Another player Michael Jordan was said to have "ruined" was Tyrone "Muggsy" Bogues. According to his Fandom bio, at just 5"3", Muggsy was (and still is) the shortest player to ever dribble a ball on a professional court. He made up for his height with his extraordinary ball-handling skills and a 44-inch vertical, which he used to rack up a total of 39 blocked shots during his career, including one against seven-foot-tall Patrick Ewing. (Fun fact: as a rookie for the Washington Bullets, Bogues played alongside Manute Bol, a 7'7" giant who was the league's tallest player at the time.)
Although Muggsy seemed capable of standing up to even the tallest titans in the league, there was one opponent that ultimately and irreparably crushed his spirit: Michael Jordan's ruthless mouth. According to Deadspin, former assistant coach for the Chicago Bulls Johnny Bach allegedly let spill a few beans about Jordan at a dinner in 2011. One of those beans was what MJ said to Muggsy when he had the ball during a playoffs game in 1995. Bogues had the ball, and his team, the Charlotte Hornets, was down by one. Despite Muggsy's killer jump shot, Jordan backed off and said to him, "Shoot it you f****** midget." Muggsy missed the shot, and the Hornets lost both the game and the series.
Jordan's remark ruined more than the Hornets' chance at a championship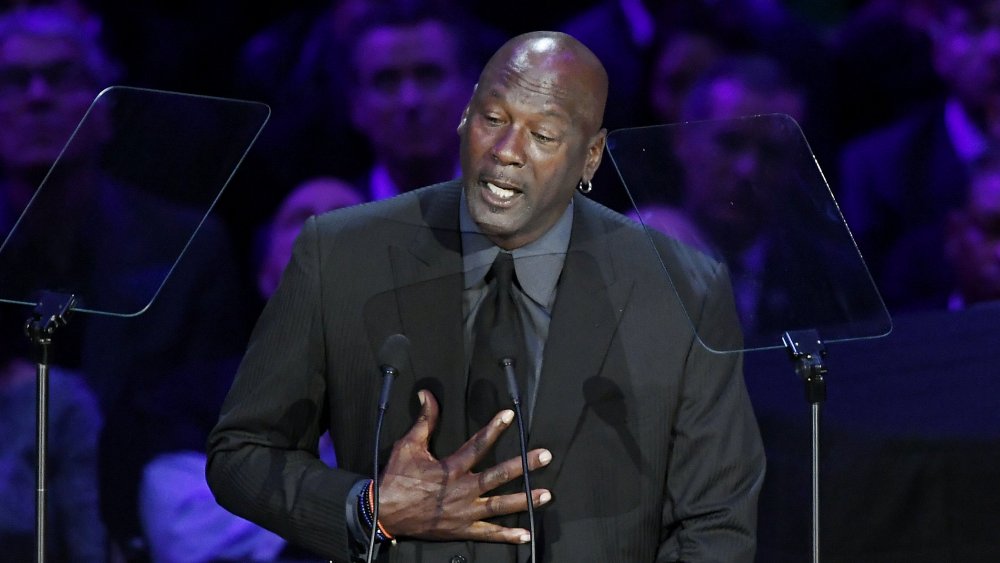 Kevork Djansezian/Getty Images
The year after that fateful missed shot, Johnny Bach went from Chicago to Charlotte, where Bogues reportedly told him that he believed that his shot never recovered from Jordan's intimidating remark. A look at his stats on Basketball Reference reveals that Bogues's field goal average dropped dramatically after that. He finished the 94-95 season sinking 4.5 shots per game. In the next season, that stat was just one per game, and he never averaged more than 3.1 per game after that until the end of his career in 2001. As Essentially Sports reported, Bogues's points per game average fell from double digits in the three preceding seasons. But that doesn't mean he wasn't a benefit to his team. According to his official bio on his website, Muggsy Bogues retired from the court as the 16th all-time assist leader in the league.
Considering his height, that couldn't have been the first time Muggsy got some flak for being the little guy among giants. Nevertheless, he admired Jordan, just like the rest of the world, and the rough treatment by his idol hit him hard. The image of Michael Jordan created by the Gatorade commercials and Wheaties boxes involved an inherent belief in his good sportsmanship, but the reality was that he was quite the bully. And Muggsy Bogues isn't the only former NBA player who can't stand Michael Jordan after playing either with or against him.