How JFK's Bad Back May Have Contributed To His Death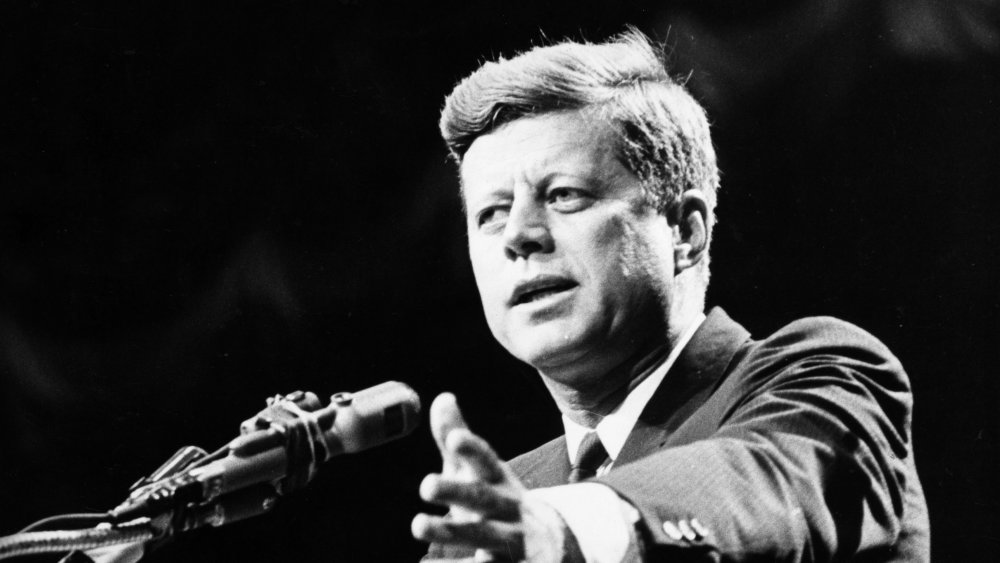 Central Press/Getty Images
There are many famous and well-known facts about the United States' 35th president, John F. Kennedy: he was an avid philanthropist, served as the first Roman Catholic president, and won a prestigious Pulitzer Prize in 1957. He is the youngest man (so far) elected to the presidency. He married Jacqueline Bouvier and had four children, one of whom was immortalized in Neil Diamond's classic "Sweet Caroline." One lesser-known factoid about President Kennedy complicated both his life and his death.
JFK suffered from a bad back, with one neurologist even positing that Kennedy "was probably one of the unhealthiest presidents we've ever had," according to LiveScience. Some experts have defined him as a "man in nearly constant pain." In his book The Dark Side of Camelot, author and journalist Seymour Hersh postulated that JFK might have escaped assassination if he hadn't torn his groin while getting frisky with a woman by the White House pool. Supposedly, the injury forced him to wear a full-body brace, and it stopped him from evading Lee Harvey Oswald's second bullet, which killed him.
Upon the book's release, Newsweek panned Hersh's remarks as yesterday's news, noting that a Time magazine column in 1987 had said something to that effect nearly a decade earlier. It was in 2017, however, when a pair of neurosurgeons published a paper claiming that the president's back, not his groin, was the reason that a back brace was required.
A lifetime of medical troubles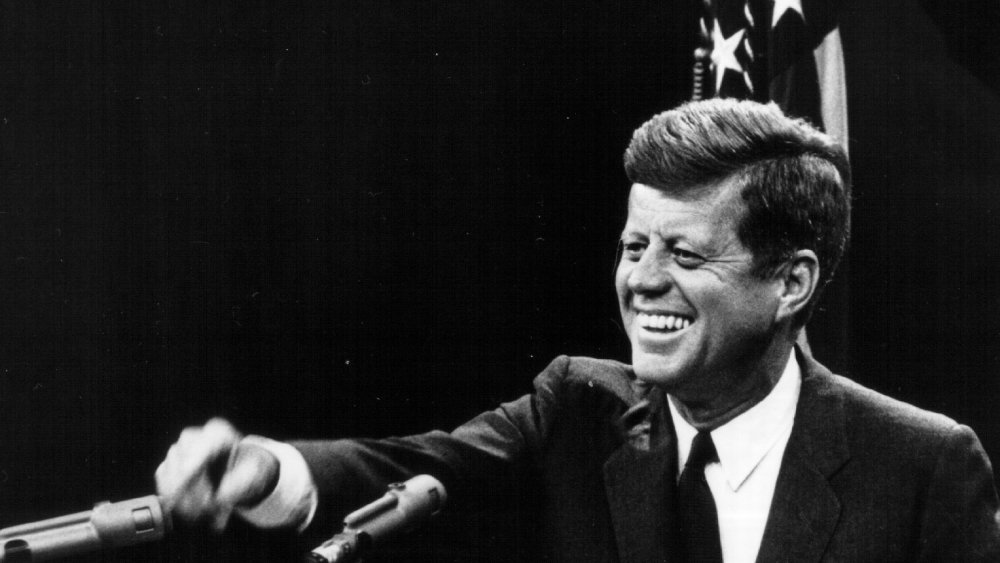 National Archives/Getty Images
Regardless of who first reported on the president's ailments, most experts agree that his back troubles began decades before his final days. Kennedy's medical issues began while he attended Harvard, with experts believing he likely hurt his back playing football and exacerbated the injury while fighting in World War II. Professionals have since noted that JFK actually should've been barred from serving, as his back stopped him from passing the military's physical exams. Young JFK's father, an ambassador to Great Britain at the time, called in some favors, with JFK eventually touted as a war hero for his service.
The president's privileged standing may have also led to his fateful demise: per LiveScience, a series of botched experimental back surgeries further aggravated Kennedy's condition and led to more problems and pain. As president he frequently wore a back brace that prevented him from tying his shoes, per the Daily Beast. JFK needed crutches frequently and used a modified forklift to board Air Force One.
In the 2017 report, researchers speculated on whether the brace kept Kennedy sitting upright after he'd been shot in the neck by Lee Harvey Oswald. Had the president not been wearing it, he may have crumpled forward, making it more difficult for Oswald to fire the fatal second shot.