Why '80s Video Vixen Marjorie Ann Orbin Is Now Serving Life In Prison
Mötley Crüe is as well known for their hedonistic offstage antics as they are for their musical contributions to the heady era of 1980s heavy metal superstardom. Nevertheless, the possible connection between one of the women who appeared in their racy videos over the years and a horrifying, gruesome murder is truly shocking. It's never been proven as absolute fact, but rumor has it that Majorie Ann Orbin was one of several exotic dancers featured in the 1989 video for the Crüe song "Girls, Girls, Girls." The song is an ode to strip clubs and specifically mentions "Thee DollHouse in Fort Lauderdale," where Orbin was apparently employed at the time the music video was filmed.
According to Shanna Hogan, author of "Dancing With Death: The True Story of a Glamourous Showgirl, Her Wealthy Husband, and a Horrifying Murder," published in 2011, Orbin made "a brief debut" in the video: "dressed in a fuchsia bikini, Marjorie whipped her blond hair around on stage while the band rocked." A 2017 L.A. Weekly article looking back at the "Girls, Girls, Girls" video mentions the rumor, noting that "it's difficult to confirm if Orbin is in the brief exterior shot of Thee DollHouse ... or if she might be one of the few on-screen dancers whose faces are not clearly visible...." Apparently, all of the video's club scenes were filmed in Los Angeles, so Orbin would have had to have been there, not Florida, to be featured as a dancer. 
A long, salacious trial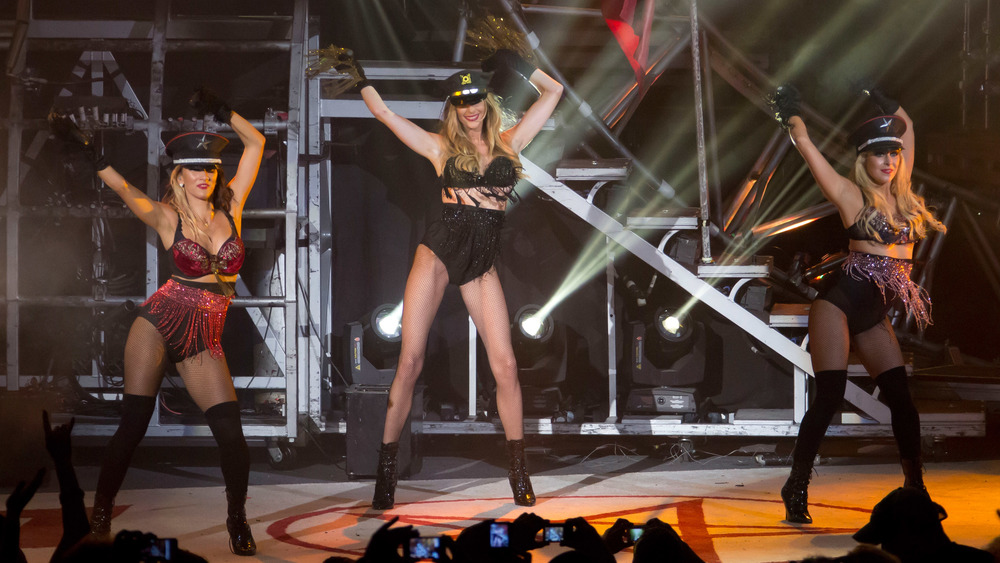 Scott Legato/Getty Images
So why is Orbin, possible video star, serving a life sentence in prison? As reported by the Arizona Republic, Orbin was convicted in 2010 for the murder of her husband, Jay Orbin, who disappeared in September 2004 after returning home from a cross-country business trip. His "headless, limbless torso" was found weeks later in the desert in North Phoenix "stuffed into a 50-gallon plastic tub." Evidence against Marjorie included surveillance video from a hardware store showing her purchasing two 50-gallon plastic tubs. 
Another article from the Arizona Republic noted that Jay "probably made it home" before his murder, according to computer logs and credit card and cell phone records. Prosecutors also claimed that Marjorie had painted over the garage floor where the murder allegedly took place, immediately started running up her husband's credit cards and draining his bank accounts, and had been cheating on Jay with multiple people, including their son's karate instructor and a man she met at the gym. Several of Marjorie's "lovers, jilted friends and former cellmates" testified at her trial, and the man from the gym, Larry Weisberg, was give immunity for his testimony.
At the end of a long, salacious trial that lasted for five years, Marjorie Ann Orbin was sentenced to life behind bars. In her Write A Prisoner pen pal profile, she mentions that she "had quite a career as a professional dancer and choreographer" and specifies "even dancing on Rock videos. Motley Crew [sic] 'Girl, Girls, Girls.'"