Why People Once Thought Gene Simmons Had A Cow's Tongue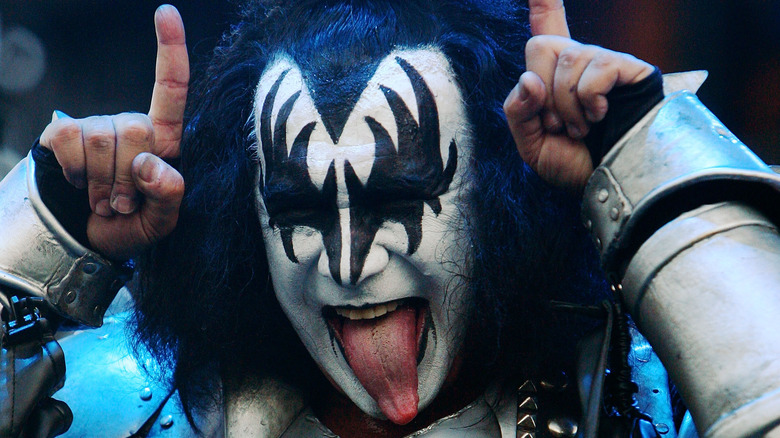 Kristian Dowling/Getty Images
Of all the notorious, infamous attributes we associate with Kiss bassist and singer Gene "The Demon" Simmons, his impressively long and limber tongue is certainly at the top of the list.
A rumor that has persisted throughout Simmons' decades in the spotlight alleges that he took the drastic and horrifying step of having his actual tongue replaced by that of a cow, or that he had a cow's tongue grafted onto his own. It's true that Simmons' tongue is seemingly much, much larger and longer than those usually seen on human beings, but is it even possible that a person could handle a bovine replacement tongue?
According to a Los Angeles Times article about how to cook tongue, the average beef tongue weighs about three pounds. When you consider that the average human tongue, according to a 2013 study published in the journal Oral Biology, weighs about two-and-a-half ounces, it becomes clear that a human mouth couldn't contain a bovine tongue, much less flick it around with the energetic aplomb and skill demonstrated by Simmons.
Gene Simmons' favorite rumor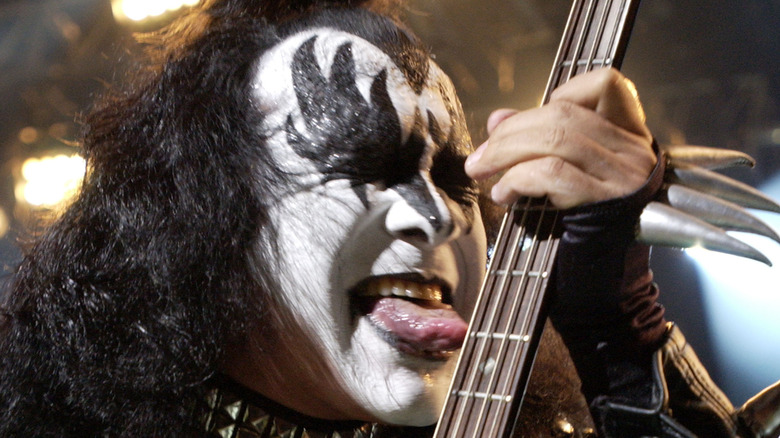 Tim Mosenfelder/Getty Images
Of course, there's always the possibility that Gene Simmons has the one mouth that could handle a three pound tongue, right? Well, no. Snopes got on the case, noting that Kiss is "a band founded as much on outrageousness as on music," known for its members' makeup, costumes, and wild stage antics, including fire-breathing and spitting blood. It's not so far-fetched that Simmons would take his showmanship a step further by having a cow tongue installed in his face. The website points out, however, that cow tongues are huge and "had [Simmons] had even a small part of a cow's tongue grafted onto his own, he must have had his mouth enlarged to make room for it at the same time."
Simmons himself has weighed in on the rumor, which according to Snopes, is his favorite of all the myths that exist out there about him. In his 2001 memoir Kiss and Make Up, Simmons admitted that he was "oblivious, for the first 13 years of my life, that I was endowed with a large oral appendage" but eventually found out "that having a long tongue came in handy with the girls." What a silver-tongued (of any size) devil!
Just how long is Gene Simmons' tongue?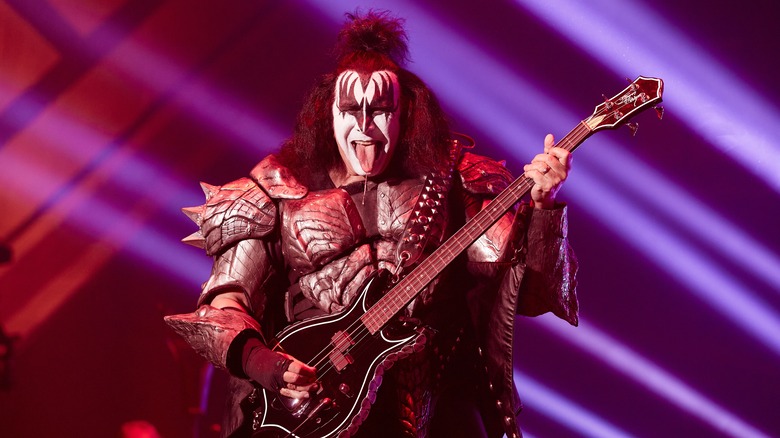 Photography Stock Ruiz/Shutterstock
Among other rumors swirling around about Simmons' tongue is just how long it is. Some publications report that his tongue is a whopping seven inches long. However, there appears to be no official statement from Simmons on just how long it is. That said, a seven-inch tongue would be an amazing achievement considering that the longest tongue recorded in the Guinness Book of World Records is quite a bit shorter at 3.97 inches long. That tongue belongs to Nick Stoeberl from Salinas, California. Guinness explains that the measurement is calculated from the tip of Stoeberl's tongue to the top of his closed upper lip.
Another story regarding Simmons' famous tongue is that he had it insured for $1 million (per Suggest), which wouldn't be too much of a shock considering how popular it is. However, there appears to be no official word from Simmons on this matter.