The Hidden Name Led Zeppelin Once Used For Their Band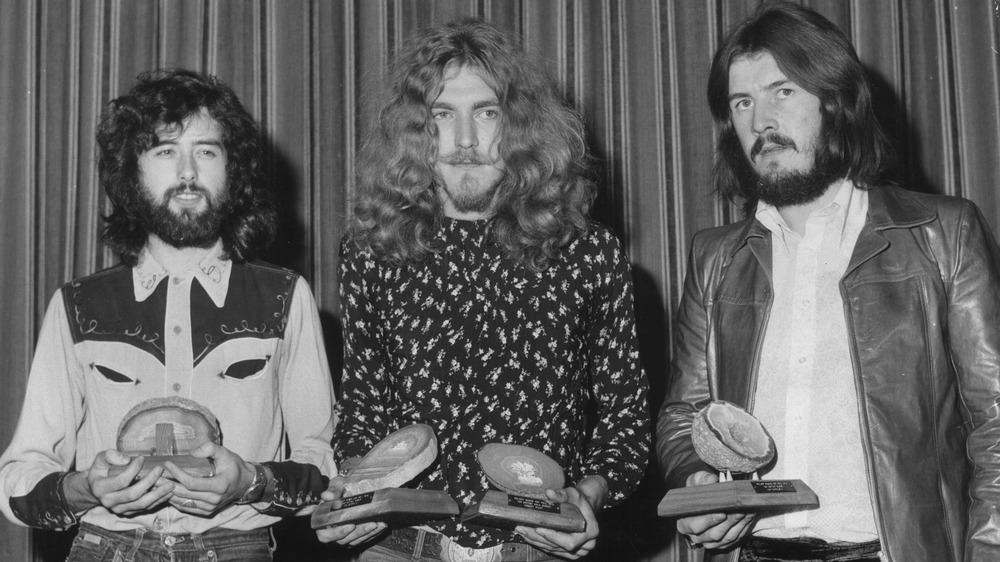 Roger Jackson/Getty Images
Led Zeppelin started out as the New Yardbirds, featuring singer Robert Plant, guitarist Jimmy Page, and keyboardist John Paul Jones. Per Rock Pasta, the three recorded a song, "Beck's Bolero," with Jeff Beck of the Yardbirds and Keith Moon of The Who. At the recording session, Moon joked that the idea of them forming a band would "go down like a 'lead zeppelin'" — in other words, it would be a crashing disaster. When Plant, Page, and Jones hooked up with drummer John Bonham, they went ahead and called the group Led Zeppelin and so they were known for the rest of their rock and roll days, right? Almost. 
On February 27, 1970, Led Zeppelin was set to play a show in Copenhagen, Denmark. According to Ultimate Classic Rock, they'd made an important Danish enemy in the past: Eva Von Zeppelin, a descendant of German inventor Count Ferdinand Von Zeppelin, whose innovative aircraft was the inspiration for the band's name in the first place. Apparently, Von Zeppelin didn't appreciate their making money using her family's name, and to top it all off, she reportedly compared the band's sounds to "shrieking monkeys."
One Night Only: The Nobs!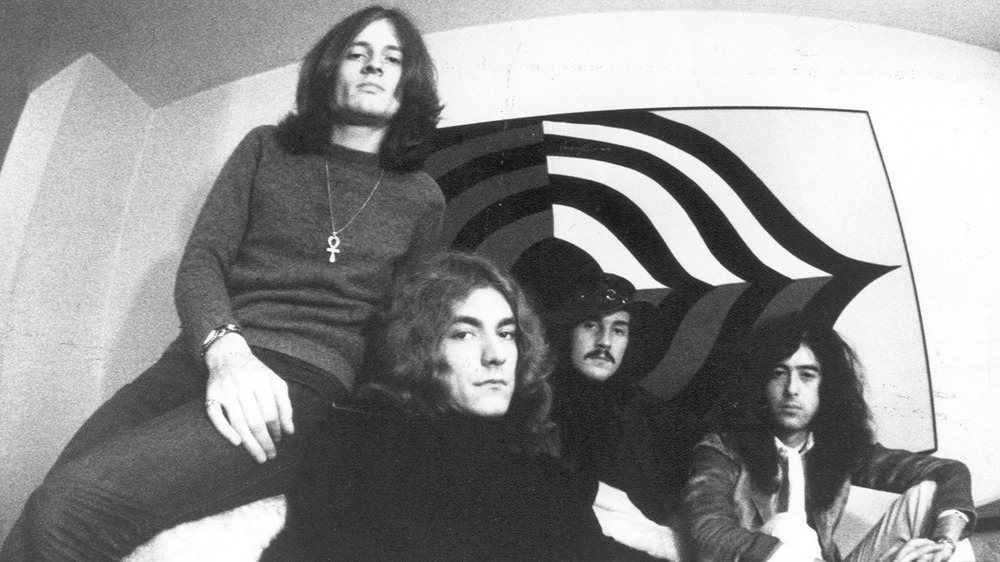 Michael Ochs Archives/Getty Images
Led Zeppelin tried to make nice with Von Zeppelin, inviting her backstage after a show "to see how we were nice young lads," according to Jimmy Page. But once Von Zeppelin saw the cover of their self-titled debut album, which features an exploding zeppelin in flames, any change at reconciliation was gone. Remembered Page, "I had to run and hide. She just blew her top." 
Facing the threat of a lawsuit from Von Zeppelin if they performed in Denmark using the name Led Zeppelin, the band came up with their own creative workaround for the Copenhagen show of 1970. Jimmy Page told Melody Maker (posted on the Led Zeppelin website), "Then we shall call ourselves The Nobs when we go to Copenhagen, the whole thing is absurd." An unnamed publication (also posted on the band's website) even announced the name change for any disappointed or possibly dazed and confused Led Zeppelin fans.
Why did they decided on the name The Nobs? Apparently, Led Zeppelin had a sense of humor; in British slang, a "knob" refers to both "a way of addressing or referring to a person that you think is very stupid" as well as male genitalia, as defined by the Cambridge Dictionary. Eva Von Zeppelin's reaction to the name change is, unfortunately, lost to the annals of time.