The Details About Anthony Kiedis And Mike Patton's Feud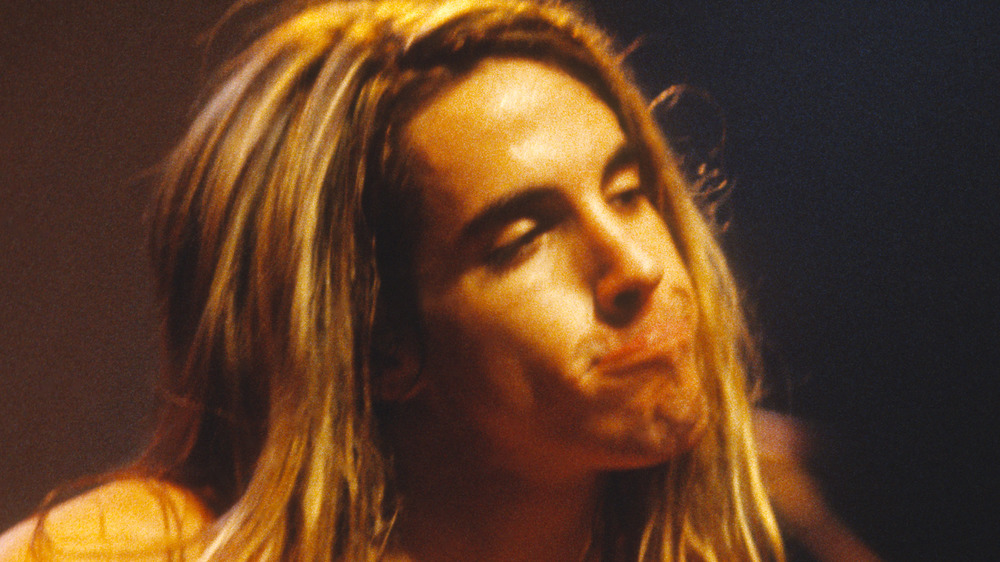 Gie Knaeps/Getty Images
You might think that the world of funk metal has enough room for two outspoken, flamboyant frontmen to coexist peacefully. Not so much. Anthony Kiedis of the Los Angeles-based Red Hot Chili Peppers and Mike Patton of San Francisco's Faith No More had a decades-long rivalry in which they traded insults and accusations. Both seemed to be determined to be the last man standing in terms of long-haired, often shirtless, hyperactive lead singer, scatting over funk beats. In 2015 L.A. Weekly reported that the bands started out with a happy working relationship, with pre-Patton Faith No More occasionally opening for the Red Hot Chili Peppers during the early days of the funk metal scene. 
In 1989, Patton was recruited to replace Faith No More singer Chuck Mosley. Perhaps band members were impressed with his history with the band that Circus called the "powerfunk posse called Mr. Bungle." Patton has always had an energetic performance style; Circus referenced his "impetuous stage gymnastics, crazy facial contortions and multioctave vocal range" as "so over-the-top, it nearly came off as parody." Nevertheless, when Kiedis saw the infamous video for Faith No More's hit song "Epic," all he could see what Patton copying his own moves. In a 1990 interview with Kerrang! magazine quoted, by L.A. Weekly, Kiedis joked, "My drummer says he's gonna kidnap [Patton], shave his hair off and cut off one of his feet, just so he'll be forced to find a style of his own." (Judge "Epic" for yourself at YouTube.)
Still time for a warm embrace?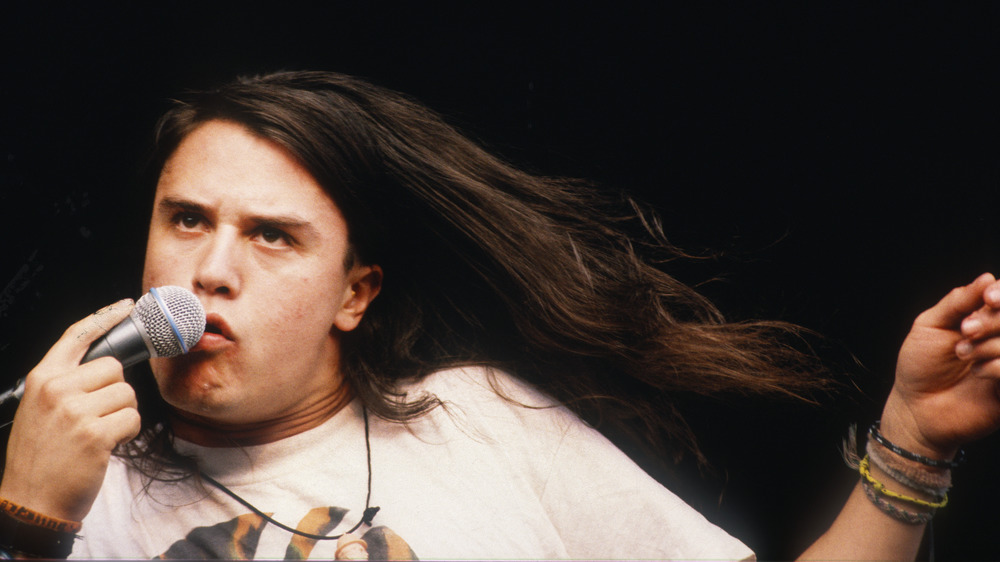 Gie Knaeps/Getty Images
L.A. Weekly notes that the Red Hot Chili Peppers were scheduled to tour Europe after Faith No More's own European tour, and Kiedis was concerned that fans would think he was copying Patton's moves. 
Patton never responded directly to Kiedis's accusations, but keyboardist Roddy Bottum once told a reporter, "We're really good friends with that band and I'd like to think they're doing it ... like as a favor." In 1999, the feud was revived. Patton had reunited with Mr. Bungle and prepared to release the album California just as the RHCP were set to release a new album called Californication. The two bands were both part of Warner Bros., and the label delayed California's release by a month. Furthermore, Mr. Bungle found themselves kicked off several summer festivals after RHCP threatened to quit the festivals rather than appear alongside them. Apparently, Kiedis had personally demanded the ban.
Patton broke his silence and started lashing out in interviews. Mr. Bungle played a Halloween show at which the band dressed up as the Red Hot Chili Peppers, "performed a medley of mangled Peppers' covers," and referenced the band's history with heroin by pretending to shoot up onstage. Eventually, after years of trading jabs, emotions seem to have cooled. In a 2010 interview, Patton appeared to be over it: "I've no idea what it was about then and I don't know now. But I bet we'd have a warm embrace if we saw each other now."