The Alarming Number Of Surgeries The Undertaker Has Endured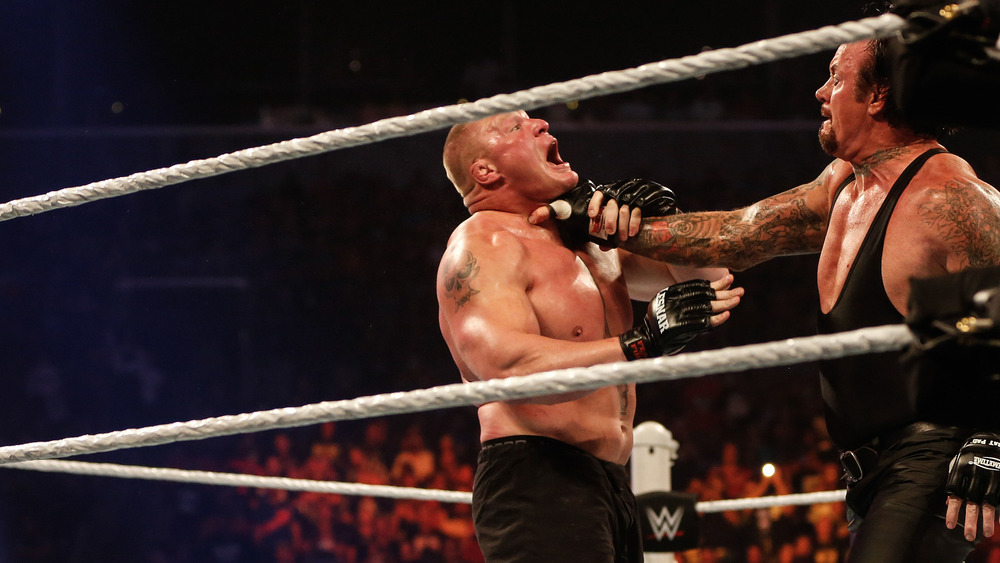 Jp Yim/Getty Images
November 22, 2020, marked the end of a pro wrestling era. At WWE Survivor Series, the same event at which he made his debut in the promotion 30 years ago to the day, The Undertaker announced his retirement (for real this time). "My time has come," he said in a video posted by CNN, "to let The Undertaker rest in peace." A choked-up WWE chairman Vince McMahon said, "So tonight we say goodbye."
The Undertaker's stunning 30-year career in the WWE has been studded with outstanding achievements that, according to his official WWE bio, "have cemented his place among the greatest in the game." He boasts six tag team titles and multiple WWE and World Heavyweight Championships. He won the 2007 Royal Rumble, and was the star of a number of firsts for the promotion. He was fittingly the inaugural winner of bouts like the first Casket Match in 1992, the first Buried Alive Match in 1996, and the first Hell in a Cell Match in 1997. He's also the holder of The Streak, a phenomenal 21-victory run begun at WrestleMania 7 in 1991. Superstars like Shawn Michaels, Jake "The Snake" Roberts, Triple H, Kevin Nash, Randy Orton, and more all felt the icy grip of The Deadman during that historic run. But leaving such a legacy doesn't come without paying a price, and the decades of crushing it and getting crushed (and burned and bashed and buried alive) in the ring definitely took a toll on The Undertaker's body.
The Undertaker has had well over a dozen surgeries during his wrestling career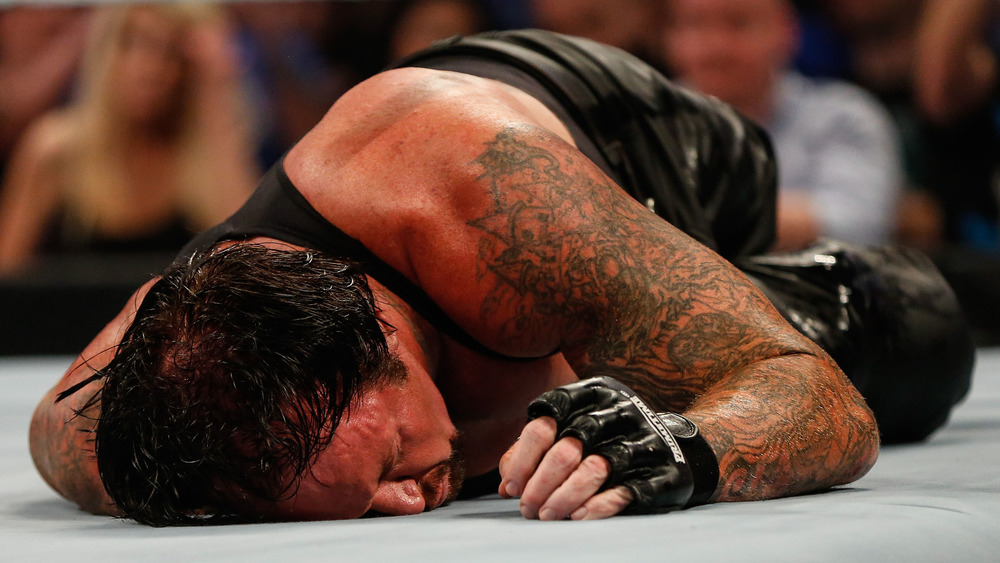 Jp Yim/Getty Images
"There's not a day I wake up something doesn't hurt," The Undertaker, whose real name is Mark Calaway, told The Guardian. "I've already got metal in my hips; I'll walk with a limp forever; the range of motion in my head is not what it was." Even though the stories are scripted and the punches are pulled (or at least supposed to be), that doesn't mean that the sport isn't hard on a wrestler's body. "It's really physical work," said Calaway. "The human body isn't made to take what we do on a nightly basis." To illustrate just what he was talking about, The Undertaker explained the mechanics of his trademark finishing move, the Tombstone Piledriver. "I pick someone up, and with all their weight and mine jump down straight on my knees." So yeah, all that weight isn't crushing his opponent's neck like it's meant to appear, but that momentum has to stop somewhere, and his knees paid the price. He said that one day they'll both need to be replaced.
Such rough treatment landed him in the hospital numerous times, and by his last count, Calaway said that he'd had 17 surgeries to fix what wrestling had done to his body. He doesn't regret a minute of his wrestling career, however. "I chose my path and wouldn't change it, even with all the metal I have in my body today."
What kinds of surgeries has The Undertaker had to endure?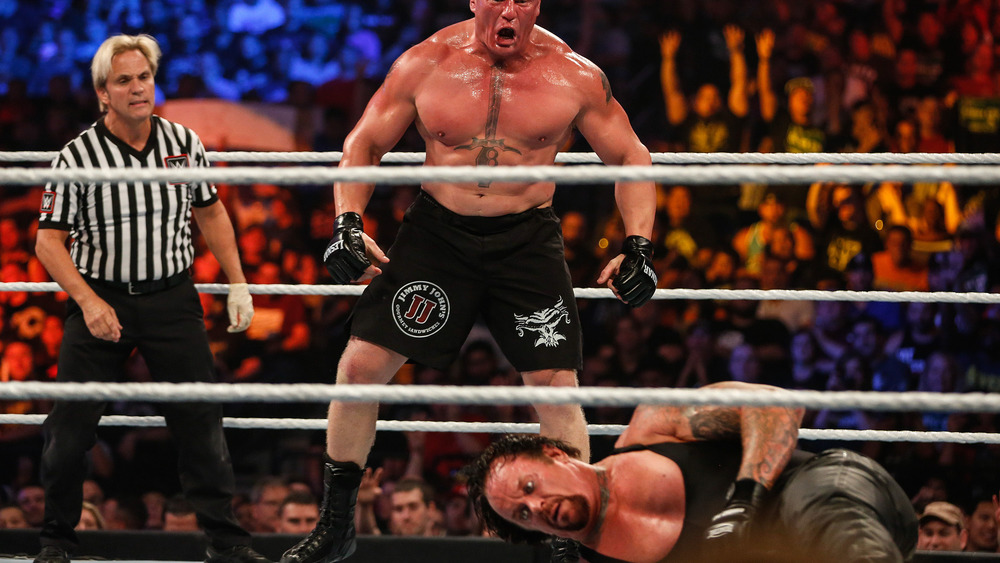 Jp Yim/Getty Images
According to Wrestling Inc., The Undertaker has had his eye sockets crushed, he's been set on fire multiple times — "...uh, that was not fun" — and he's torn several muscles, including his pecs and biceps. "I've had several joint surgeries just to get bone chips and different things removed. I've been concussed I don't know how many times."
Sports Keeda reported that in 2017, a month after WrestleMania 33, The Undertaker went into the hospital to get hip surgery and revealed to the doctors that he'd been having pain there for over 15 years. That conversation was part of the 2020 WWE Network documentary miniseries The Undertaker: The Last Ride. In a telling scene that reveals The Deadman's attitude toward the brutal way the sport he loves has treated his body, the doctors ask him if he's had any previous surgeries, and he starts to laugh. He tells them he's had surgery on his eye sockets, biceps, knees, shoulder, and fingers.
Luckily, that hip surgery ended up alleviating the pain that The Undertaker had been living with for 15 years, and he was finally able to walk without hurting. Now the 55-year-old wrestler has finally said goodbye to the ring, and although his body won't last forever, we know his memory will. "They say nothing lasts forever," said Vince McMahon at The Undertaker's retirement announcement. "I think they're wrong, because the legacy of the Undertaker will live on eternally."